We use affiliate links. If you buy something through the links on this page, we may earn a commission at no cost to you. Learn more.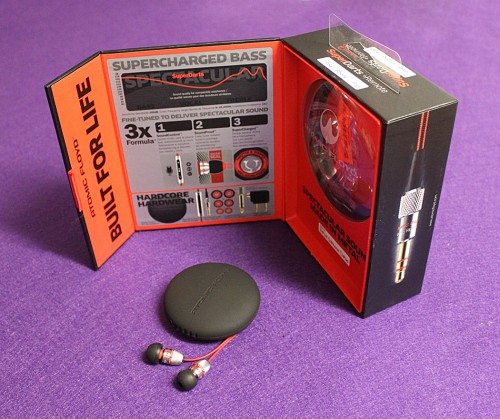 At first glance, the new Atomic Floyd SuperDarts +Remote earphones look like a souped-up version of the bullet-designed Koss KEB40 or Ortofon e-Q5 earphones. The cord comes straight out the opposite end of the earphone instead of the side of the main shell. It's obvious Atomic Floyd wants to make a statement with the SuperDarts. They are bold, sexy, heavy and red. Red cords and red accents – bold, indeed.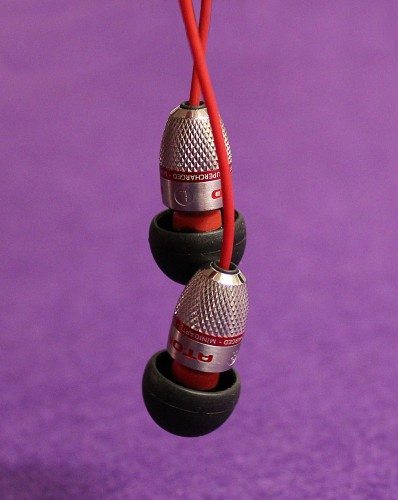 But that's nothing compared to an even more unique feature: The SuperDarts are a hybrid earphone. What that means is that the SuperDarts have two speakers per ear; one dynamic and one balanced armature. Dynamic speakers are pleasantly warm sounding, but not as accurate as they could be. Armatures however, are very accurate, but can be harsh and unforgiving on lesser quality files. Atomic Floyd calls this pairing "supercharged bass with acid detail."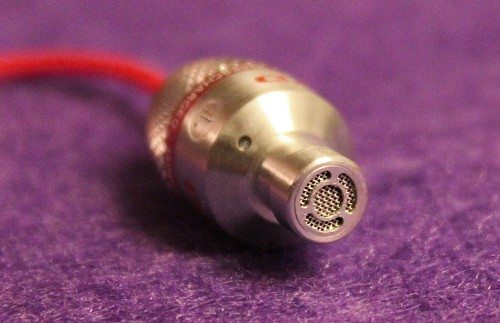 Put the two speaker designs together and hopefully, you get the best attributes of both. Scosche performed this hybrid trick with their IEM856m In Ear Monitors and got impressive results. The downside to this approach is cost. It's a rare combination that hasn't been done cheaply yet. Also, while the Scosche earbuds are expensive, the SuperDarts are even more expensive. Here's the question: Is there an inherent advantage to the hybrid pairing and is it worth the cost? That's what we're going to find out.
Atomic Floyd sells their earphones primarily in England, France, Japan and Korea and are currently expanding their markets. For now, they can be ordered online for shipping to the US and Canada.
The first thing you notice is the packaging. Atomic Floyd has spent much effort to make unwrapping the SuperDarts fun. It reminds me of unwrapping any Apple i-whatever.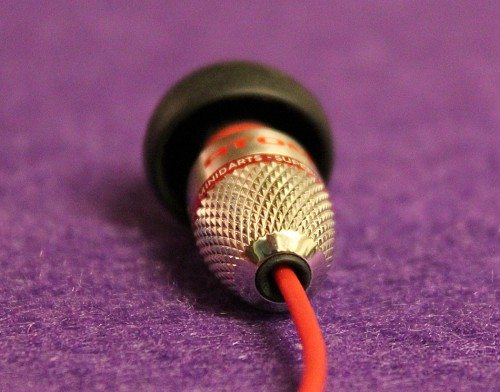 Can the product can live up to this orchestrated introduction. Short answer: Yes, it does. When you hold the SuperDarts in your hand, there is an impressive attention to detail. Each shell is machined from stainless steel – not the usual aluminum – and they feel more substantial as a result. They are also noticeably heavier. This extra weight has been problematic for me because they occasionally fall out even after being properly sealed. When they do fall out, I just push them back in, but it's sometimes annoying. I guess the SuperDarts were not designed for exercise. I would have also preferred more than three ear-tip choices. In this price range, there is no reason to not offer more.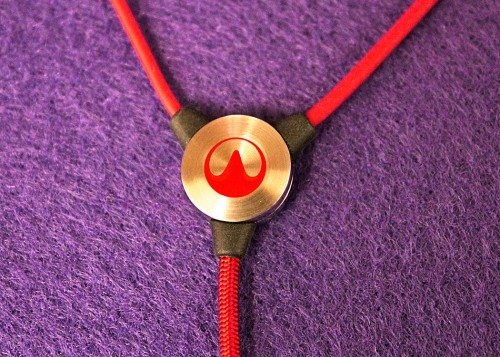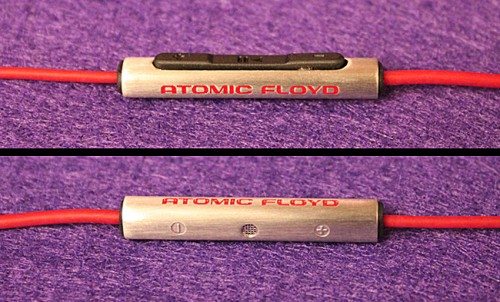 The tangle-resistant cord is also a hybrid, of sorts. It's Kevlar-wrapped cloth extends from the miniplug to the Y connector. From the Y to the earphones, the cord becomes silicone rubber, which can stay cleaner and be more resistant to dirt and skin oil stains. Attached to this cord is a remote/mic, which is almost becoming a necessity with mobile earphones. It has the standard play/pause/receive-and-make-calls functions. It's cool looking in stainless steel with matching red lettering and black buttons. Also included is an airplane adapter and 1/4″ Stereo to Stereo Mini Jack adapter.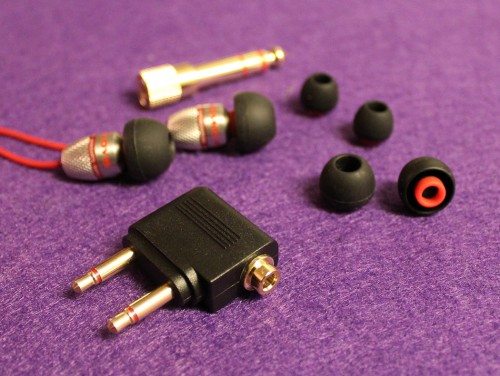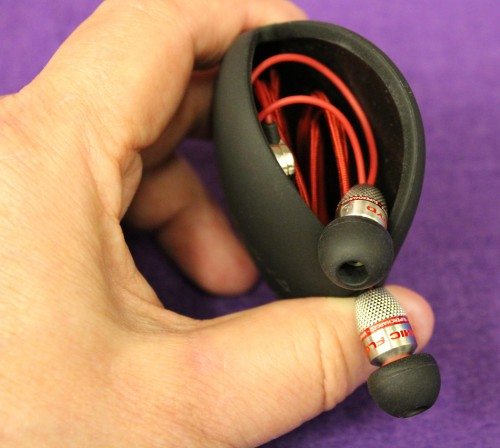 The case – also unique – suffers from design over function. It looks great in black, non-slip silicone rubber and is very simple to use, but it could be a little roomier and protect better than it does. It can't be completely closed, so dirt, dust, and moisture can get in. Even some $50 earphone cases protect better than this.
But I'm done nitpicking. Once you hear the SuperDarts, you realize the wisdom of a hybrid earphone. What Atomic Floyd calls supercharged, I call balanced. I know, balanced is not a fun word like supercharged, but it is more accurate. Unless you are listening to a bass-heavy song, the SuperDarts do not accentuate or artificially add more bass like other brands can do. Thank goodness. While I am aware how popular bass is, too much bass overpowers the other frequencies and is physically exhausting with extended listening. So, Atomic Floyd can say what they want, but I say the bass is just right.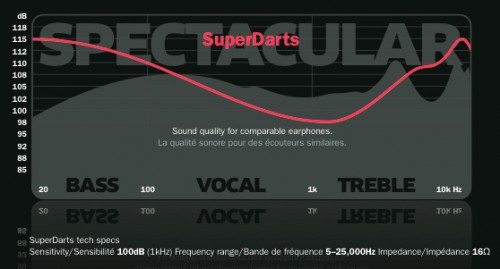 Atomic Floyd included the SuperDart's frequency chart right on their packaging. The chart shows an emphasis on bass and treble (dynamic and armature strengths) with a drop in the midrange (vocals). Frankly, if I determined my purchase on this chart, I would pass on them. Don't be fooled. They sound better than the chart would indicate.
Let me state here that I am listening to the SuperDarts using audio players like Pure Music, Decibel or BitPerfect – take your pick. It's gotten to the point where I can barely use only iTunes as a player on my MacBook Pro and definitely not on my iMac. These iTunes alternative music players sound much better and can handle various types of music files with ease. I am also using an external digital audio convertor (DAC), which bypasses the computer's sound card and offers yet another level of improvement. I am currently testing two DACs which will be reviewed soon. However, the SuperDarts also sound great straight out of the iPod/iPhone.
Listening to a high resolution version of "Let Me Roll It" from "Band On the Run" by Paul McCartney and Wings, allowed the SuperDarts to shine as much as their metal exterior. This version was downloaded from HDTracks and is uncompressed. What that means is little or no tweaking was done to the song after McCartney released it to the record label for distribution. Quiet parts are quiet, and when the loud parts come, the drama is much more apparent. The SuperDart's hybrid design brings out the peaks and depths of one of my favorite Wings song. It is both fascinating and quite fun to hear.
I have all the albums from Ultravox, a synth band that fills every 80s cliche you can think of. They were not an audiophile-quality group, so I seldom listen to them with armature based earphones. However, listening to these lower resolution electronic gems, the dynamic half of the SuperDarts smooths out the rough edges. Warren Cann's drumming punches through the bass-heavy synth and frequently overwrought vocals of Midge Ure. This is fun music heard through fun earphones.
Chris Wood's amazing saxophone in Traffic's "Low Spark Of High-Heeled Boys" sounds as if it's drifting in on a fog as the song fades in and 11 minutes later, fades out. The SuperDarts give the song a depth and airiness that's unusual for earphones. At one point, I kept looking over my shoulder to see who was talking behind me before I realized that it was someone talking (or quietly singing) in the background during the recording. The SuperDarts were picking up all of it and it was eerie.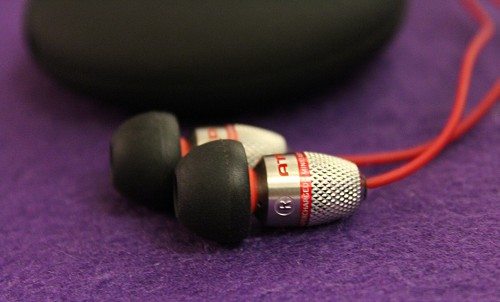 Atomic Floyd has successfully married competing technologies with the SuperDarts +Remote earphones. I believe this is only the beginning as other companies explore this unusual approach. If you have the means and don't mind the heavier weight or lack of eartip choices, you will like this dynamic and armature hybrid from Atomic Floyd. Their penchant for bold design, build quality and unique sound coupled with an expanding market reach into other countries can only be helped with products like the SuperDarts.
Product Information
Price:
$299 US £199 UK
Manufacturer:
Atomic Floyd
Retailer:
Atomic Floyd
Requirements:
Pros:

Successful blend of dynamic and armature speaker
Bold design
Durable and well made

Cons:

Price
Weight
Skimpy ear tip selection
Case