We use affiliate links. If you buy something through the links on this page, we may earn a commission at no cost to you. Learn more.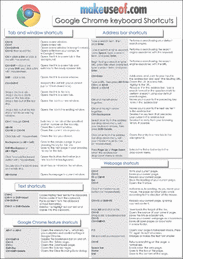 Google Chrome Keyboard Shortcuts [affiliate link] is a handy cheat sheet for the Google Chrome browser that lists keystrokes that perform specific actions. Surf more productively by keeping your hands on the keyboard instead of going back and forth with your mouse. This cheat sheet comes at a good time for me because I actually just switched to Chrome last week. I've been a LONG time Firefox user, but I was getting tired of how slow it seems to be. I switched to Chrome and was blown away at how much faster it is. If you haven't tried it in awhile, definitely check it out.
There are a few hoops to jump through to get this guide, but it helps The Gadgeteer to earn some affiliate fees that can help us to bring you more cool product reviews.