We use affiliate links. If you buy something through the links on this page, we may earn a commission at no cost to you. Learn more.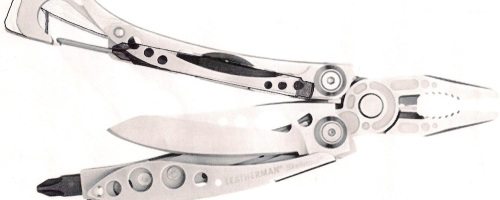 The Leatherman Skeletool has been on my 'wish list' for some time now (especially the carbon-fiber handled CX version), so when I saw them at a local Target over Christmas on clearance for 1/2 price, I finally snagged one!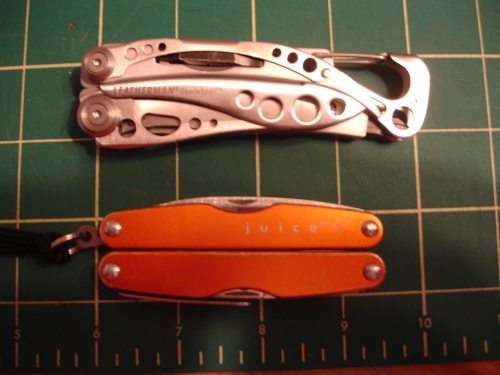 This is considered a small or pocket multi-tool since it is only 4″ long and weighs 5oz. More importantly, it does not have the long list of tools we generally drool over – limiting itself to a very nice pair of modified needle-nosed pliers (with the typical wire cutting and stripping section), a main blade (1/2 serrated), and a bit holder with two included double-tipped bits. Besides the main tools, it also offers a carabiner loop, can opener, and a removable pocket clip.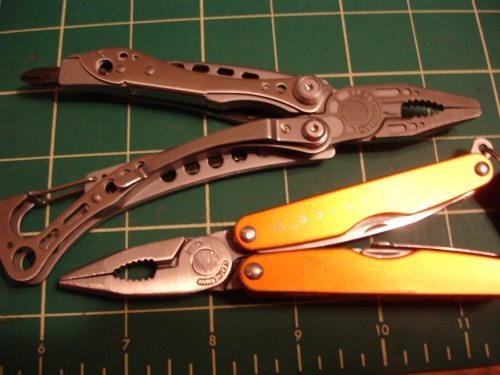 This is a strikingly attractive tool, at least in my eyes. The skeletal frame is defined by gentle curving lines and many holes. A triangular hole in the blade allows it to be opened single-handedly. The pocket clip curves to match the frame, and even the back of the blade has a gentle humped curve that makes it pleasing to the eye.
The tool fits well in your hand. I like just holding it. The blade and screwdriver are not perfectly placed as they would be in dedicated tools, but they work well here. The curves of the frame seem to fit my hand almost perfectly and offer a very solid-feeling grip. When using it as a pliers, there is a 'right' and 'wrong' way to hold it due to the curves. Hold it the right way and you can almost feel the power flow into your grip. Hold it the wrong way and you'll find yourself repositioning it almost without thinking.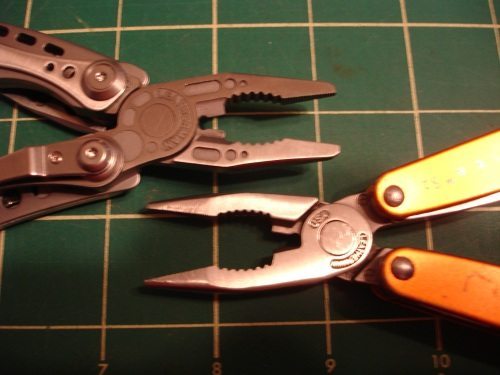 The 2″ pliers head and 2.5″ long blade are both strong and well-made, as is typical for Leatherman tools. The pliers head seem small if you are used to the 'full-sized' tools like the Kick or Wave but is the about same size as my beloved and well-used Juice S2 – the Skeletool's is a bit thicker and a bit more squarely cut.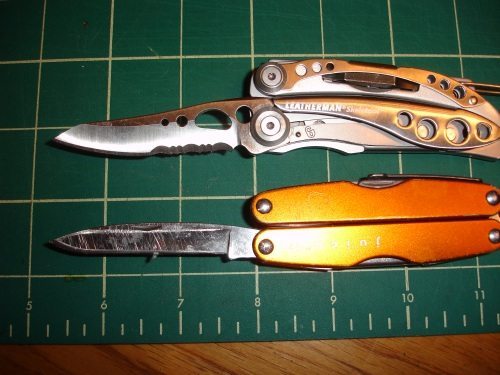 The knife blade is half-serrated and has an odd but attractive overall shape. A large cut-out makes it easy to open with one hand while the slight hump and a wide spine on the back of the blade make it comfortable to use even for heavy cutting jobs. The blade is secured by an interframe lock helpfully stamped with a padlock icon.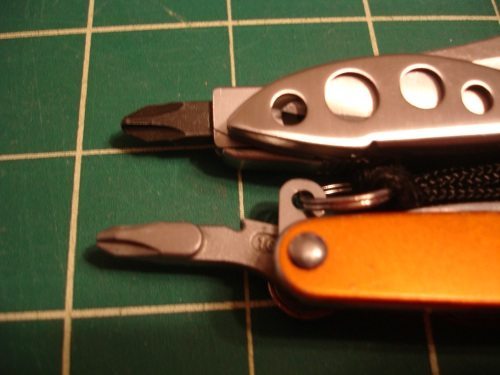 The bit is an odd and 'new to me' element. I need a lot of tools in my work day, including several Allen or hex tips, and a tool that lets me carry some conveniently would be a huge boon. The Skeletool features not only a locking bit holder, but it can store a spare bit in the frame! It comes with two double-ended bits- a #1 and #2 Phillips, and a small and medium slotted.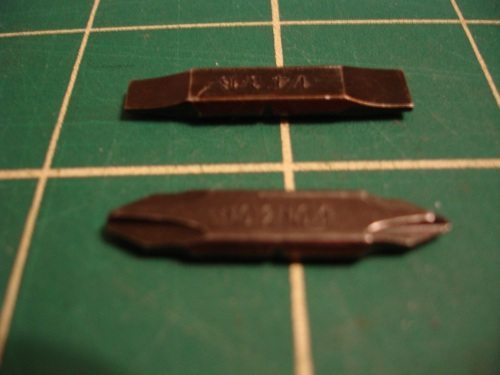 The thing is – the bits are not 'off the shelf' things you can find in the store. The bits are greatly flattened and very proprietary. The good news is that you can get a selection of bits, a modified holster, and even a handy extension bit for pretty reasonable costs. The optional extension is cool since it holds the proprietary bits as well as standard bits!
One really slick bit of engineering is that as you close the tool, the bit fits neatly inside the frame around the carabiner. Speaking of the carabiner, I rarely find myself using it. Clipping it to a belt loop makes for an awkward carry since the tool is too short to 'tuck' into a pocket that way and it sort of pokes out a bit for me. I prefer using the spring clip in a back pocket… until I noticed that the protruding head was catching on things like my car seat. This is not really a design flaw, but it bothers me enough that I stopped carrying it for now (I will re-evaluate when I get the case, which I still have not ordered.)
My 'wish list' for the Skeletool is pretty short. I wish it had a detent that held the tool so you could use the bit at right angles for more power, and I wish it could carry bits and the extender more easily without the case, perhaps some sort of 'snap-on bandoleer'-like device. I also wish there was a version with scissors – I use the scissors on my Juice S2 quite a bit – although I would not want to give up the light weight and small size of the Skeletool for them.
Overall, this is a solidly-built smaller multitool that feels great in your hand or pocket. It has not quite replaced my Juice S2- but it well might if/when I order the extension bit, bit kit, and case.
Product Information
Price:
$72 MSRP, under $50 'street value'.
Manufacturer:
Leatherman
Pros:
Cons:

Lacks some useful tools (scissors)
Uses proprietary bits