We use affiliate links. If you buy something through the links on this page, we may earn a commission at no cost to you. Learn more.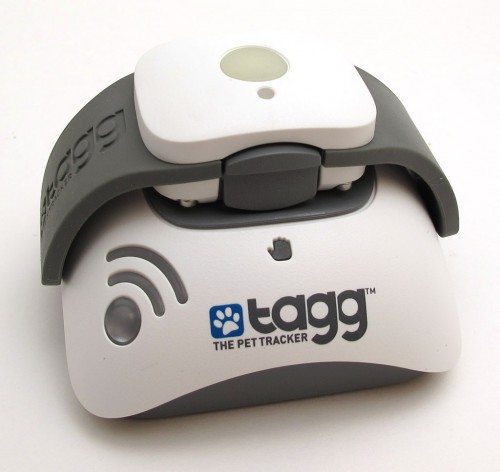 For most people, the four legged furry beings that live with them are not just pets, but are part of the family. That means we worry about them just like we do our children. With kids and other loved ones, we can call them on the phone when we want to check up on them. But how do you keep an eye on your pets when you're not with them? A video surveillance system is an option, but that only works when the pet is in the house or your yard. Once they are out of the camera's view, you're stuck. Tagg the Pet Tracker is a clever solution that uses GPS technology to help you locate your pet at any given moment and alerts you when they stray out of a predefined zone.
Note: Click the images in this review to see a larger view.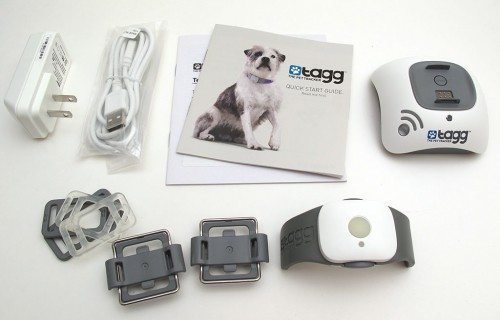 Package Contents
Tagg Tracker
Tagg Docking Station
AC adapter / USB cable
Collar Clips and straps
Quick Start Guide
The Tagg Pet Tracker system is marketed more towards dogs, but it can work with cats too… as long as the cat (or dog) weighs more than 10 lbs.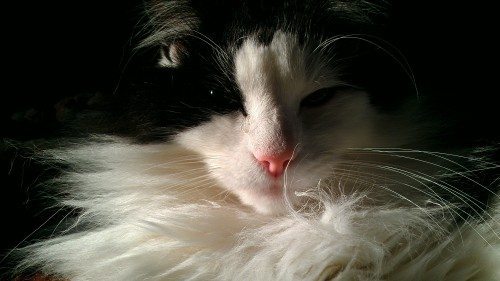 For this review, my 15 lb cat Max, graciously volunteered his services. Max can be a little stinker and will sometimes stay out all night. Jeanne and I often wonder where the heck he goes at night and thought the Tagg Pet Tracker would be a fun way to find out.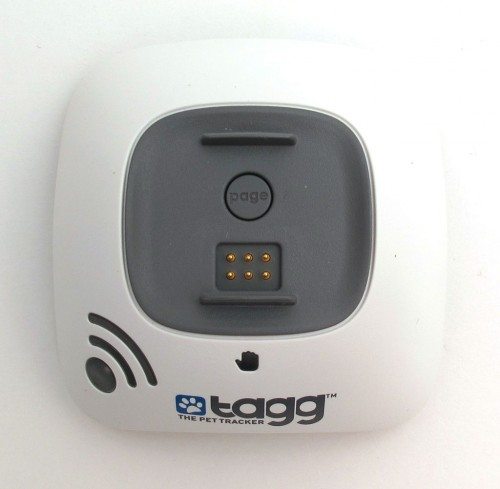 Never miss one of our posts again. Sent MON, WED, and FRI with the latest gadget reviews and news!
The Tagg system is made up of 2 main parts. The dock (shown above) charges the Tagg Pet Tracker. It also has a page button that will send you an email notification of your pet's location within 10-15 minutes after you press it.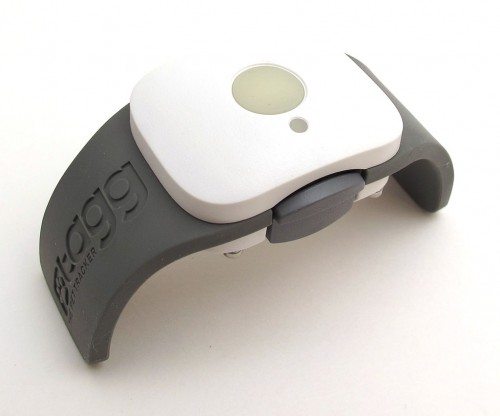 The other part of the system is the Tagg Pet Tracker. This is the module that clips to your pet's collar. It has a status LED (large circle on top) that blinks Blue while the tracker is charging. The smaller button is the Trip button, which can be pressed to disable the Tagg zone while walking your pet or running errands outside the predetermined zone that you've created.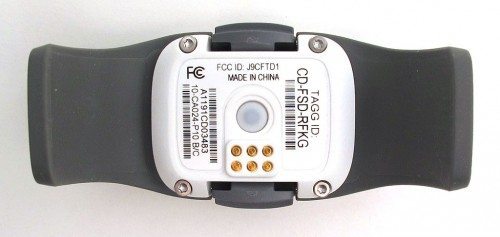 The Tagg Pet Tracker has an internal battery that can last up to 30 days per charge.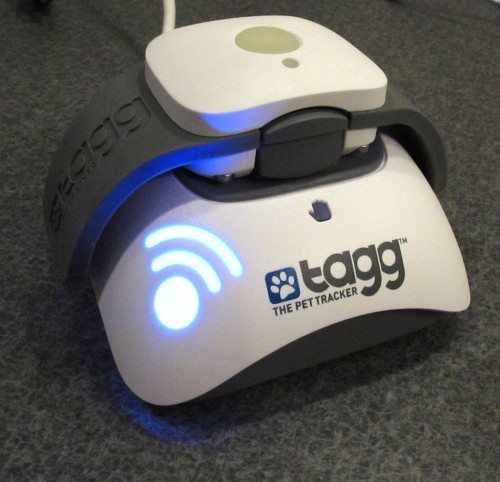 Charging is as easy as snapping the module to the top of the dock. It takes about 2hrs to fully charge the tracker.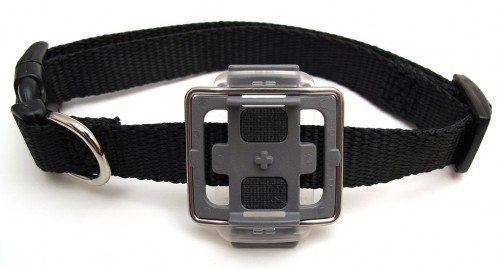 To attach the Tagg Pet Tracker to your pet's existing collar, you use the included clips. Max doesn't normally wear a collar, so I had to buy one at Walmart. Cat collars are very narrow, so I bought him the smallest dog collar that I could find. Even it is more narrow than I would like.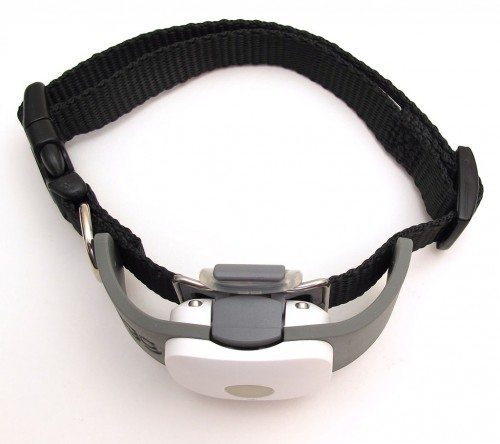 Here is the Tagg Pet Tracker attached to the collar. I think the attachment method could have been designed better. I'm not sure why the grey rubber wings are needed.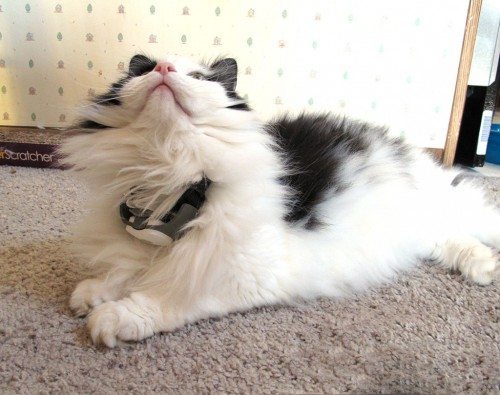 Here you see the Tagg module on Max. As you can tell, it's too big for him. He was constantly trying to pull it off by putting his paws under the grey rubber wings.
To begin using the Tagg system, you have to register it online and setup the Tagg Zone.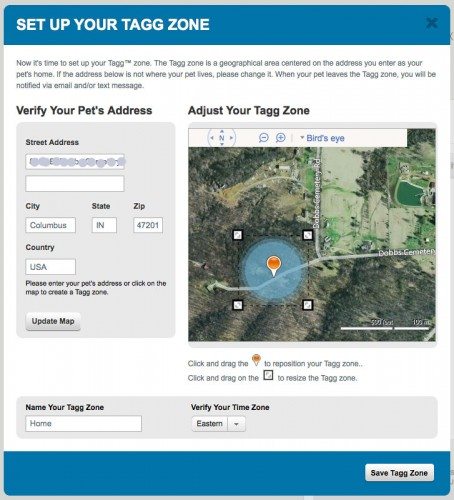 The Tagg zone is a customizable radius around your home (the Tagg dock) of 75 to 1,000 yards. The Tagg system will locate and track your pet anywhere in the United States where there is Verizon Wireless network coverage.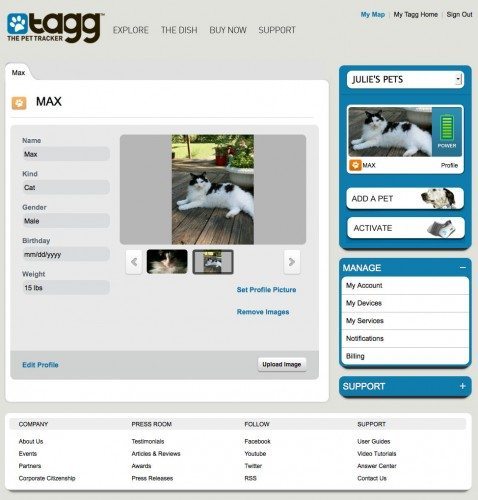 The web interface allows you to enter information about your pet and also shows the battery status of the Tagg module.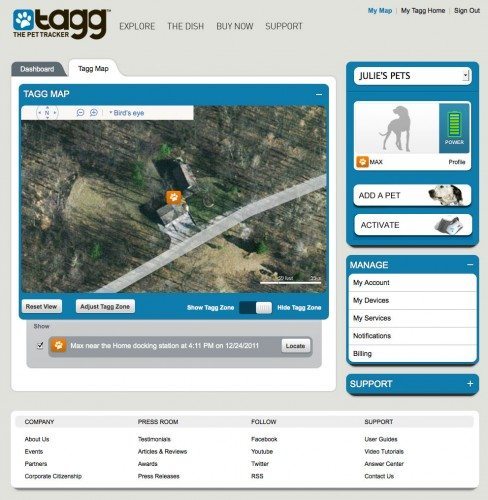 The map will show the location of your pet and any current alerts. The Tagg system is great when it comes to notifications. In addition to telling you when your pet is outside the Tagg zone, it will let you know when the battery is charged, and when there is a software update. To update, you just place the tagg on the dock and the update will begin automatically. You'll receive another email once the update is finished.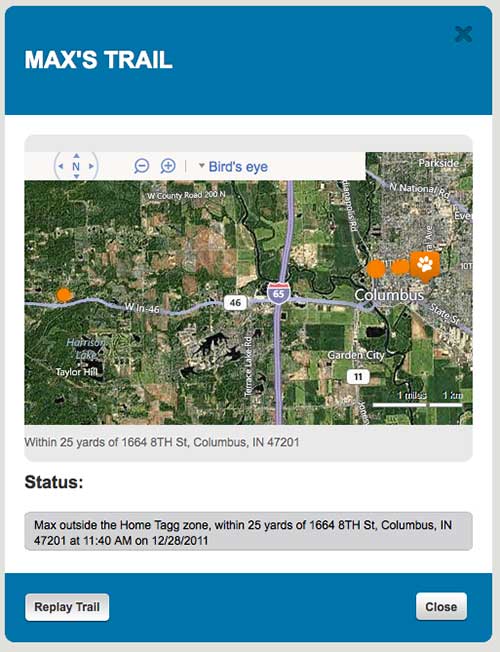 When your pet goes outside their designated zone, you'll receive an email that shows a small thumbnail map of their location and links to pages on the Tagg website that will initiate a Locate or Tracking of your pet. When you turn on the tracking feature, you'll receive an email with your pet's location every 3 minutes for 30 minutes. Some of the emails also have a link to the Tagg website that shows a trail of where your pet has been. The trail is basically what you see in the image above. There's a button to play the trail, which just shows you various points where your pet has been. It does not show an exact route or show your pet moving in real time… which I would really love to see.
To be honest, I'm not all that impressed with the web portal for the Tagg system. It is little slow and seems pretty basic as far as features go. Luckily, there's a 2nd way to keep tabs on your pets that's a little more interactive.
If you have an iPhone or Android phone, you can download the free Tagg app. Once logged into your account, You can see what I thought was a live view of your pet's location as it moves around in a Google Earth view. A little Blue orb will move around on the display in real time. I was really excited to have this feature and spent several minutes watching the orb move around on my phone's screen. My excitement disappeared when I got up from the couch to look out the back window to try to see Max in the woods. It's then that I noticed that he was sitting perfectly still on the back patio, while the Blue orb wandered happily around the screen. I have no idea what the Blue dot is for or why it moves all by itself…
When your pet is out of the Tagg zone, you can use the mobile app to locate and get directions to your pet.
While I've been testing the Tagg Pet Tracker, I've noticed that the out of zone emails, and locate features in the app and web can be pretty laggy. For example, this morning I gave the collar to Jeanne to take with her to work since Max has not cooperated by going out of zone. I had the Tagg Zone set to the smallest area around our house (~75 yds). Jeanne left for work at 7:30am and I didn't receive an email notification telling me that Max was out of zone until 8:19am, almost 40 minutes later. Using the locate button takes a few minutes too. I really wish there way to see your pet moving around in real time…
For what it has been designed to do, the Tagg Pet Tracker is a cool gadget. I don't love it, but I like it and I can see how it could be a very important tool in helping to find a lost pet.  Since you are required to pay $7.95/month (+ $0.95/month for any additional tracker modules) for their service, I feel it should have some more features like a mapping feature that would show a real trail of where your pet has been during a specific time, instead of just starting and ending points while they are out of the zone. And in a perfect world, I wish it would show a real-time view of your pet's location. But I guess those are all features for the future version of this device.
Do any of you use this device or similar devices to keep track of your pets? If so, let us know your thoughts.
Product Information
Price:
$99.95 / $7.95 per month after the end of first free month of service
Manufacturer:
Tagg
Pros:

Easy to setup
Email notifications when pet is out of zone
iPhone and Android mobile apps lead you to your pet

Cons:

Web interface is sluggish
Notifications can be slow
Locates are slow
Collar module a little large for cats and small dogs