We use affiliate links. If you buy something through the links on this page, we may earn a commission at no cost to you. Learn more.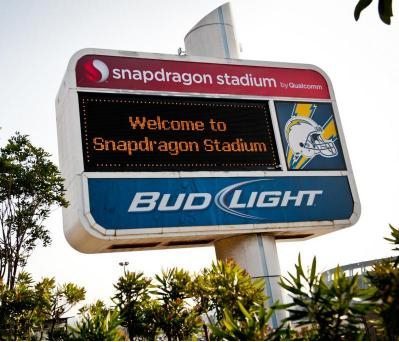 This post brought to you by Snapdragon by Qualcomm. All opinions are 100% mine.
Have you heard the news?  Since December 18, Qualcomm Stadium, home of the San Diego Chargers, has changed their name to Snapdragon Stadium.  Since 1997, Qualcomm, the San Diego-based wireless chip giant, has had naming rights to the Charger's stadium.  This name change is only temporary – lasting about 11 days, but Qualcomm wanted to make everyone aware of their powerful new Snapdragon applications processor chips.  Exactly what is a Snapdragon, and why is it important to us?
Snapdragon processors by Qualcomm are the digital brains inside mobile devices made by many popular manufacturers.  Qualcomm knows that consumers are becoming more and more savvy, and they want to spend their hard-earned money on the best product they can.  With a Snapdragon processor, consumers know they are getting a mobile device that has a powerful all-in-one chip that maximizes functionality while optimizing battery life.  With the single, dual, or quad-core CPU, dual-core GPU, memory, DSP and multimedia functions for music and HD video, the industry's only 4G/LTE multimode modem, RF functionality, and more in one chip, all functions work efficiently because they were designed to work together.  This efficient operation means you can do more between battery recharges.
Snapdragon processors are found in more than 250 devices by manufacturers like Samsung, LG, Nokia, and HTC.  They are found in tablets and smartphones, and they work with Android, Blackberry 7, and Windows Phone 7 operating systems.  To make it easy for you to choose the Snapdragon that best provides the feature set you want, Qualcomm has classified Snapdragon processors into three categories.  Devices with an S1 Snapdragon will work great for casual gaming, taking and sharing pictures and videos, and downloading and watching movies.  The S2 Snapdragon delivers a rich gaming experience, lets you watch HD videos in a browser, stream 720p HD video with clear audio, and take high-quality pictures and videos.  The S3 Snapdragon devices are designed for console-quality gaming, streaming movies in 1080p HD, capturing and sharing pictures and videos in 3D, and are capable of HDMI-out so you can watch HD movies with Dolby 5.1 surround sound on your TV.
Now that you know more about Snapdragon processors, you need to check out the activities at the Snapdragon Stadium.  A couple of events have already occurred there.  The San Diego Chargers took on the Baltimore Ravens on December 18 (Chargers won!), and the San Diego County Credit Union Poinsettia Bowl was played on December 21.  You still have time to catch the Texas Longhorns taking on the California Golden Bears at the Bridgepoint Education Holiday Bowl on December 28 at 5:00 p.m. P.T.  Don't worry if you can't make it to the Snapdragon Stadium to catch the game live; it will be broadcast on ESPN, too.
The Snapdragon Stadium name will disappear soon, but devices powered by the Snapdragon processors will be around making your life easier for a long time!