We use affiliate links. If you buy something through the links on this page, we may earn a commission at no cost to you. Learn more.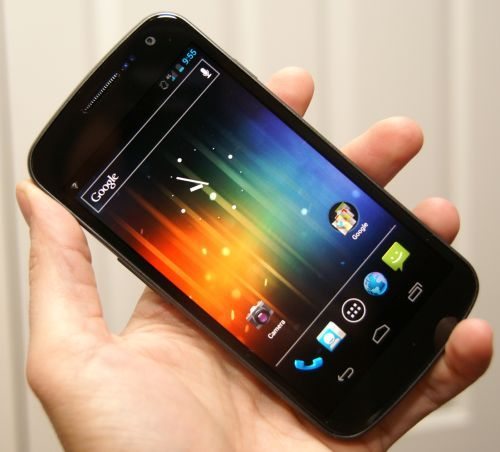 The newest member of Google's Nexus family of smartphones — the Galaxy Nexus by Samsung — has finally arrived on Verizon with 4G LTE. While Julie will be posting a full, in-depth review here soon, these are my impressions after spending a day with this latest incarnation of Android.
HARDWARE
The Verizon CDMA/LTE version of the Galaxy Nexus (hereafter "VGN") is a terrific phone, but it's an evolutionary improvement over other Android phones.
Yes, it has an amazing, curved 4.65″ 720p (720×1280) Super AMOLED display. That's the same physical size as Sprint's version of the Samsung Galaxy S II, but it has higher resolution. It has the same resolution as the HTC Rezound's 4.3″ Super-LCD, but with the deeper blacks and more eye-popping colors that AMOLED offers. Evolutionary.
Yes, it has 32GB of internal storage, but in reality, that's actually just 28GB of usable space. And, with no microSD slot, that's all you'll ever have. The CPU is a dual-core 1.2 GHz TI chip, so it's just as fast as several other phones out now, but that's not the 5-core Tegra-3 CPU like some Android tablets are starting to come out with. Regardless, the VGN seemed quite zippy, with only the occasional pause to collect itself (and that it was working on setting up all my Google accounts while doing so might be a legitimate excuse).
The battery is big, but it needs to be because Verizon's ultra-fast 4G LTE data sucks power like nobody's business. I've not had the phone long enough to make a conclusion about battery life, but I used this thing a LOT and the battery life wasn't shockingly terrible (unlike, say, the HTC Thunderbolt I spent some time with).
The phone is big, but light….it isn't incredibly thin (like the Motorola Droid Razr) but still weighs just 4.8 oz. But, because of the girth, you do notice it in your pants pocket. The Nexus S this ain't.
The fact that the camera only has 5MP will disappoint some, but only until they actually use it. More on that below.
The VGN also has NFC (near-field communications, such as for making wireless payments) and all the other wireless connectivity you'd assume.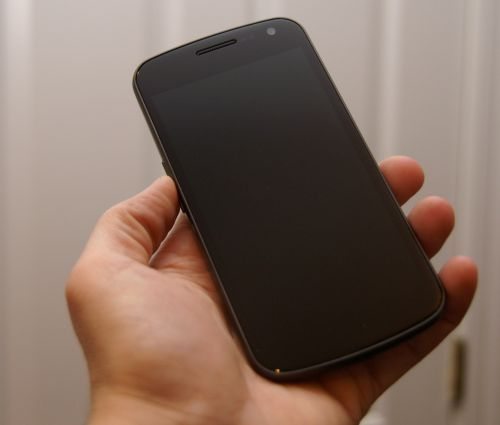 Perhaps the thing you notice immediately is that it's so very monolithic. With no icons or buttons on the front of the phone, it is almost ominous. The notification LED (which is RGB, so it can flash any color) is located in the center of the face below the screen (a clever design reference back to the G1's trackball, perhaps?).
All told, the hardware seems like a really solid phone upon which to deliver the real treat: Android 4.0.
SOFTWARE
The real story with the Galaxy Nexus is that it offers the very latest version of Android: 4.0, or Ice Cream Sandwich (ICS). Android 4.0 represents a major design departure from previous generations, and it is an effort to meld the phone versions of Android (everything up through 2.3, or Gingerbread) with the tablet version of Android (3.0, or Honeycomb) into a single, unified user experience. While I've not yet seen a tablet running ICS, the resolution on the VGN is actually higher than many tablets, so it's pretty easy to see how it might scale up in size, if not also resolution.
I won't go into great detail about ICS, but my limited time using it suggests that it's a VERY nice leap forward in terms of usability. While I don't personally have (m)any complaints about Gingerbread, Honeycomb is, to put it politely, pretty terrible from a usability perspective. ICS cleans up a lot of the mistakes that Honeycomb includes and seems rather refined and polished, and extends that polish to all the core apps as well.
Sure, some things changed signficantly, like the absence of search and menu capacitive buttons below the screen. Replacing those are on-screen icons. The only problem I had was a milder version of my frustration with Honeycomb…these icons aren't in the same place on every screen. In some apps, the menu button is in the lower right; in others, it's in the upper right. Sometimes, I couldn't find the search function at all, forcing me to head back to Home to do a search. That's certainly not ideal and, frankly, rather odd given that Google is first and foremost a search company.
One thing that I literally cheered when I saw it was the fact that both notifications and running apps can be discarded/closed by simply swiping them off the screen, a la webOS. Thank you, Matias Duarte!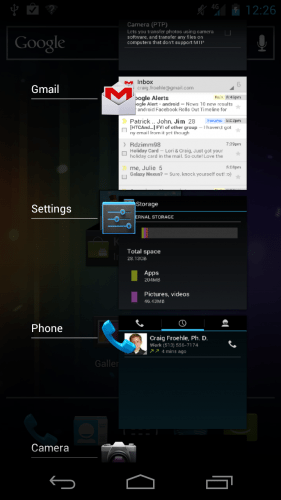 Also nice is the fact that a full suite of Google's official apps comes preloaded on the phone, including: Maps, Gmail, Calendar, Google+, Music, Books, Videos, Android Market, Talk, YouTube, Navigation, G+ Messenger, and Voice Search. No longer do you have to head to the Market immediately to get some of these basic functions on your phone. You still need to grab some Google apps, like Goggles, Street View, and Earth, but it's a start.
A feature I assumed would not work very well — and it didn't — was the new Face Unlock. In a nutshell, the phone uses the front-facing camera to match up your face with the face you told it is you and unlocks the phone. Not only does it take about 3X longer to recognize you than it does to simply do a gesture unlock, it also fails to recognize you fairly often. Depending on lighting, whether or not you're wearing glasses, how your hair looks, etc., Face Unlock worked for me about 60% of the time…a false-negative rate far too high for me to rely on. But, hey, it might get better, right?
Now, about that camera. One feature that Google was especially proud of on the Galaxy Nexus was the rapid-fire shutter. I was able to take eight 5MP shots in about 2 seconds by quickly tapping the on-screen shutter button. Yes, that's fast…very fast…maybe even game-changing fast. Photos were of good quality in decent light; low light makes for some tortured images.  Some samples: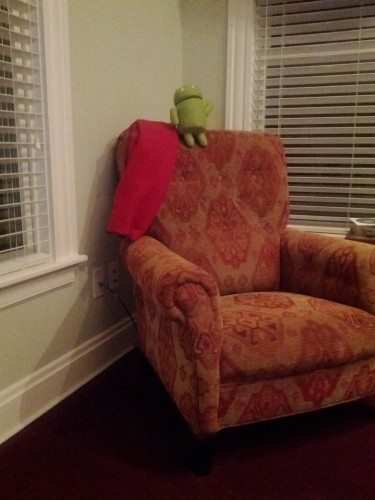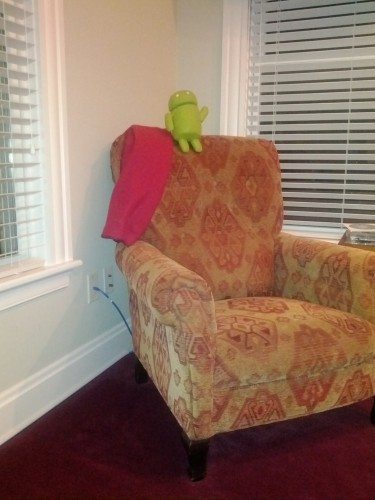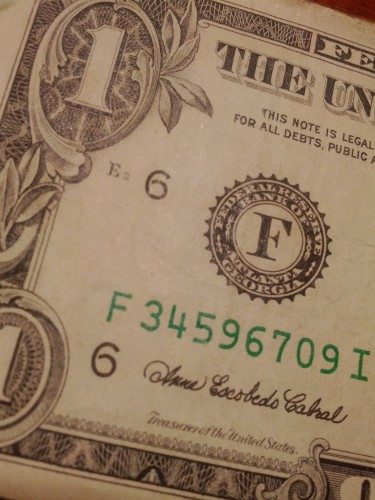 All told, I like ICS very much and am quite excited that Android finally seems to be adding some design polish to what is fundamentally a very strong and customizable operating system.
SERVICE
The last piece of the puzzle is cellular service. I couldn't do extensive testing, but the Galaxy Nexus seemed to be able to hold onto a signal reasonably well with good call audio quality. Speakerphone volume seemed acceptably loud, but not great tonal quality…par for the course with most phones today, it seems.
Data service is much more noteworthy. Verizon's 4G LTE service, where you can find it (an increasingly long list of US cities), is very, very fast. So fast that you might be tempted to stream a lot of videos and music, burning through your bandwidth allotment faster than you thought possible (at the moment, Verizon is offering 2GB of 3G data and 2GB of 4G data for the 2GB pricing tier). So be careful…and use Wi-Fi when you can.
SUMMARY
I like! If you need a new phone, have $300 to spend (or $650 without contract renewal), and Verizon is your carrier, the Galaxy Nexus could easily be your best option. If we knew that the Droid Razr was getting an upgrade to ICS in the very near future, it could be a toss-up — the Razr offers a very different hardware proposition than the Galaxy Nexus does.
But, as of today, only one phone on the Can-You-Hear-Me-Now Network comes with Android 4.0 out of the box. Thankfully, it happens to be a really nice phone.