We use affiliate links. If you buy something through the links on this page, we may earn a commission at no cost to you. Learn more.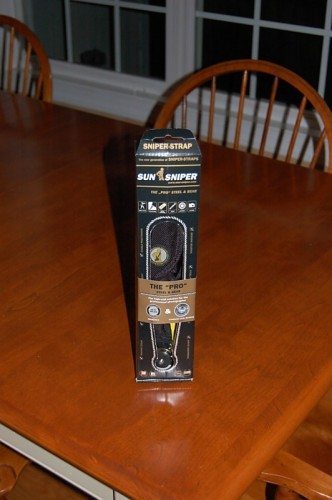 I am an avid digital photographer, and I love to bring my DSLR with me where ever I go. I take great pictures that help me create memories that will last forever.  But I, like many of my photography-loving friends, hate carrying the added weight of my DSLR around my neck. I am also self-conscious as I feel that I have the dreaded "tourist look", not to mention that the strap on my camera cuts into my neck causing significant discomfort over longer periods of an hour or more. Because of the "in-front" position of my DSLR the strap puts it right in front of me and I feel that my $500+ DSR with its protruding lens is in a precarious position waiting to be bumped into a preoccupied passerby. I have always tried to sling my DSLR under my arm, but to no avail, as the camera strap would not allow this kind of positioning. A company by the name of Sun-Sniper has solved my decade old problem by developing and delivering the Sniper-Strap. The company sent me the Sniper-Strap Pro to review.
The photos in this review can be clicked for a larger view.

The Sniper-Strap is truly a revolution in camera straps as it moves the weight and support of your favorite camera from around ones neck to ones shoulder, much in the same way a messenger bag does the same thing for your important computer and papers. The Sniper-Strap works by mounting an intuitive and proprietary strap connection to your Camera's tripod mount, creating a sliding mechanism to support the camera – thereby eliminating your original camera strap all together and allowing you to support your camera on your shoulder. The Tripod mount has a soft piece of dense foam to protect your camera's tripod mounting location from any damage due to connecting with the steel of the Genuine Bearing – a well designed piece. For those of us that regularly use a tripod with a shoe we are all to familiar with the shoe connection coming loose and I feared that this would be the case with the Sniper-Strap, but my fears were put to rest as no matter what I tried, the camera stayed firmly connected. The Sniper-Strap comes in several versions and the one that I received for the review is the Sniper- Strap Pro with a "Genuine Bearing" as Sun-Sniper calls it.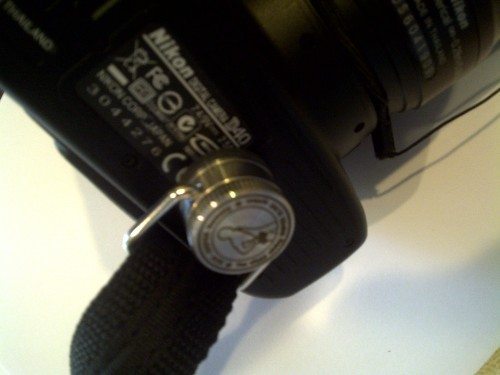 The Genuine Bearing is composed of a twist-able rotary connection to your camera supported by a set of stainless steel ball bearings.
This configuration enables one to "Quick-Draw", as the company calls it, quickly reaching to one's side, grab their camera, and start snapping pictures – just like what I assume it must be like to draw a handgun from a holster to shoot the bad guys in an old western movie or modern day police show.
I tried the Sniper-Strap on both my right and left shoulders and found the strap to be extremely comfortable. In fact, I hiked a trail with it and forgot that it was even there. I should point out at this point that I usually carry a mini camera backpack with a couple of lenses and my DSLR, but for this trip I went out on my hike only with the Sniper-Strap and I enjoyed not having 10 pounds of gear on my back. I carry a Nikon DSLR with a 15-200 lens to shoot my pictures. While not the heaviest of DSLRs on the market, it is still a couple of pounds with the lens. To make it virtually disappear from my load while hiking is a welcome capability of the Sniper-Strap. The strap is adjustable to meet the needs of any size individual.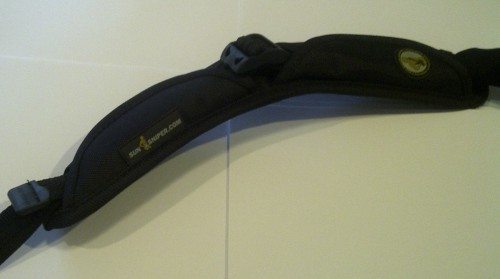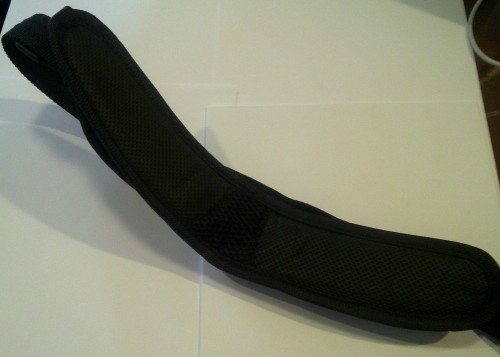 The comfortable top part of the strap, the "Shock Absorber" as the company calls it, can be easily removed thanks to some simple Velcro closures in the strap. The strap itself is extremely durable as I tried to "throw" it around on my hikes and it easily held up to the light torture that I doled out. The strap on the Sniper-Strap Pro has an embedded piece of steel braided cabling in it to protect it from being stolen by a robber with a knife that tries to slash the strap and run off with your expensive camera. I did not try this in my testing, but given the look of the cable, I am sure it would hold up to a thief with a knife as it would take more than a knife to cut through the cable – can you say "cable cutters with big teeth"?
The company needs some "marketing" help as they have named every possible feature of the Sniper-Strap with names, that while inventive, can be somewhat confusing for the regular photographer.  I highly suggest sticking with plain old English, or other regular form of translated language for features and benefits – trying to name everything adds up to nothing from a market perception perspective – you spend all of your time and money promoting terms instead of the value of the term in plain English.  Anyone for a 'Cutter-Crasher"?
Sun Sniper is so proud and sure of their Sniper-Strap that they offer a $500 insurance policy to anyone who uses their camera and has it stolen by a thief with a knife. This is a welcome addition as many travelers and tourists are fearful of carrying around their expensive DSLR only to be met with a thief on the streets of a big city. Not sure if the steel strap would help if the knife is directed at the individual carrying the camera and hearing the words "Hand over your money, jewelry, watch, and that camera!", but it is a step in the right direction.
I usually talk about the packaging of the products that I review (see top picture), and the Sniper-Pro packaging is a little on the basic cardboard side as it is packaged to be hung at a retailer location next to the rest of the camera straps and accessories. The packaging is a little confusing to open as I expected to open it from the top or bottom, but it actually opened up from the side. The packaging could have used some "Open Here" directions as I usually like to avoid ripping the packaging to get at the product – never know if you will rip up an important piece of instructions, or the product itself.
Since I take a good deal of action photography on the move at my kids sporting events, hiking, and touring locations I enjoy the quick draw capabilities and the comfort of the Sniper-Strap and would recommend it for those professional photographers that wear their cameras for long periods and need quick access to their cameras; such as event and sport photographers. As well, avid hobby photographers should take a look at the Sniper-Strap as it will change the way that they use their cameras.
Sun-Sniper straps are available in a variety of configurations from about $60 to over $200 for a harness that supports three cameras.  At these prices, one has to think long and hard about paying over 10% of your camera's value for a strap, unless you are a professional photographer or an avid hobby photographer.
The company is based in Europe.  They ship directly to many countries, but they have a list of distributors for other countries.  Check this list of distributors (near bottom of page) to determine which is the correct one for you, or you can buy the full family of Sun Sniper products from from Amazon.com
Product Information
Price:
$62-$250
Manufacturer:
Sun Sniper
Retailer:
See distributor information at the bottom of this page
Requirements:

Camera with standard tripod mounting - 1/4" diameter, 20 threads per inch (1/4-20)

Pros:

Innovative shoulder strap for digital cameras with a tripod mounting
Steel bearing makes snapping pictures at any angle simple vs. traditional camera straps that "get in the way"
Moves the camera from an uncomfortable in front position to a comfortable position on your side - making it easier to access and shoot pictures - thus the name "Sniper"
Comfort - I wore the Sniper Pro for over an hour while trekking on a trail and I had no "strap-fatigue" and barely knew my DSLR was there
Curved and padded shoulder strap works equally well for right and left handed individuals
$500 Insurance Policy included with the Pro version for theft of your camera while you are wearing

Cons:

Expensive
Confusing names