We use affiliate links. If you buy something through the links on this page, we may earn a commission at no cost to you. Learn more.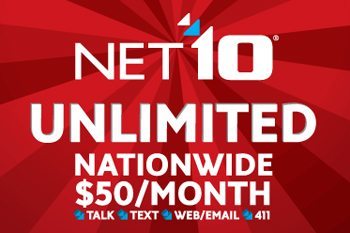 This is a Sponsored post written by me on behalf of Net10 for SocialSpark. All opinions are 100% mine.
When my daughter was in the third grade, her class took a 3-day, 2-night field trip about 300 miles from home.  Neither my husband nor I could go along, so we got her a pre-paid cell phone.  That first phone we tried was awful – she never seemed to be in a calling area so we could talk to her.  That one got chucked in the garbage, and we started looking for a replacement before the next field trip.  We got very lucky when we decided we'd try Net10 Wireless for her.  The phones were very reasonably priced and coverage was great.  We were so pleased with the service and prices that we decided to stick with Net10 when we later needed to get a pre-paid cell phone for my elderly father.  As easy as it was then to buy and add minutes to those phones, Net10 is making it even easier and more cost effective now with their full-featured unlimited monthly plan.
Now you pay only $50 a month (30 days of service), and you'll get unlimited talk time, unlimited data for web access and email, unlimited text and picture messaging, and unlimited 411 access.  You don't need to worry about "long distance" calling charges, because Net10 offers nationwide coverage.
To get started, go to their website to select a phone or purchase one of the Net10 phones in a local store.  You'll find a variety of styles – slider phones, phones with QWERTY keyboards, touchscreen phones – and prices to fit most any budget.
Next, go to the Net10 Wireless website to sign up for the monthly unlimited plan.  You'll need a credit card to start the monthly plan, and your service will be automatically renewed each month on that card.  You don't have to keep up with minutes or remember when you need to renew.  It's all done automatically.   You can even set up a phone for someone who lives in another city or state without worrying about them incurring roaming charges with every call, because Net10 will let you set up the phone for their home area.
Net10 Wireless makes getting pre-paid phone service for yourself – or your children at home or in college, or your parents – extremely easy.  You'll be hard pressed to find their complete suite of services for only $50 anywhere else.   If you're like me, you'll be very satisfied with the quality of the service you'll receive for an incredibly reasonable price.
Check out Net10 on Facebook and Twitter.
Here are a couple interesting other videos to watch too: