We use affiliate links. If you buy something through the links on this page, we may earn a commission at no cost to you. Learn more.
MobileEdge ScanFast briefcase. Checkpoint and Environment friendly.  
(this is a 2nd opinion review of bag that we featured last year)
I really hate flying.  I've never been a big fan.   I hate the high prices, the long lines, the rules, the regulations, the baggage fees, what you can carry on and what you can't carry on.  Honestly, I wonder if it isn't just easier to drive.
But since sometimes driving is out of the question, I either have to fly or take the train and either way, I have to go through TSA checkpoints.
Let me make something clear:  I don't try to sneak stuff on planes that I'm not supposed to have.  I obey the rules. That doesn't mean I like the shakedown at the checkpoints.
When I first found out about Checkpoint Friendly laptop bags, I was more than just interested.  Finally, a company is doing something to alleviate some of the misery at TSA check ins.
MobileEdge has taken this a couple of steps further. The Anaheim, California based company, mindful of the needs of the traveler has designed a series of bags; ScanFast 2.0, that allows faster check throughs.  The ScanFast 2.0 is designed so that the lap top need not be taken out of the bag while going through the X-ray machine.  The bag zips open like a clamshell and lays flat so that the laptop in the sleeve is displayed and need not be taken out of the bag, run through and then packed back up causing delays and hold ups.
Mobile Edge doesn't stop there.  They have actually designed a bag with the computer user and the environment and the economy in mind.
The Computer User
For some reason we're all using black bags that look alike.  Some of them have padded laptop compartments and that's really cool.  MobileEdge's laptop compartment reads CheckPoint Friendly in bold white letters on a see-through sleeve secured with a velcro tab.  It's easy to scan it, see through it, and send you on your way.  MobileEdge also advises the buyer (based on a nifty cardboard sleeve housing the velcro attachment) that nothing but nothing should be in the sleeve other than the laptop and that all cables, transformers, plugs etc should be in the adjacent compartments and they give you plenty.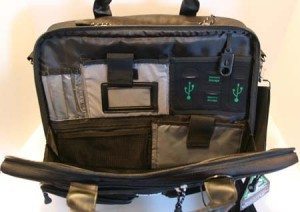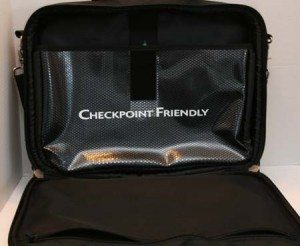 The outside panel of the bag houses four different sized pockets to store bulky transformers, plug ins, chargers; all kinds of  electronic devices that you need including a nice roomy folder/magazine/nook sized compartment.  The first inside compartment can hold flash drives, USB drives, pens, pencils, ID, CDs, DVDs, Nooks, Kindles, books…seriously whatever you need to travel and work at the same time.  The second compartment is the laptop compartment which houses yet another pocket facing the laptop sleeve that will hold even more media.  On the back of the bag, a tight Velcro strap can hold a folded over jacket or sweater or travel pillow.  Women can use this bag and have enough room for those items they would usually carry in their handbags and not have to carry two items on board with them.   It is definitely designed for efficient use of space.
Moreover, Mobile Edge has worked with closely with the Transportation Security Administration to develop the ideal bag to help them and help the passengers make their way through security checkpoints with the least amount of hassle and flight-missing delays.   This is a huge step.  Most retailers don't care.  They're usually going for aesthetics.  By specifically catering to the needs of the computer user who also flies, Mobile Edge has produced a bag that is not only sharp looking, but is efficient and TSA friendly.
Going Green:
Mobile Edge didn't stop at just the computer user. They went after the computer user who is concerned about the environment as well. Utilizing a polymeric material called Sorona, this material is partially made from corn.  That's right…corn.  Other bags use nylon or polyester but Mobile Edge, in conjunction with DuPont, has incorporated corn into the main material of their products thereby reducing greenhouse gas emissions by 63% over those petroleum based products.  Did I mention it's also stain resistant? Did I mention the solid construction and sturdy zippers?
In This Economy… 
Who wants, needs, or can pay exorbitant prices for a laptop bag that's not going to stand up to wear and tear?  I've dug through lots of electronic carrying bags in various shops over the years.  I've seen designers offer attractive but not very utilitarian bags for prices ranging from $30.00 upwards past $200.00.  They were designed for looks mostly but not much else.   The Mobile Edge ScanFast 2.0 briefcase will run $99.00.  You can buy cheaper bags and good luck with that. Good luck with the crappy construction, good luck with the limited size, good luck with TSA if you fly with it.  For $99.00, the ScanFast 2.0 solves a myriad of problems, needs and wants and is worth every penny of the $99.00.
When I received my ScanFast 2.0, my husband immediately commandeered it for himself.  The ultimate "mobileer", he rocks an HP-TC1100 as well as a Nook Color ( that he's rooked to work like a tablet PC), and a  ThinkPad X61.  We're not even talking about his Mp3 player, Android phone and God knows what else.  He took one look at the ScanFast 2.0 and called "dibs".   Under normal circumstances, I might have acquiesced.  In this case, he'll get one for Christmas.  This one's mine.
Product Information
Price:
$99.00
Manufacturer:
Mobile Edge
Pros:

TSA Friendly
Environmentally Friendly
compartments that work
pockets that fit
sturdy construction
solid zippers
decently priced

Cons:

There aren't any cons. Seriously, really. There are no cons to this bag. I love this laptop bag.