We use affiliate links. If you buy something through the links on this page, we may earn a commission at no cost to you. Learn more.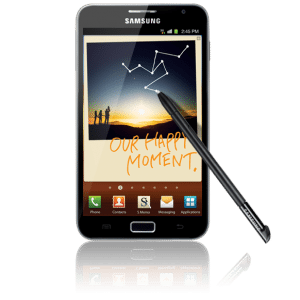 I love my Droid X, with its 4.3 inch screen. I initially worried it would be too big, but quickly acclimated myself to the size. When I had the opportunity to use an iPhone 4 for two weeks, I could not get over how tiny the screen was, I had made the transition to large screen phone. Well Samsung is upping the ante with the new Samsung Galaxy Note. It has a 5.3 inch screen. I have not seen one in person, but it got me thinking, how big is too big?
This phone definitely stands out from the crowd with:
5.3″ display
1280 x 800 HD Super AMOLED display
A stylus
2500mAh battery
4G LTE (or HSPA+)
1.4GHz dual core processor
USB 2.0 Host
Added software
It is very intriguing. The stylus surprised me. It is not needed, but is an alternative for some of the nice drawing tools. The S Planner software looks like a nice add to calendaring. The battery size is impressive, but it all comes down to size. Are we ready for a 178g, 146.85 by 82.95 mm device that is 9.65 mm thick.
At the core, I love that this product exists. I think this is one of the key strengths of the Android system, variety of options. Not sure I could lug this around, but I will definitely seize the opportunity to check this out when I can. What about you? Too big? Or just right.