We use affiliate links. If you buy something through the links on this page, we may earn a commission at no cost to you. Learn more.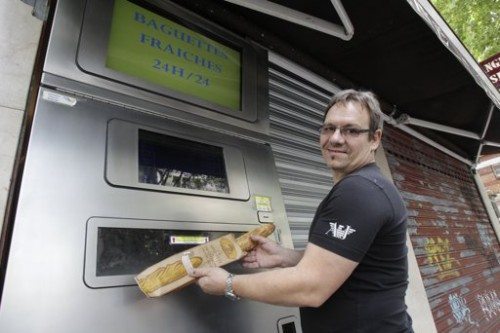 If you are lucky enough to visit Paris in August you may notice that many of the 33,000+ bakeries are closed and that there are no 24 hour convenience stores.  Why you ask?  The answer is simple, August is the month that many Parisians take off for vacation and the country does not have the staple "7 Eleven" that we Americans know well.  All of these challenges make it hard to get your fresh baguette, a staple of French gastronomic culture, after they close in the early afternoon.  After my many trips to Paris, the image of a workman coming home with a baguette tucked tightly under his arm is burned in my mind.
Jean-Louis Hecht, a baker from the north of France, created a solution, by leveraging technology he created a 24-hour hot baguette vending machine. The machine looks like a large ATM, and takes partially baked baguettes and delivers in piping hot five seconds after ordered.
At a cost of 1.42 Euros, or a bit over $2.00 US, the machine has already served up 1,600 baguettes in the past month and is on target to pay for itself within a year.
If you get to Paris and try the machine please let me know and if I get there first I will let the readers know what I think.  You can find more information about the Baguette Dispenser. Enjoy!