We use affiliate links. If you buy something through the links on this page, we may earn a commission at no cost to you. Learn more.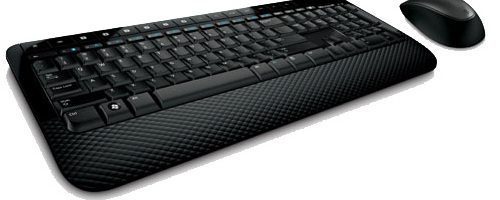 Wireless keyboards and mice can be a real boon to a lot of users. They can offer freedom of movement, supplement smaller keyboards on laptop, etc. You can find an amazing range of options now- ergonomic, enhanced, bare basics, and more. They are also considered a security no-no. The Microsoft Wireless Desktop 2000 addresses this with 128bit encryption, for under $40!
I know some readers are going to skip this as just another keyboard/mouse review, and to an extent, they will be right but the Wireless Desktop 2000 has a few tricks up its sleeve that may interest you.
128 bit encryption. This the strong point Microsoft is claiming for this system- high quality security between peripherals. Apparently, many keyboards broadcast their signals further than you would expect, and this signal can be picked up and decoded by anyone interested who happens to be in range with the right set-up. By encoding the signal, this set defeats this issue neatly.
Ergonomic elements. There is a subtle curve to the keyboard from left to right, and a gentle 'wave' from front to back. There is a 'pillow-textured' wrist rest (that as usual seems too low for my wrists to rest on), and the mouse has that nice high-backed curve that lets your hand rest on it naturally.
Extra features. As with so many other keyboards today, this one also features buttons and controls for music, zooming, a calculator, common Windows 7 keys, and more. The mouse has some interesting features as well such as 'Blue Track Technology' that works on a wide variety of surfaces and a 4-way scrolling wheel.
Pricing. This combination retails for under $40, which makes it a very affordable option… if it actually works and holds up. The earlier features interest me, but quite frankly- this is the feature that would most likely sell me on this device.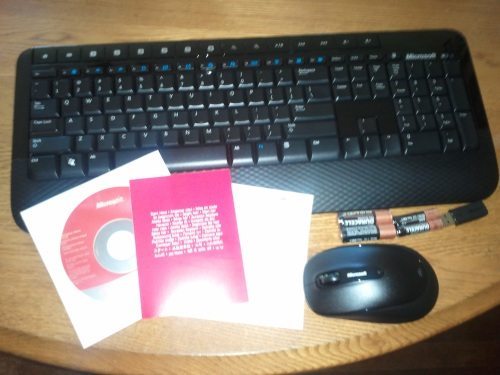 The packaging is pretty typical- keyboard, mouse, USB dongle, a pair each of AA and AAA name-brand batteries, the CD, a product guide (basically warnings) and an icon-based 'Start Here' booklet. According to the start booklet, you start by loading the CD, which whisks you down the Microsoft rabbit hole. You'll be asked if you want to register the device. Foolishly, I tried this and got sucked into a whirlwind of re-doing my Microsoft Live ID and more. Yeesh. OK, then we put in the batteries, and plug in the USB dongle- this all goes smoothly.
After a couple minutes, the computer recognized the mouse, let me open an app, and recognized the keyboard. There is a period in which the computer seems to identify a burning need to load more keyboard and mouse drivers as you try different features, but it goes pretty smoothly. Once everyone is happy, everything  just plain works. No special training for the volume or zooming controls, etc. In fact, it works well enough that I am using it to write this review.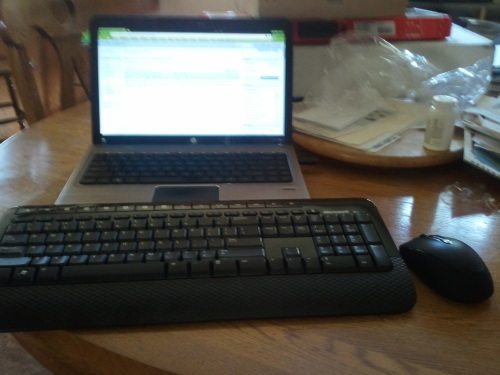 There is a small program each for the mouse and keyboard that allows you tune the settings, set the hot keys, etc. Nothing fancy but it looks and feels familiar so I did not feel a need for additional instructions.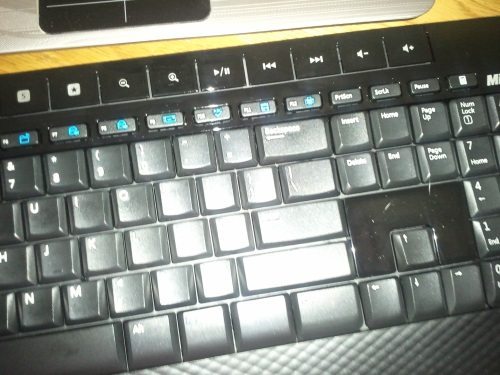 Both the keyboard and the mouse are solid, responsive, and feel well-built. I cannot fault either one, especially at this price. The little flip-down legs on the back that are so chintzy in so many other keyboards are wide and feel solid. The mouse feels great in my hand, and the Blue Track technology seems pretty effective- no mouse pad or even really smooth surface and it tracked effortlessly. I really cannot test the security aspect of it, but a quick internet search reveals more about security leaks from wireless keyboards than I ever suspected.
OK, so there is no backlighting in the keyboard, and the dark blue 'Windows 7 Task Keys' are hard to see against the shiny black surface, but these are about the only two things I can find wrong with this set… other than the detail that I will never remember what all the icons mean. Overall- nice set for a nice price with the added insurance of encryption.
Product Information
Price:
$49.95 MSRP, $39.95 'street'
Manufacturer:
Microsoft
Retailer:
Amazon.com
Pros:

128 bit encryption
Low cost

Cons: