We use affiliate links. If you buy something through the links on this page, we may earn a commission at no cost to you. Learn more.

The Built NY 15-16″ Laptop Sleeve and foofbag MacBook Pro 15″ Sleeve are two of the many Macbook/slim notebook sleeves available from GearZap – "a specialist online retailer of Netbook and Laptop accessories." This retailer only ships to the UK and most EU member countries, so be sure to check their delivery information page if you're thinking of ordering from them. With that caveat out of the way, lets look at the Built NY microdot and the foofbag tsunami sleeves. Each provides decent protection to a MacbookPro or similarly sized Notebook, with the Built roomy enough to accommodate thicker (somewhere under 2″ thick) notebooks as well.
Built… for most Notebooks
The Built NY comes in several color/pattern options, and in both a 15/16″ size and a smaller 13/15″ size. All share the same materials.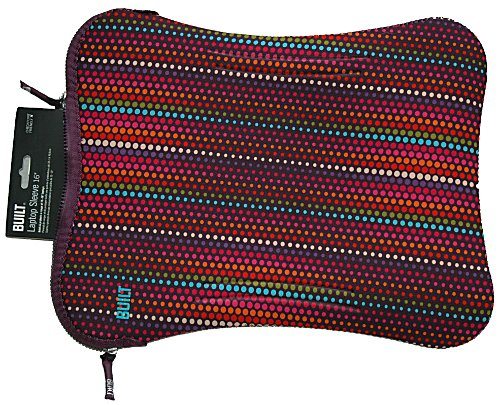 The sleeve is made from thick neoprene, with a "wetsuit style" zipper – indeed the zipper and the exterior seem quite durable, and likely to protect the contents from causal moisture exposure and somewhat rough handling. A nice touch is a set of "shark gills" (ridges stitched into the sleeve at the waist area) that give your hands something to grip when you're carrying your sleeve-encased notebook.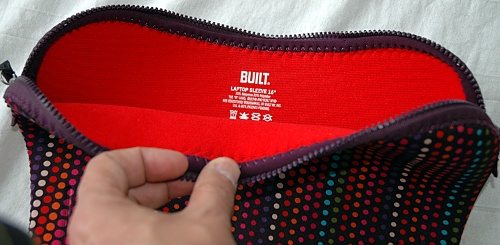 The inside of the sleeve has a soft fleece covering. This keeps your notebook scratch free, and makes it possible to slide it in and out of the bag. In a non-lined sleeve the neoprene can grip your notebook a little too well – the fleece lining solves that quite well.

The neoprene material and somewhat roomy cut of the sleeve accommodates even somewhat thicker notebooks.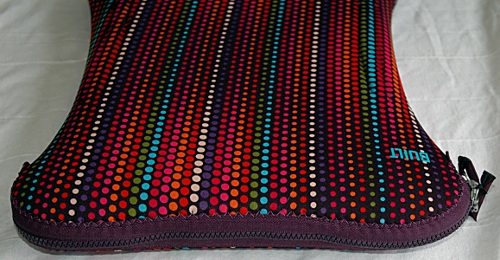 I've stuffed in a 1.6″ thick 15″ HP laptop here, and can easily zip shut the bag. Of course, the slimmer 1″ Macbook Pro slides in with ease. The sleeve itself doesn't add significant bulk – you could easily slide a sleeved notebook into a regular backpack.
Built Well
I found the Built NY sleeve to be quite functional. If the funky pattern shown ("microdot") is too wild for your corporate image, a basic black version is available.
foofbag… Get Your Fleece On
The foofbag is… foofy. This is a cotton exterior open-ended sleeve, with a 3mm layer of non-compressing foam for protection, and an inner lining of , I kid you not, sherpa fleece.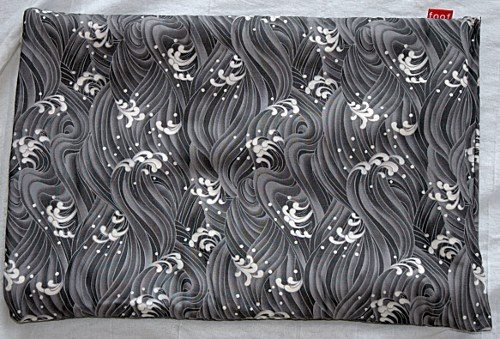 Sherpa fleece you say? According to the website this is a man-made sheep fleece-like material, that gives you the padding and softness, without the need for the sheep.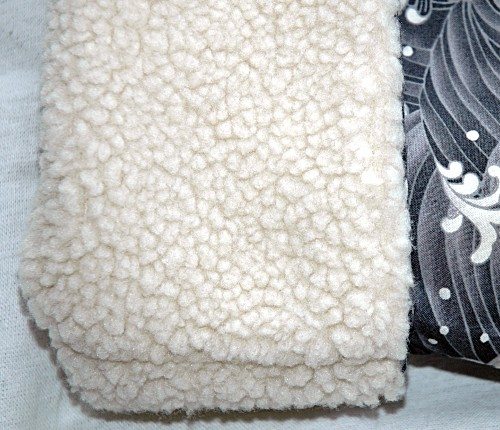 It's not supposed to scratch, and it doesn't seem to. So, pretty much a soft cushy lining, and then some foam, and then a cotton exterior. Sized so that a MacbookPro 15″ slides in like a hand in a glove.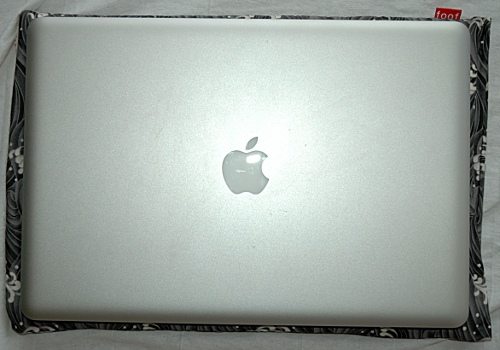 You can see from the photo above that the foofbag is open-ended. It's a pretty tight fit, but the verbiage on the web page does admit that you can, if you try hard enough, shake the notebook out of the bag if you hold it open-side down. I was able to do it, but it wasn't easy… it's not like the notebook shoots right out when you turn it over. Also, no claims to water repelling abilities are made.
In practice this is an excellent liner to keep in a backpack that lacks a protective, notebook specific pocket. When used that way, the foofbag's open top is an asset, allowing quick/easy insertion and removal. It provides quite good all-around impact and scratch protection, and you can grab and go keeping your notebook in the foofbag if you trust yourself to not try and shake it out.
foofproof?
I'd consider the foofbag for use in a regular backpack or a briefcase to protect an otherwise free-floating MacbookPro, but I'd prefer a little moisture protection. It sure seems like there could be some way to provide something to keep the notebook inside – even a Velcro strap across the middle would work. Other than that, it's a great sleeve.
Product Information
Price:
Built NY 15-16
Manufacturer:
GearZap
Requirements:

MacBook Pro 1" or thinner for the foofbag, typical 1-1.6" thick notebook for the Built sleeve.

Pros:

Wide selection at gearzap.com for EU/UK shoppers. foofbag provides a scratch-free padded sleeve with easy access for MacBookPro. Build has a wide array of fun patterns to choose from, quality neoprene/fleece lined interior, heavy duty zipper.

Cons:

Open ended foofbag could allow the notebook to slip out.
GearZap is only for EU/UK shipping destinations.