We use affiliate links. If you buy something through the links on this page, we may earn a commission at no cost to you. Learn more.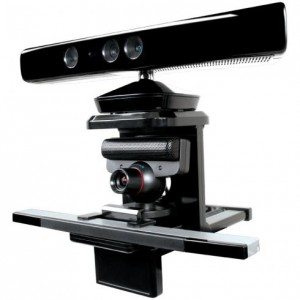 Once upon a time, it was possible for hardcore gamers to ply their avocation inconspicuously, their games and controllers stored in boxes, and their consoles tucked away behind the doors of their entertainment center or component cabinet.  These days, however, motion is A Big Deal, and as a result, taking full advantage of a modern console requires placing a sensor of some kind out in the open, usually on top of your TV.  But HDTVs only have so much real estate on top of their ever-slimmer frames, and naturally the big three console makers have no interest in making it easy to use a competitor's sensor in addition to their own, so the number of consoles a gamer can use effectively becomes limited by how many sensors one can haphazardly stack on top of one's TV.
Well, multi-platform gamers need fret no longer, because the dreamGEAR TriMount is here to solve our sensor-placement woes for good.  Attaching easily to most HDTVs via an adjustable screw or to a wall via a wall mount, the TriMount provides space for the Xbox 360 Kinect Sensor, the PlayStation Eye, and the Wii Sensor Bar.  The resultant amalgamation of cameras and sensors ends up looking like some sort of dystopian Big Brother surveillance device, but at only $29.99 it may be just what the doctor ordered, presuming that your doctor's last name is "Mario", "Robotnik", or "Wily".
The TriMount is currently available for pre-order at the dreamGEAR website, and will begin shipping on 8/15/2011.