We use affiliate links. If you buy something through the links on this page, we may earn a commission at no cost to you. Learn more.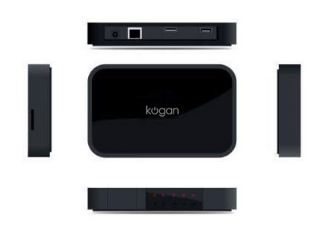 From the land down under (OK, now I'll be thinking of that song all day…) comes the Kogan Agora Internet TV Portal" which promotes the invention I dreamed up (OK wished for in an inebriated state) ten years ago:  Easy Internet connection to your television.
"Yah, I can do that with my WII"; or "Yah I can do that with my PC", or "Yah I can do that with my Hulu" you may proclaim.  But the previously mentioned YahDah YadDah YahDahs do not take into consideration the complete laziness and disenchantment (not to mention cheapness) I have with techno gizmos.  (I am still steamed with my  digital cable and the lack of an easy and free way to record shows.)
But something about this Kogan device looks worth-while.  It's a simple-looking box with one input (your home network cable) and one output (an HDMI cable to your TV).  And the price is nifty: from $99 to $150, depending on where you search.
Granted, I don't really expect streaming video to work (although it claims that it does for those who have fast enough connections and service providers that don't limit your bandwidth) but using this for email or bringing up photos from Picasa or Flickr seems inviting.  I need to go have another drink and think up the next invention for 2021.