We use affiliate links. If you buy something through the links on this page, we may earn a commission at no cost to you. Learn more.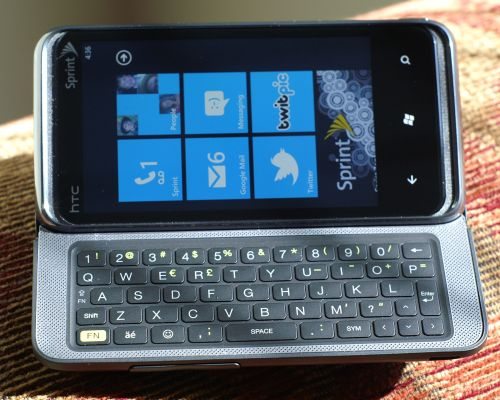 The HTC Arrive is the second landscape QWERTY slider to run Windows Phone 7 (the first was the LG Quantum), but HTC's first try at this combination of form-factor and OS. It's also the first CDMA Windows Phone 7 device, so this phone has a lot of "firsts" going for it.
Quick Specs:
OS: Microsoft Windows Phone 7 (with "NoDo" update)
Screen: 3.6″ 480×800 capacitive touchscreen
Processor: 1GHz Snapdragon QSD8650
Memory: 512 MB ROM, 576 MB RAM, 16 GB eMMC
Camera: 5MP + 720p Video
Dimensions: 4.6 x 2.3 x 0.6 inches (118 x 59 x 15.5 mm)
Weight: 6.5 oz (184 g)
Battery: 1500mAh Li-Ion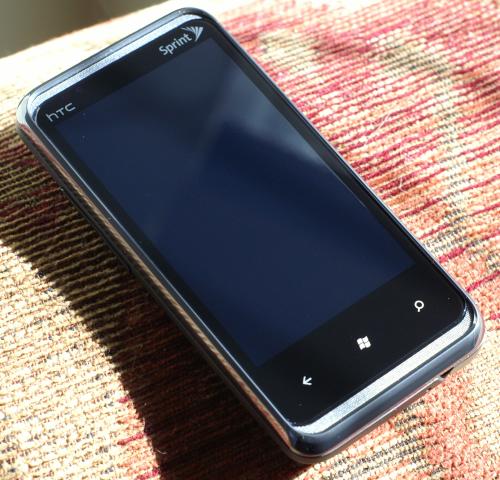 As far as unboxings go, there's really nothing special about the Arrive. As you can see in the unboxing video below, it's rather plain packaging and no surprising accessories. The one upside to getting smartphones from Sprint is, as far as I know, they all come with hefty, printed user manuals in the box; everyone else tends to give you a dozen-page startup guide and direct you to their website for a downloadable owner's manual. If you're a manual reader like I am, you appreciate the hardcopy.
Hardware
One thing you immediately notice about the Arrive is that it's heavy. I'm used to a heavy phone — my daily driver is an HTC EVO 4G with an extended (3500mAh) battery, which weighs just under 7 oz. The Arrive, with a standard battery, is 6.5 oz. And it's not a svelte 6.5 oz., either…this phone is quite thick (0.6 inches), pretty typical of landscape QWERTY sliders. Finally, the USB plug placement (lower left corner) means you can't easily hold the phone in your left hand while it's charging.
Thankfully, that pretty much wraps up the negatives on the Arrive's hardware.  I found most other physical features to be fine, if not outstanding.
First, the screen. At an oh-so-typical 800×480 resolution, there's no delight there, but at just 3.6″ on the diagonal, it provides around 260 pixels per linear inch. That's not quite what Apple's Retina Display pulls off, but it's pretty close to what the human eye can typically discern (300 dpi). Ultimately, though, it's how it looks, and the Arrive's display looks great. It has good contrast, excellent color, text is very crisp, and using it is thoroughly enjoyable.  Off-axis viewing could be better, but I've seen much worse.
Being a QWERTY slider, we have to worry about two additional features: the hinge/slider mechanism and the keyboard. The 5-row keyboard feels terrific. Keys give good tactile feedback without being too stiff. Spacing is good and backlighting is quite even across all the keys. Thankfully, HTC was thoughtful enough to provide two tiny LEDs (just to the left of the A key) to indicate when the Shift and Function keys are active. One niggle is that the backspace key seems too high on the right side, as I instinctively tap where the return key is (which seems like it should be lower). But, I'm sure I'd get used to it. Personally, I'm not crazy about landscape sliders, as it seems like my thumbs have to travel too far to hit the keys in the middle. But, as they go, this is a good one.
The slider and hinge mechanism feels sold. I say "hinge" because, unlike most landscape sliders, this one also has about a tilt of around 27 or 28 degrees above horizontal. As you can see in the hardwar video below, it flips up at the end of its travel. To be honest, I'm conflicted about this tilt-sliding thing. While I want to like it, I find myself constantly making small adjustments while holding it. When I'm looking at the screen, I want it to be perpendicular to my eyes. But when I glance at the keyboard, I want that to be perpendicular, too. And, since they can't both be at the same time, I'm tilting it back and forth quickly. One benefit of the tilt-slider configuration is that, when you have it open and sitting on a desk or table, the screen is easily visible. So, there's that…which is nice. But, one complaint: when I slide open the keyboard, I'd assume the phone would become unlocked and ready to go. Nope…you still have to slide up (or, if holding it by the keyboard, slide to the left) the lock screen to be able to use the phone. Not easy to do one-handed.
Sound quality is excellent. The speakers on the Arrive are terrific: loud and clear. With stereo front-facing speakers, watching videos is a pretty decent experience even without headphones. The volume control rocker on the Arrive's left side is huge and rather easy to hit; so easy, in fact, that I often hit the volume bar picking up the phone. If the screen is on — even locked — at the time, the volume changes. One complaint: even at the lowest volume setting, it's still pretty loud (not good for some Fruit Ninja after the spouse has fallen asleep).
The camera is decent…probably about average for today's smartphones. It's a 5MP still shooter that can also do 720p video, which is fairly typical spec-wise. Here are some sample photos: my daughter eating ice cream in a typically lit shop at night, and an outdoor scene in early evening. While the camera has a lot of features — several scene modes and post-processing effects — perhaps the feature I'm most glad to see is the Macro capability. I was able to focus up to about 2 inches away from the phone, making it much easier to capture small details and text.  Even though I'm focusing on hardware in this section, I have to say that there are some annoying bits regarding the camera app's user interface. For one, it breaks the Windows Phone 7 design standard, eschewing the typical … symbol for menu and uses an icon of a gear in a circle. A small thing, for sure, but surprising on a phone that makes so many sacrifices purely for aesthetic design. A second niggle is that you have to go into the camera settings to change the flash mode (on / off / auto). As I do this a lot when taking pictures, it's annoying to have to do multiple taps when other phone cameras' UI allows this simple change with just one.  But, hey, at least the Arrive has a dedicated shutter button.
Battery life is terrific. During the two weeks I've had the phone, I've charged it every other day and only once got a low-battery warning before the end of the second day. Granted, I've not been torturing it, but it's good to see a smartphone that isn't begging for juice by 5pm. Given the processor and memory in this device, it speaks to Microsoft's engineering that they're able to get the OS to sip power the way it does; seems that there are some advantages to a unitasking operating system. The 1GHz Qualcomm Snapdragon processor performs very well, as you can see in the second video above.
One missing feature that was a bit disappointing was the lack of Sprint's 4G on the Arrive. Without a WiMax radio on board, this phone is limited to 3G (EVDO), which, in my experience, provides 1-3 mbps download speeds. Without 4G, Sprint has a hard time selling video chat, which may explain why the Arrive doesn't have a front-facing camera.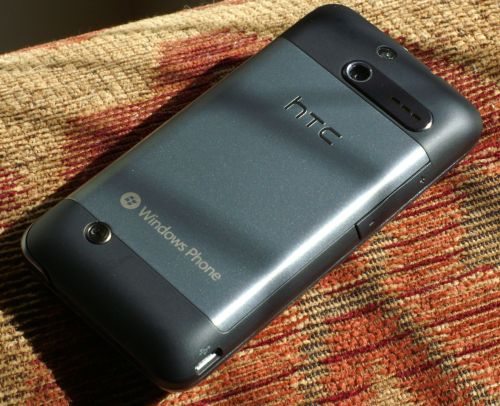 Overall, the Arrive's hardware is very good. Sure, it's a little thick, and heavier than I expected, but it's attractive (the brushed steel back looks especially sharp) and performs very well.
Software
Unless you've been living in a cave for the past year or so, you already know that Windows Phone 7 is Microsoft's replacement for its Windows Mobile handheld/phone operating system. I'm not going to go into the features and pros & cons of the Windows Phone OS, as there are already lots of articles that do that. I'm going to talk about some of the customization HTC and Sprint have done as well as highlight some particularly noteworthy highlights and disappointments. Also, as this phone comes with Microsoft's latest "NoDo" update, it includes copy/cut-and-paste, which I discuss below as well as improvements to Messaging, Wi-Fi control, Outlook/Email, Facebook syncing, and a few bugfixes. So, with the Arrive, you don't have to worry whether it'll get the update, as it will have it out-of-the-box.
First, an apology. Because Microsoft has not included screenshot capability, nor even allowed third-party devs to make it, I had to resort to getting screenshots the old-fashioned way: with a camera. So, they're not the best — don't judge screen quality by these, as it's much better in person — but you should get the idea as to the general look and feel.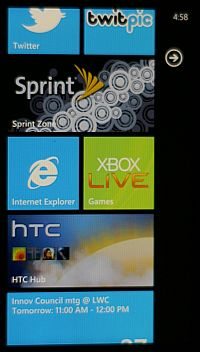 The now-familiar main menu screen, all full of its square and rectangular "tiles", includes two non-standard tiles: the HTC Hub and the Sprint Hub. The HTC Hub offers some Sense widgets like one would see on HTC's Android phones as well as links to download some HTC-provided apps, such as a Notes program. Microsoft's tight reins on OEM customization of the WP7 experience is evident in the rather thin value-add that HTC can offer here.
Similarly, the Sprint hub offers screens with Sprint News (including a My Account portal), Suggested Apps, and Phone Tips and Tricks. Again, there's nothing revolutionary, but it's nice to have these carrier-provided things corralled into one area on the phone.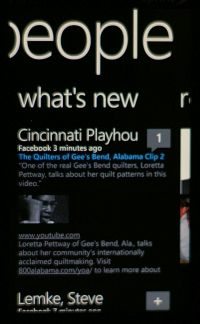 Personally, and speaking totally from my own preferences, there are some things I really like about Windows Phone 7 and some things that greatly irritate me. First, the good: – In the camera app, switching between video and still is very convenient. – The UI is very fast & responsive, which makes a HUGE difference. – Office, Skydrive, Sharepoint, and Xbox integration are all impressive features included in the cost of the phone; if you're deeply entrenched in the Microsoft ecosystem, these things can be important. – The Hubs concept works really well. Organizing information and functions into these conceptually sensible cores really does seem to help usability. This photo is one screen from the People hub, showing some Facebook updates.
Now, the not-so-good:
No way to see picture details in the photo viewer; I found no way to view a photo's EXIF info on the phone.
No persistent clipboard; when you copy or cut some text, a little clipboard icon appears above the keyboard. When you paste the text by tapping that icon, it disappears, meaning you can't paste it multiple times without also copying it each time. As people pointed out in the comments, you can swipe sideways to bring back the paste icon if you want to paste the clipboard again.
Rotation frustration; Many things don't work in either landscape or in portrait orientation, and there doesn't seem to be any sensible pattern as to what will work in which orientation. For example, screens that only work in landscape include viewing photos (so if the photo you took has a portrait format (tall, not wide), it's all shrunken down with lots of black on either side…and rotating the phone does nothing…aaagghh!); And, of course, some screens only work in portrait (even if the keyboard is open), such as the main menus and Marketplace app details screens (this is particularly amazing: Main menu is only portrait; tapping the Marketplace hub brings you to another screen that's only portrait; but, if you tap the Search button, that screen does work in landscape to show you the results of the search; but, tapping on any app takes you to the app details page, which is, again, portrait only. It's really quite baffling.)
No Flash in the browser; and here I always thought Microsoft was the anti-Apple.
Animation gets old quickly; I handed the phone to my wife and, after 30 seconds, she says in an annoyed voice, "do you like these menus flipping around all the time?" No…can't say I do.
Miss a menu button in a consistent place; since you have to rely on the … icon to make an appearance in order to get into settings within an app, it's sometimes hard to anticipate where it might be, meaning the user has to hunt for it or "keep an eye out".
Have to touch the top area of the screen to show battery level and wireless signal strength; these are hidden from view by default.
Terrible calendar; many of these issues are annoying, but this one is a definite show-stopper for me. The calendar is absolutely dreadful. As you can see in the screen shot, the entirety of the space where you can actually view and scroll through your appointments (the red box) is only about a third of the entire screen. I can see just 3 hours at a time. Plus, there's no week view…you can choose among agenda view, day view (shown), and month view (where the text is illegibly small). If I had to use this calendar every day, I'd use the Arrive's voice search to quickly look up instructions for hari-kiri.
I don't like being this negative about an entire mobile operating system — I really do believe that consumers are best served by having lots of choices — but Windows Mobile 7 has two big strikes against it in my view. First, it seems like it's not done. There are so many missing features, oversights, and inconsistencies that you can tell it's very much a work in progress. Hopefully, that will improve over time. The second issue, however, is possibly more troubling. Microsoft seems to have gone off the scale in sacrificing function for form. For me, the usability limitations of WP7 far exceed the aesthetic enjoyment. But, as they say, beauty is in the eye of the beholder.
Summary
It's odd, really…the reaction I have to this Arrive is exactly the opposite that I had to the Palm Pre when it first came out. On the Pre, I felt like the OS was genius and the hardware was rubbish. The Arrive is, well, just the reverse: the hardware is generally delightful, but the OS greatly hampers the overall experience (for me). Overall, if you already like Windows Phone 7, you might like this phone very much.  If not, and you're looking for a CDMA phone to try it out on, they might as well have called the Arrive the 'Obi Wan,' because it's your only hope.