We use affiliate links. If you buy something through the links on this page, we may earn a commission at no cost to you. Learn more.
I'm not a gamer.  I don't even play one on TV.  But I know what happens when your laptop's processor gets cooked because the fans that come with it either don't cool the device enough or just wear out.  It's this Need For Speed, and gamers survive on it as much as they do Skittles and Mountain Dew.  I don't get it, but the gamers in my life do, and the Cooler Master Storm StrikeForce-19 has elicited quite a bit of interest amongst the propeller-heads of my acquaintance.
It is, simply put, a cool device.  No pun intended.  As laptops become more prevalent in their use over the desktop computer, the gamer understands that he/she no longer need to unplug their tower and lug it to LAN parties.   I know a teensy bit about LAN parties.  When my husband and I were first married, we had no money so we rented out rooms in our townhouse to his computer science buddies as everyone was still in their final year of college.  One night I come home to a completely dark house but plenty of yelling and bells, whistles and what sounded like gunfire from the second floor.  The eerie glow of computer screens was the only light to be had as my husband, two roommates and three friends (ensconced on the floor in the hallway) were in the fight for their lives playing some …game… StarCraft… was it… I just remember hearing "My Life for Eire" over and over.
That was the old days.  No one at this LAN party had a laptop and everyone had some sort of jerry-rigged cooling system going to cool down their computers while they saved humanity from something called a "Protoss".  Now life is made a lot simpler by not having to lug around your tower (although some purists still do), but the persistent nagging issue of cooling down your processor still remains.
The surface of the cooler or CM Storm supports notebooks up to 19″ and features dual 140mm fans with speed control.  Fan life is about 25,000 hours, and it runs at 1,200 to 2,600 RPM.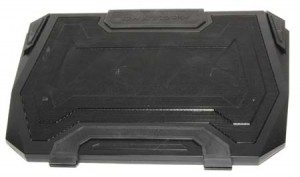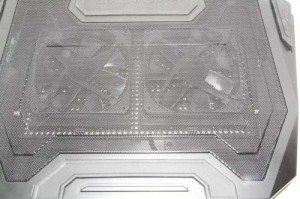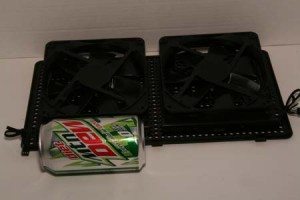 It uses a DC 12V/2.5A adapter, and it should be noted that the devices comes equipped with a 3.0 USB hub.  Which from a gaming standpoint is fine, but from a non-techie standpoint… this is great!  I'm not rocking the die hard gaming laptops, but I do plug in a lot of stuff because my little Dell has no internal DVD/CD drive.  If I want to use the drive, charge my phone, my Nook and rock an external keypad (because I'm an old school ten keyer), I'm going to run out of USB ports very quickly.  For the non techie type, this device doubles as a supreme lap desk.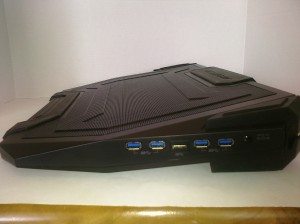 But back to the gamers.  It has been suggested to me that, despite the nifty carrying handle and lightweight construction, the Strikeforce is bulky.   I tend to not subscribe to that theory, but the gamers are welcome to their opinion.  Given what this device does, I think its good outweighs any complaints of bulk.  It's spacious for sure, but it is designed to accommodate a 19″ machine.
And now a word about the LED lights.  I was going to skip this part of the review because, from my standpoint, the LED lights are almost pointless.  However, anyone who has ever been to LAN party knows that it's Lights Out and good luck finding your way to the bathroom.  The Strikeforce comes equipped with these color switchable LED lights.  Red. Green. Blue. Yellow. White. Whoopity. Doo. The lights can be rotated in a "breathing" pattern (based on fan speed) as well.  Yes, I'm excited too. You can turn the LEDs off and I do.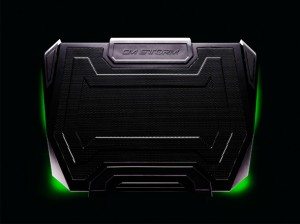 The Cooler Master website boasts 33 pages of retailers that carry this device. At Amazon.com, it's listed at $79.99 and I have Amazon Prime, so I usually go that route rather than sift through several pages of retailers and their contact info.
All told, gamers, non gamers, techie people, non techies, the CM Storm Strikeforce-19 is a good buy and a useful tool.

Product Information
Price:
$79.99 at Amazon.com. Website does offer a series of other retailers that carry this product.
Manufacturer:
Cooler Master
Requirements:

Ungrounded electrical plug. Skittles and Mountain Dew optional

Pros:

Reinforced Anti-Slip Rubber
ABS Plastic
Enhanced Mesh Structure
Easy access to fans
USB 3.0 hub

Cons: