We use affiliate links. If you buy something through the links on this page, we may earn a commission at no cost to you. Learn more.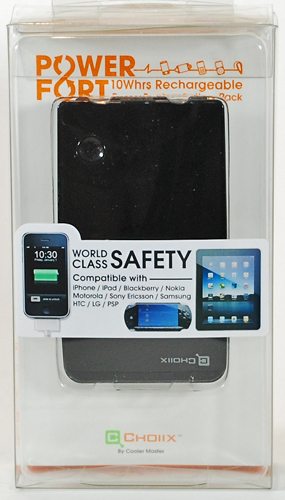 When you travel with gadgets, you'll eventually run short on power before you've reached your destination. There are a lot of backup batteries on the market, but it can be hard to find one to meet all your needs. It's expensive to buy a dedicated battery for each of your devices – not to mention a heavy load to carry them all. There are some backup batteries with USB output that will work with multiple devices, but they aren't usually capable of charging an iPad. Choiix offers the Power Fort 10Wh rechargeable battery that can charge most anything, including an iPad. It has a lot of reserve power to help you and multiple gadgets get there with power. I was happy to be selected to put the Power Fort through its paces when Choiix offered one for review.
Specifications
• Power Capacity: 2700mAh 10Whrs
• Input: DC 5V/ 1A
• Output: DC 5V/ 1A
• Battery Type: Lithium-polymer
• Recharging Time: 3- 4 hours
• Dimensions: 4.3" X 2.5" X 0.5"
• Weight: 3.6 Oz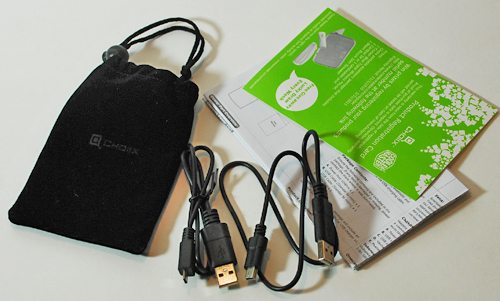 In the Box
• Choiix Power Fort
• Mini USB cable
• Micro USB cable
• Velvet carry bag
• Documentations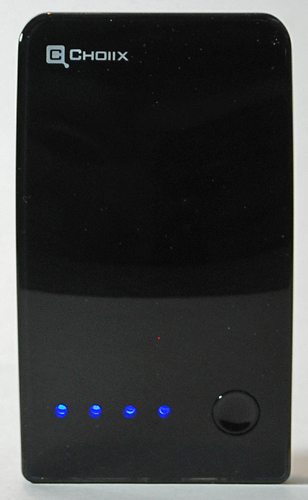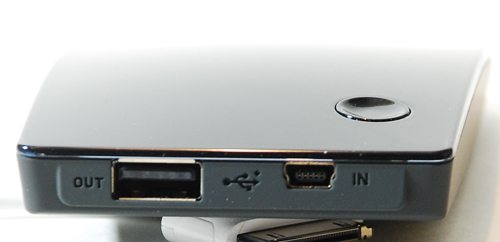 The Choiix is made of black plastic. The top is very shiny, and the rounded wedge shape makes it a difficult subject to photograph. There is a single button on the top. Pressing it lights up the hidden blue LEDs that indicate the power reserve. The sides and bottom of the Power Fort are covered with a dark gray, rubbery coating. The back, flat end of the Choiix has two USB plugs: one standard (output) and one mini (input) USB.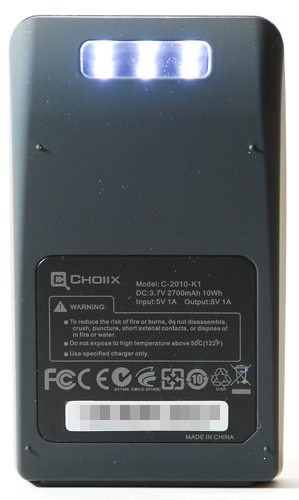 The bottom has a clear panel covering 3 white LEDs that act as a flashlight. This flashlight doesn't have enough power that you'll be signaling planes, but it produces sufficient light for you to find things inside your gear bag or to light your way to the car on a dark night. You toggle the flashlight on or off with two quick presses of the button on the top of the Power Fort. Requiring the two presses will minimize the chance that the flashlight gets turned on by accident in your bag so that you find the backup battery has been drained when you need it.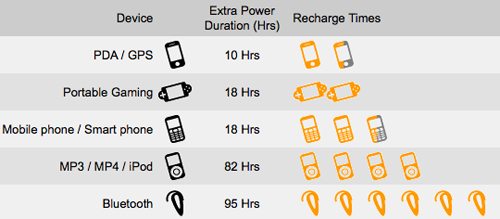 The Power Fort can charge devices that charge with standard USB power, and it can even charge an iPad. This chart shows the amount of power you can expect for various devices. (This image courtesy of the Choiix website.)
Documentation said you should charge the Power Fort for eight hours before first use. After the first charge, 3-4 hours recharging time is sufficient. As I expected, the Choiix started charging immediately when I used the supplied mini USB cable with a USB port on my computer. I also found that it easily charged using my Charge4All charging tube. Since I don't leave my laptop on for eight hours at a stretch, I used the Charge4All with the Power Fort. I actually left it charging overnight, for a total of about 20 hours. I don't have to worry about over-charging the Power Fort, because it has over-charge protection. It also has under-charge, over-temperature, over-current, and short-circuit protections.
Choiix says the Power Fort can be recharged 500 times before the lithium-polymer battery loses full power. Even after the 500 charges, the battery will retain 85% of its original capacity.
You can charge a device at the same time you charge the Power Fort, so you can maximize the usefulness of a single USB port. I also found that I could use a device while the Power Fort is charging it. This will be very handy when you need to make a call but your phone is dead.
I have a variety of devices that charge with USB. My phone can be charged with the micro USB cable supplied with the Choiix Power Fort. I had to supply my own Apple cable for my iPod touch, iPod nano, and iPad. I decided I would try charging each of these devices with a freshly charged Power Fort. I started with my iPad.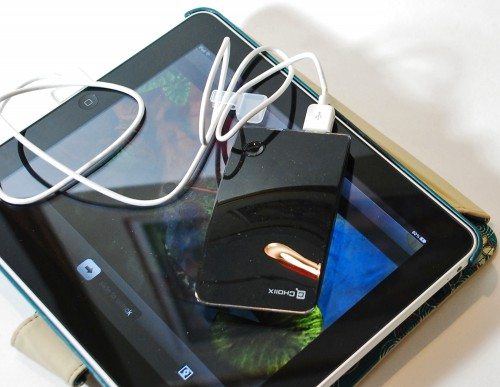 The iPad was about 50% charged at the time of the test. I made a note of starting time, iPad power, and Power Fort power level (all four blue LEDs lighted, indicating full charge). I periodically turned on the iPad for a quick look at battery level; I checked the Power Fort's charge at the same time. The fully charged Choiix wasn't able to charge the iPad to 100% before it was completely drained. However, it did add about 30% to the iPad's battery. Assuming a 100% charge gives the iPad 10 hours, the Power Fort was able to give me about 3 more hours on my iPad.
| | | |
| --- | --- | --- |
| Time | iPad power | # LEDs on Choiix |
| 12:47 | 51% | 4 |
| 1:41 | 65% | 2 |
| 1:54 | 69% | 1 |
| 2:22 | 76% | 1 |
| 2:39 | 80% | 0 |
After the iPad test, I recharged the Power Fort overnight.  The LEDs indicated a full charge (all four blue LEDs were lighted) when I began the next test.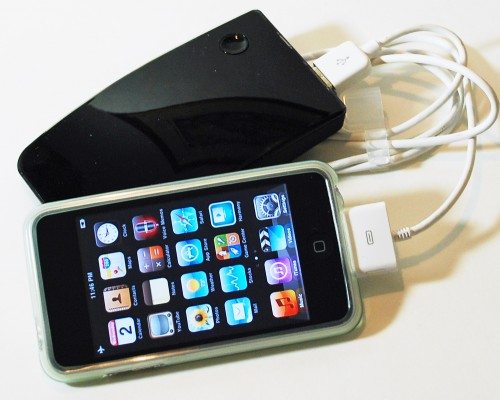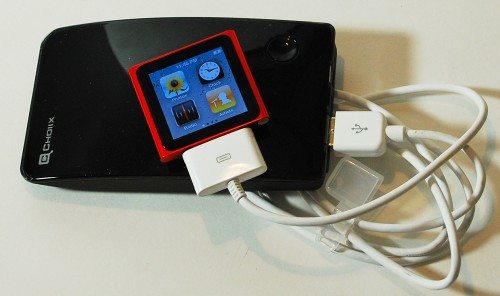 Next up was my iPod touch.  (You can see from the pictures that my iPod nano can also be charged with the Power Fort, but I didn't do a full test with it.)  I used the Activity Monitor Touch app to periodically check the iPod's battery level; I checked the Power Fort's charge level at the same time.  The Choiix was able to fully- recharge my touch and had plenty of power left to charge other devices.
| | | |
| --- | --- | --- |
| Time | iPod power | #LEDs on Choiix |
| 10:59 | 20% in monitor app | 4 |
| 11:26 | 75% in app | 4 |
| 12:27 | 100% in app | 4 |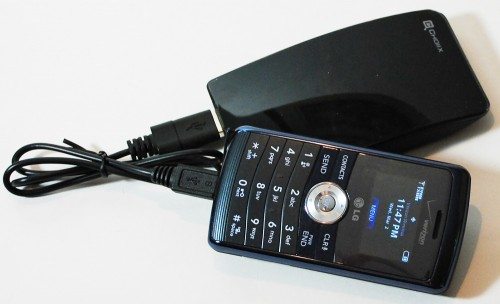 My last test was recharging my LG enV3 phone.  I recharged the Power Fort for 8 hours before beginning this test; all four LEDs were lighted.  I can't see the percent battery power for this phone.  The battery monitor has four bars to indicate full charge.  The phone's battery was showing one bar when the test began.  I also couldn't check the phone's progress during charging without unplugging everything.  I didn't want to disrupt the test, so I just left everything plugged up until the phone's screen changed to the "charge complete" message.
| | | |
| --- | --- | --- |
| Time | Phone power | # LEDs on Choiix |
| 8:16 | 1 bar | 4 |
| 9:47 | Charging | 4 |
| 10:44 | Charge complete | 3 |
From the tests, it's obvious that I could certainly keep my phone going during travel.  I could probably keep both it and the iPod going without draining the Power Fort too quickly.  The iPad is a different story, but I could keep it going for a really long day of flights if I didn't need to worry about charging anything else.  The Choiix Power Fort is a compact, convenient, and powerful backup battery.  It will lighten your load and keep you entertained and in touch during your travels.
Product Information
Price:
about $43 at Amazon
Manufacturer:
Choiix
Retailer:
Amazon.com
Pros:

Recharges most any device that charges with USB power, including iPad
Compact and lightweight
Inexpensive

Cons:

You'll need to supply your own Apple cable