We use affiliate links. If you buy something through the links on this page, we may earn a commission at no cost to you. Learn more.
This is a Sponsored post written by me on behalf of Sunbelt Software. All opinions are 100% mine.

I was a Windows user for many years, and I fell victim to malicious software a couple of times. My home computer has files that are vitally important to me. I have tax records, bank files, and other files that would be bad to lose. I have photos of my daughter and my family that would be devastating to lose. To protect my files, I've used antivirus software, but it wasn't enough. I also had to use antispyware and other programs to try to find and remove tracking cookies and other malware. It seemed that as the malware evolved over the years, there wasn't one package to protect me completely. And running all these various programs took a lot of system resources and slowed everything down.
Enter VIPRE Antivirus software developed by GFI Software. GFI has created a new software system from the ground up, using the latest technologies. Their Antivirus software has been designed to have a low impact on system resources while offering maximum protection against all types of malware.  (Read more about Vipre Antivirus and learn how to win a copy for yourself, after the jump.)
Protection starts before Windows even boots up. Vipre's FirstScan bypasses the Windows operating system to directly scan the hard drive to find and remove malware when you start your computer. After boot-up, Vipre's anti-rootkit technology "finds and disables malicious hidden processes, threats, modules, services, files, Alternate Data Streams (ADS), or registry keys on a user's system."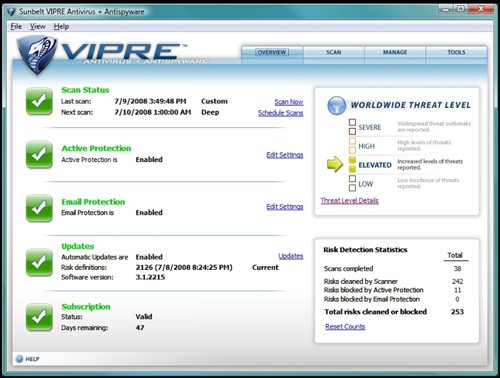 Your computer is protected with real-time monitoring. Vipre's Active Protection works in the Windows kernel to find and stop threats before they can even execute. Vipre works directly with Outlook, Outlook Express, and Windows mail to protect you from emailed viruses. It also provides support for any email program using POP3 and SMTP.
Vipre Antivirus works with Windows 2000 (SP4 RU1), Windows XP and higher (32- and 64-bit), and Windows Vista and higher (32- and 64-bit). Hardware requirements specify a Windows Pentium system with a minimum of 512MB of RAM and at least 150MB of disk space.
Such a comprehensive protection program probably sounds expensive and difficult to use, but neither is the case with Vipre Antivirus. The software is designed to be easy to use, and GFI offers free tech support and free malware removal assistance. You can protect a single computer for only $29.95, two for $39.95, or three or more computers for $49.95. Your purchase is 100% guaranteed for thirty days; you'll get your money back if you don't agree that the award-winning Vipre Antivirus program is right for you.
You can download a free trial and get started protecting your important files and freeing up your system resources right now. And GFI Software has graciously offered The Gadgeteer a copy of Vipre Antivirus software for one of our readers. For a chance to win a copy, simply follow the contest rules.
Prize:
Free 1 year download of Vipre Software ($29.95 value)
How to enter (please read carefully – any missed steps and your entry will be disqualified):
1. Between now and Midnight EST 02/18/11, sign up with twitter and follow @thegadgeteer
2. Then send the following tweet:
RT Win Vipre Antivirus Software from @thegadgeteer Full details at http://wp.me/pprwJ-fNg
3. Come back to this post and leave a comment that includes your twitter name.
4. At some point on 02/19/2011, I'll pick 1 random winner using random.org. The winner will be contacted by email and will have 48 hrs to accept their prize. If I do not receive an answer, I'll do other random.org drawing till the prize is gone.
5. Only one entry per person.
Update: The winner of the contest was #3 Gareth! Thanks again to Vipre for offering the prize.