We use affiliate links. If you buy something through the links on this page, we may earn a commission at no cost to you. Learn more.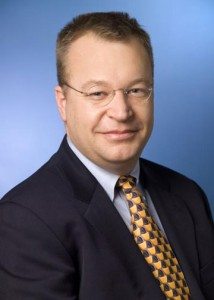 See this man? His name is Stephen Elop, CEO of Nokia. He has a problem– A big problem. As of now, Nokia has lost its dominance in smartphones world wide to Android. Symbian is a throwback OS and it looks like it. Nokia has no presence in the U.S., where the hottest Mobile OS lives. He wants to change that.
Elop wrote a memo to the company called the Burning Platform.
"Over the past few months, I've shared with you what I've heard from our shareholders, operators, developers, suppliers and from you. Today, I'm going to share what I've learned and what I have come to believe.
I have learned that we are standing on a burning platform."
He basically rips Nokia a new one and is now teaming with Microsoft to bring WP7 to Nokia.
Symbian is good but it's known to be difficult to develop for. Windows Phone 7 has only been out for a couple of months and it already has more apps available than Symbian! Crazy!
No Android for Nokia
"There are no heroics in being the 20th Android phone at Best Buy," said Dan Hays, director at consultancy PRTM. "Going ahead with Windows Phone 7 could actually serve as a differentiator for Nokia in the marketplace. No other major mobile phone developer has really stepped forward to embrace Windows Phone 7 in a big way." -CNN
MeeGO
MeeGo isn't going away, its just not going anywhere either. It will remain an open-source "project". Who knows when we will see a MeeGO phone hit the market.
Micro-Kia
I think it is a great move for Microsoft and Nokia–two companies getting their butts kicked in the mobile arena– to come together.
I can't wait to see what this will look like. Excited?