We use affiliate links. If you buy something through the links on this page, we may earn a commission at no cost to you. Learn more.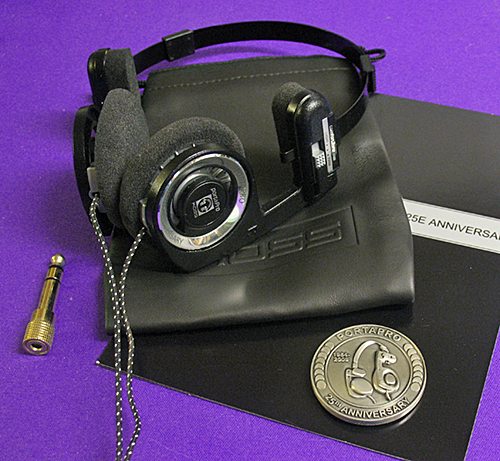 In a perfect world, things come full-circle. From the redesigned, retro-styled Mustang and Camaro to vinyl albums, products can go out of style only to come roaring back. Such is the case with the Koss Porta Pro headphones. Well, sorta the case, anyway. See, Koss first produced the Porta Pros in 1984… and never changed them. While some internals may have been upgraded through the years, these uber-retro headphones look the same on the outside as they did in 1984.
There is a really good reason for this. Koss just keeps selling them… and selling them. Why on earth would they change something that customers keep buying, no matter what? So they didn't. But in 2009, they did come out with a limited edition version to celebrate the 25th anniversary of the Porta Pro. And it is still available for sale.
If you want to see what the fuss is all about or if you are buying a replacement pair you bought back when you had big hair and leg warmers, the 25th Anniversary model may interest you. It comes packed in a sturdy box. It has a cloth cord and a faux-leather carrying case and includes a little book on the history of Koss with a commemorative medallion. Is that worth the extra bucks? Maybe not, but the all-black look is nicer that the blue and black plastic originals, even if the design is still kinda dorky.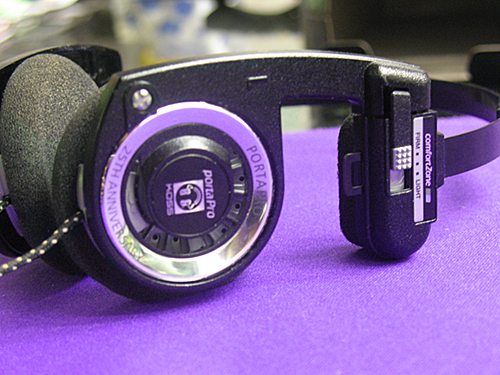 There are other reasons why Koss has left well enough alone. These things are comfortable. I have headphones that cost hundreds of dollars that don't fit this well. Plus they stay put. You can actually exercise in them, right along with that old Jane Fonda workout VHS tape. So, if you just can't stand the whole idea of earphones inside your ear canal, these headphones are a good substitute. Oh, and did I mention that they sound fantastic? They do. The Porta Pros are just about perfect in the sound department given their price and what they are designed for. Yes, I have heard many headphones that sound richer and fuller, but they cost way more and you can't take them for a jog. The design is neither open backed or closed. It's a little in-between. The earpads rest on your ear, like open-backed headphones, but the sound "leakage" is minimal. Fellow commuters will never know that you are really listening to Duran Duran instead of Lincoln Park.
When you store the Porta Pros, they fold up nicely. Another plus is that you can safely use these on the street. While they are isolating enough, the Porta Pros will not remove you from the world so much that it's not safe. Plus, in a crowded setting, you don't have to worry about someone grabbing them because lets face it, who's gonna steal them? They look so… old.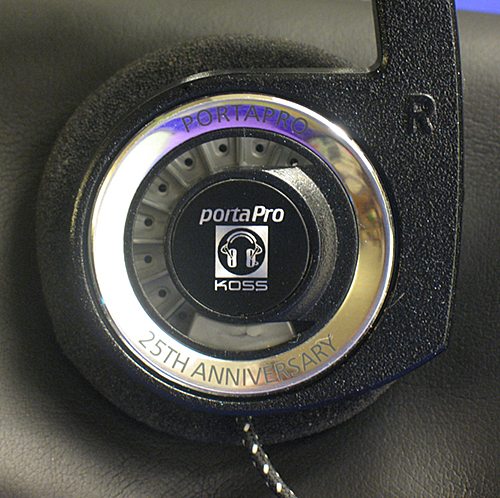 Refinements are few. The headband is metal, not leather or even padded. The plastic looks  shiny and cheap. The earpads flop around and look like they could fall off if you just look at them wrong and they rattle like a cheap car… until you put them on. Then all the pieces settle down and don't budge, rattle or intrude in any way. You just hear – and sometimes feel – the music. It's then that you realize the genius in the design.
There are settings – made by a plastic slider button – to make the headphones feel firm or looser on your temples. Frankly, on my head, the differences felt subtle at best. When you fold the headphones for storage, the slider defaults back to the firm setting.
I've been listening to all kinds of music from Flock of Seagulls to Russian Choral (I'm not kidding). One thing I noticed right away is that the Koss Porta Pros are extremely forgiving in their sound. They lean well into the warm side which diminishes the accuracy some, but I truly don't care. Ordinarily, I would care – a lot – but there is something here that is hard to define. Maybe it's that  "signature sound" that many companies strive for, but never achieve. Grado has it. Sennheiser has it. Klipsch has it. And only a few others have it. So if the Koss Porta Pros have their own signature sound, they are in rare company, indeed.
Because of the warm, forgiving nature of the Porta Pros, songs ripped at a lower bit rate fare better than on more expensive headphones. I have the Electric Light Orchestra's "Eldorado" album at a lower bit rate and some detail is most definitely missing. But, ELO's mixes were never all that crisp anyway, so on these, it's not a problem. One other thing that is missing are the lowest bass tones. Because they are not as isolated as earphones or even closed back headphones, these tones get lost in the din of background noise. But keep in mind that these were designed for busy environments, and complete isolation is dangerous, anyway.
Let's explore that warm sound. The Bee Gees "First of May" from the highly underrated "Odessa" album features cellos layered under plucked violins and piano notes. There is no clinical separation, but the wash of sound comes across like a warm wave. Speaking of strings, Procol Harum's "A Salty Dog" lacks detail, but that's partly because it's a 40 year old recording and partly because the Porta Pros can't handle the detail. This is a song that needs a better speaker to really involve the listener.
However, "Flaming" from Pink Floyd's first album, "Piper at the Gates of Dawn" shines on the Porta Pros. The compressed, analog mix (recently remastered) is warm and inviting. This is what these headphones were made for. It's a perfect match.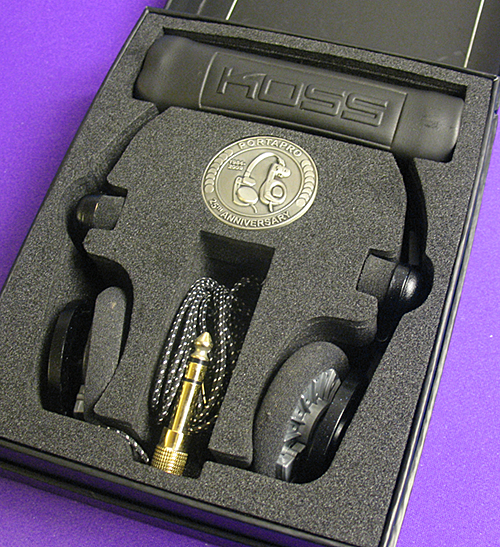 If you are an active person who wants good headphones at a decent price, you can't go wrong with the Koss Porta Pros. They are more solid than they look, sound terrific, are extremely comfortable, retro in a geeky way, and are an absolute bargain. Plus they've been selling like crazy for 26 years basically unchanged. Try and name another product that has the kind of longevity other companies can only dream about creating.

Product Information
Price:
$79.99 US - 25th Anniversary model $49.99 US - Regular Porta Pro
Manufacturer:
Koss
Pros:

Amazing sound for the price.
Retro Style.

Cons:

Too expensive compared to the regular Porta Pros.
Retro Style.