We use affiliate links. If you buy something through the links on this page, we may earn a commission at no cost to you. Learn more.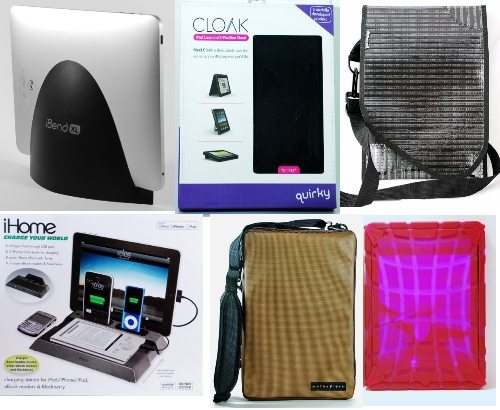 Since the iPad was introduced in April this year, The Gadgeteer has reviewed some great accessories for it.  We recently featured a review of the iBend XL stand for iPad, and you'll remember the review said that the folks at iBend had very graciously given us some extras for our readers.  Our coffers are overflowing with other great iPad accessories, so we're combining some of these recently-reviewed goodies into five great packages for five lucky winners.  Read on to learn how you can win an iBend XL plus one of the following:  iHome charging stand, WaterField iPad Wallet, RAGGEDedge Gear bag, Quirky Cloak, or a HardCandy Street Skin case.
The five prize packages will consist of the following:
iBend XL stand plus iHome iB969 Charging Station
iBend XL stand plus WaterField iPad Wallet
iBend XL stand plus RAGGEDedge Gear Carbon Fiber iGear Bag for iPad
iBend XL stand plus Quirky Cloak iPad Case and 3-Position Stand
iBend XL stand plus HardCandy Cases Street Skin
How to enter (please read carefully – any missed steps and your entry will be disqualified):
1. Between now and Midnight EST 12/02/10, sign up with twitter and follow @thegadgeteer
2. Then send the following tweet: RT Win Great iPad Gear from @thegadgeteer Full details at http://wp.me/pprwJ-ejM
3. Come back to this post and leave a comment that includes your twitter name.
4. At some point on 12/03/2010, we'll pick 5 random winners using random.org, and a package will be assigned to each winner.  The winners will be contacted by email and will have 48 hrs to accept their prizes. If someone doesn't respond, we'll do other random.org drawings until the packages are gone.
5. Only one entry per person.
Good luck!
Contest Results
Okay, folks!  Here's what you've been waiting for.  I used random.org to randomize the list of packages and to randomize the list of entries.  Here are the results:
Entry #36 – Lisa – iBend XL plus Waterfield iPad Wallet
Entry #52 – Rory – iBend XL plus HardCandy case
Entry #64 – Alicia – iBend XL plus Quirky Cloak
Entry #61 – Rainer Muller – iBend XL plus iHome iB969 charging stand
Entry #66 – Jimmy Time – iBend XL plus RAGGEDedge Gear Carbon iGear bag for iPad