We use affiliate links. If you buy something through the links on this page, we may earn a commission at no cost to you. Learn more.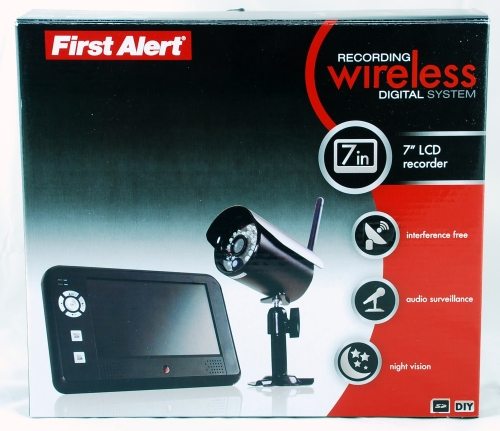 There's a busy cross-town street that passes close behind our house.  It doesn't happen so much any more since cell phones are so common, but we used to often get people knocking on our door at all hours asking to use our phone because they were having car trouble.  We have a tiny peephole in the door, but seeing out our other windows to check who's on the porch is almost impossible because we have textured stained glass in them.  It can be intimidating opening the front door when you don't know who's waiting out there, especially at night.  I was very happy when Julie sent me a security camera system from First Alert to try out.  The DW-700 system offers a lot – indoor/outdoor use, IR night vision, microphone, recording, motion detection alarm, and it even comes with its own LCD monitor.  How great is that!  Pretty great, as we'll see!
Specifications
General
            Operating power – 5V
            Operating temperature – 14°F – 122°F
            Indoor/Outdoor – both
            Camera and stand – 9.0" X 5.5" X 1.4"
            Receiver – 4.7" X 2.8" X 2.7"
            Remote control – included
            4-Camera multi-view capable – yes
Camera
            Image sensor – CMOS
            Viewing angle – 56 degrees
           Audio range – 16 feet
            Digital – yes
            Color – yes
            Motion detection – yes
            Night vision capability – yes
            Number of infrared LEDs – 27
            Night vision distance – up to 40 feet
Wireless
            Wireless range – 750 feet
            Frequency – 2.4 GHz
            Transmission channels – 40
Recording
            Data storage type – 2GB SD card included
            SDHC compatible – 16GB
            File type – .AVI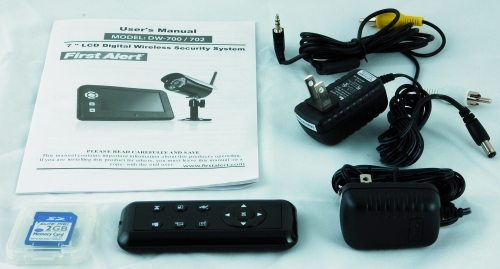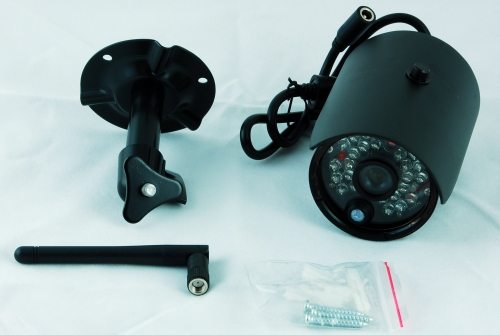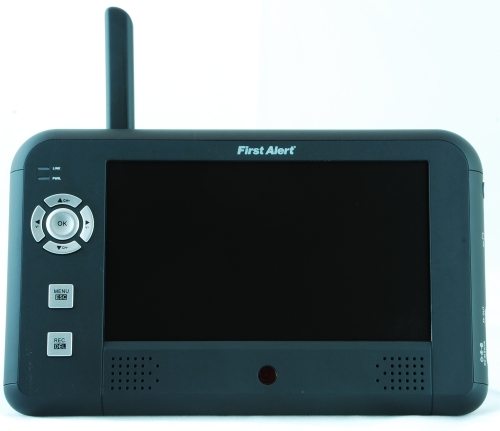 In the Box
            Digital wireless camera
            7" LCD digital wireless receiver
            Camera stand
            Mounting kit
            Remote control
            DC 5V power supplies – 2
            AV cable
            User's manual
            2GB SD card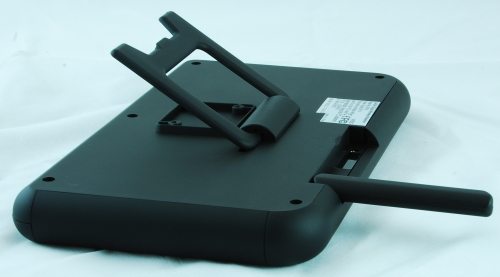 Getting started with the DW-700 system was a snap.  Because everything is wireless, there were no cables to run.  The camera is rated for outdoor use, so I got my husband to install it on our porch where it would be sheltered from rain and would be able to monitor my front door.  Although you don't need to run data cables, you do need power for the camera.  I don't have an outlet on my porch, but I do have one nearby.  For the test, I just left the power cord dangling.  Since the trial period was such a success, I'll have to find a way to control and disguise the power cord for a more polished and permanent installation.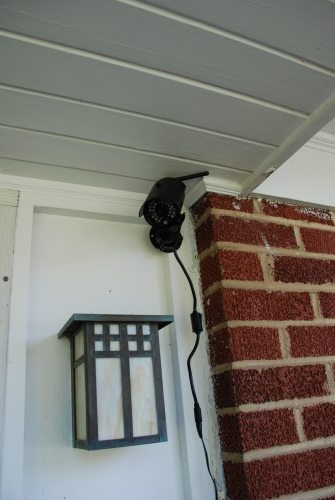 Once the camera is in place, you simply power up the LCD monitor and set the date and time.  You can use the included AV cables to connect the monitor to a TV for a larger picture.  I like using the monitor.  It looks like a digital picture frame sitting on my end table.  Pairing the camera and monitor was effortless.  You can use the monitor with up to four cameras.  When you use multiple cameras, you can see a split screen view or view each camera in full-screen mode.  You can adjust the brightness and resolution (640X480 or 320X240) of the camera to get the best picture.  You can also set the monitor to "power saver" mode; the screen will go dark during periods when no motion is detected.  The sound will remain on even when the screen is dark.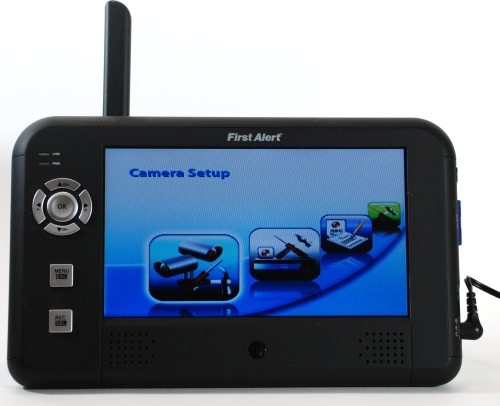 The monitor can  record a snippet of video and sound when motion is detected.  You choose to record for 5, 10, or 15 seconds or to turn off recording.  You can also have an alarm sound when motion is detected.  Recordings will be saved to the SD card.  Video is compressed, so the supplied 2GB card will hold a lot of files, and you can set up the monitor to over-write old files when the card is full.
The camera has a microphone, and the monitor has a speaker so you can hear what's happening outdoors.  There's no microphone inside and speaker outside, so I can't converse with people on my porch, but I still like having the sound.  Because there is a busy road outside, and because we all suffer from allergies, we never open our windows.  I never hear "nature" sounds inside; I had started to believe we didn't have birds and insects in our neighborhood anymore.  With the DW-700's audio, I can enjoy bird song indoors now.  However, I can also "enjoy" the sound of the neighbor's dog barking – in stereo with just a slight delay for a nice echo effect.  No problem, though – I can use the remote to turn down the sound until the dog or other bothersome noise stops.  Wind sounds and random traffic noises almost have a white noise effect – I've thought about taking the monitor into the bedroom at night as a "white noise" machine.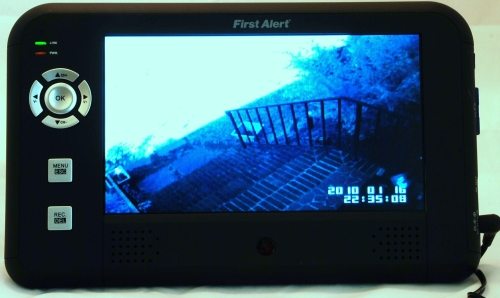 The video is a bit compressed, so movements seem a bit jerky – rather like King Kong in the very old movie.  Once a person gets to the top of the steps and stands still, the video is clear and sharp enough to easily identify faces during the day.  Although the picture (above) makes the video display seem blue, the actual display is full-color.  The video is very useful.  I can see when the UPS man is just leaving the package and not waiting for a signature.  I even caught the post lady dropping (on purpose) packages on my porch on two different days.  The second time she did it, I called her on it, pointed out my camera, and now I see her deposit my packages carefully by the door!  (I do all my Christmas shopping on the internet, and I have a lot of people to buy presents for, so I'm getting a lot of packages now.)  It's even helping me develop my reputation as the neighborhood's mean old lady.  I saw several neighborhood kids running around in my yard, crawling around in my bushes and breaking branches out of them and was able to go out and say "hey you kids – stay out of my yard!" before they had done too much damage. 
Please ignore the date on the following videos.  I didn't set the date before making some of them.  Also, I copied up the .AVI files from the First Alert monitor so you can see exactly what's recorded.  You'll probably be happier if you download them to your computer instead of playing them in the browser. 
Butch in daylight                                   Butch at night
Cat eyes (bottom left of screen)     Cat walking away (middle of screen)
The camera has IR LEDs for night vision.  Just like on Ghost Hunters, everything is displayed in shades of gray in night mode.  Because of my particular setup, I have my camera mounted too close to the door and the IR illumination is a bit over-bright and people's faces are over-illuminated – especially when my 6'2" husband is standing on the porch.  This is a problem with my location and installation, and not the camera.  The night vision is great when really tall people aren't involved.  You can see in the above attached files (the two cat videos) that I captured video of an intruder one night.
Porch light/IR mode                           Recording triggered by wind
The motion detector is very sensitive – maybe a bit too sensitive.  Wind blowing the bushes visible in the videos is enough to trigger a recording – and trigger the alarm, too.  You can use the remote to quickly stifle the alarm, you can turn the volume completely down, or you can simply turn the alarm off in setup.  I wish I could adjust the volume of the alarm.  I like the idea of the alarm, but it's just too loud.  Even five seconds is too long at that volume. 
I love the First Alert DW-700 security camera system!  It's great to be able to see and hear what's going on outside my door.  I like that the LCD receiver can monitor multiple cameras, and I need to see if I can buy these cameras individually to add coverage for my side door and maybe another for the backyard, too.  I do wish that I could have two LCD monitors with the system, though.  Maybe have one without recording capability and one with.  As I mentioned, I'd like to have one in my bedroom, but I don't want to have to move the monitor from room to room.
Product Information
Price:
$299.99
Manufacturer:
First Alert
Pros:

No TV required
Monitor station displays live pictures and makes recordings of events
Installation is quick and easy because equipment is wireless

Cons:

Motion detector is a bit too sensitive