We use affiliate links. If you buy something through the links on this page, we may earn a commission at no cost to you. Learn more.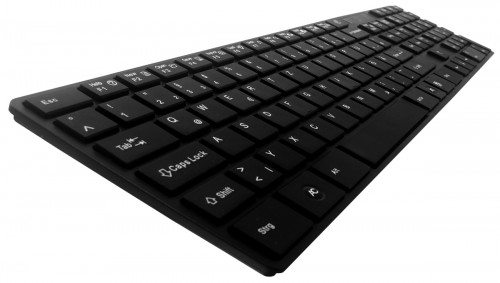 You're probably in the same boat, or cube anyway, when it comes to keyboards.  I've tried a variety and thought the Arctic K381 which claims to be "perfect for comfortable typing" and allows "continuous typing without fatigue" was worth a try.
The keyboard comes from a company called  Arctic Cooling so at first I thought the keyboard might have a fan inside of it.  A closer look at their website, however, touts the keyboard as a very slim, compact unit.  It's the company's name that has the frost.  (The above photo is courtesy of the Arctic Cooling website.  The keyboard comes in both black and white.  The Gadgeteer received a white keyboard for review.)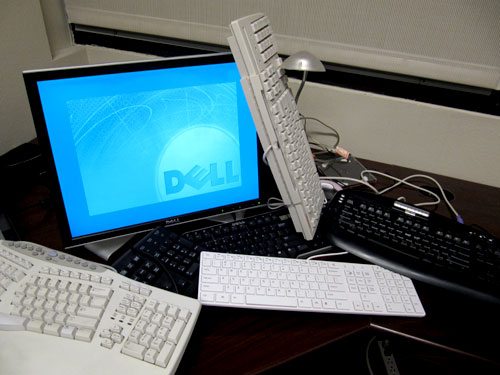 The main concept behind this keyboard is that it is slim, small and sleek.  It uses the "Chiclet"-type of keys (rather than, uhm, the beef-jerky type of keys?) and the low profile of the keys and of the console itself lessens the angle your wrists need to type which could be less tiring for some.  Here are the main specs from Arctic-Cooling:
12 office function keys – one-touch access to different features
Keys for volume control and standby
Low-profile layout and key structure – perfect for comfortable typing
Low resistance switches allow continuous typing without fatigue
Sharp and clear pressure point
Ultra-slim design
The photos below show the K381 in a frontal and profile stance next to a standard-issue Dell keyboard.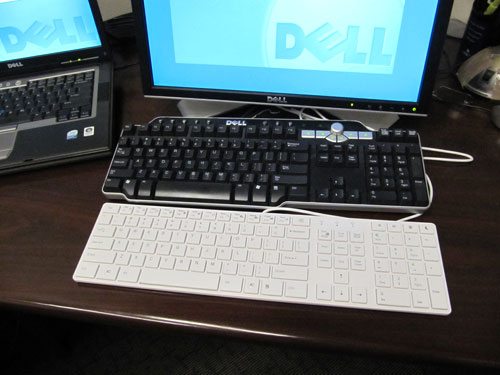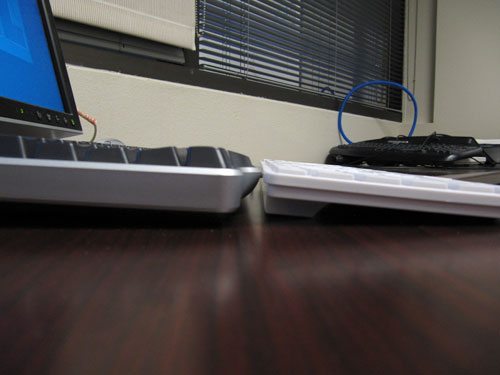 So how does this keyboard fare?  When I first tried it out I thought, "Ooh I like this," though I couldn't quite figure out why.   I couldn't quite put my finger (ha!) on what it was that was so likable about it.  Was it easier to type on?  Not sure.  Was it more comfortable to type on?  Maybe.  Was it more accurate?  Well, my code is still full of bugs, er uhm I mean, uh oh never mind that.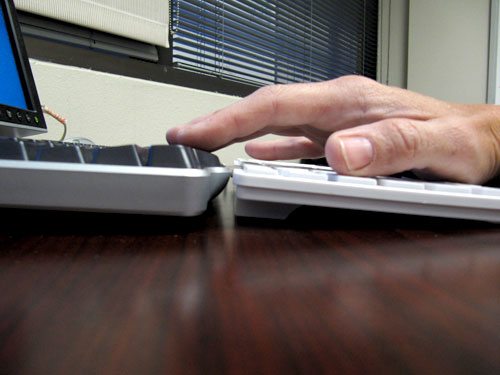 Never miss one of our posts again. Sent MON, WED, and FRI with the latest gadget reviews and news!
One not-so-tangible aspect is that it just feels fast.  I'm typing on it right now and it feels like my fingers are flying.    After a few days using the K381 I became used to it and swapped back to my old Dell beef-jerky keyboard just to see if there was a big difference.  The strange thing is that when swapping back to the Dell, I didn't see a big difference in typing, but, when I then went back once again to the Arctic, I felt like I was typing in 5th gear.
So I went to one of the typing test sites on the Internet and did a 73 WPM with the Arctic and a 70 WPM with the Dell.  So is it faster?  Again, I don't know but it sure feels like it.   And I just like typing on it for some reason.  In fact, when a co-worker stepped in my office to help debug a coding (ahem) problem, she immediately remarked "Oh, I like this keyboard!"
Another nice feature of the K381 is that it is a full-size keyboard, but it actually fits in my back pack.  So I can have a full-size keyboard (and a comfortable one) for traveling.
One problem with the K381 that is something that you'll see with a lot of Chiclet-type keyboards is that some of the keys will not make it all the way down if you hit them at the wrong angle.  This doesn't happen all of the time, but seems to occur on keys such as the Ctrl or Tab keys, which require some pinky articulation to hit.  The beef jerky style keyboards don't have this problem or at least wasn't as noticeable.
Overall, though, I'm still using it and might buy one for my co-worker for DiWali.
Product Information
| | |
| --- | --- |
| Price: | $25 |
| Manufacturer: | Arctic Cooling |
| Pros: | |
| Cons: | Keys can stick if hit at an angle |