We use affiliate links. If you buy something through the links on this page, we may earn a commission at no cost to you. Learn more.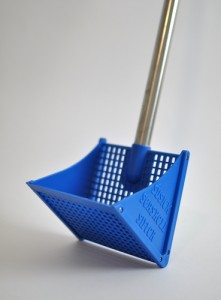 Odds are that if you've ever been to a beach, you've probably picked up some seashells and possibly brought them home as a souvenir.  And if you've spent any amount of time picking up shells, you've probably had one wash away in the tide just as you reached for it, or found yourself with sandy and salty hands when you were done.  But what if there was a gadget that not only prevented you from having to get your hands wet and sandy, but also prevented you from having to bend or stoop down to pick up the shells?  The Susick Sea Shell Sifter fills that need exactly.
The Susick Sea Shell Sifter couldn't be much less complicated: it's a 6″x6″ ABS plastic basket on the end of a 30″ aluminum pole, capped at the other end with a plastic handle.  That's it.  Not surprisingly, the simplicity of its construction is matched by its simplicity of use.  Just scoop up a load of shells and sand, and either allow gravity to sift dry sand out, or allow the tide to wash wet sand through the meshwork of the basket.  That's all there is to it.  The pole is long enough that an average-height person will need to do minimal bending to scoop up a load of sand, but short enough that it's still easy to dump the contents of the basket into the included mesh bag.
I took the Sea Shell Sifter with me to the Outer Banks of North Carolina recently, and unfortunately, Tropical Storm Nicole was visiting at the same time I was.  It was rainy and windy,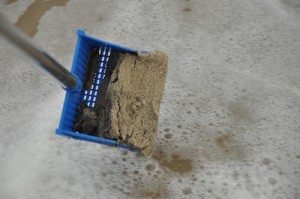 leaving only short windows of time where the beaches were fit for visiting.  Had the sole purpose of the trip been to collect seashells, the Susick Sea Shell Sifter would have saved the trip.  It was very easy to get out and scoop and sift sand without breaking stride, meaning that if one is torn between walking the beach for exercise and collecting shells, bringing a Sea Shell Sifter along means that one no longer has to choose one or the other.  This is especially handy if one is walking the beach with a partner who doesn't want stop every few steps to pick some shells out of the sand;  and in my book, any gadget that can prevent a squabble with one's significant other is money well-spent.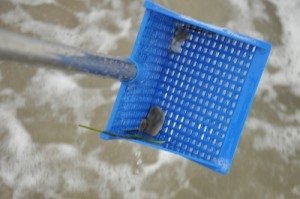 While my seashell takings were rather meager on this trip, what I did get was strictly by virtue of the Sea Shell Sifter and its long reach.  It was quite easy to quickly scoop up a hunk of sand while the tide receded, and just as easy to sift it out it in the tide, many times without having to set foot in the water.
Overall, the Susick Sea Shell Sifter is one of those perfect gadgets that does one thing and does it well.  If you are an avid sea shell collector, or if you spend a lot of time at the beach and have any interest at all in picking up shells now and then, it's a sound purchase, and at only twenty dollars, it's certainly not going to break the bank.
Product Information
| | |
| --- | --- |
| Price: | $19.99 |
| Manufacturer: | RES Creations |
| Pros: | Long reach, sturdy build quality, should last for years of beachcombing, really improves the experience of sea shell collecting |
| Cons: | A unitasker by nature, not much use if you don't spend time at the beach |