We use affiliate links. If you buy something through the links on this page, we may earn a commission at no cost to you. Learn more.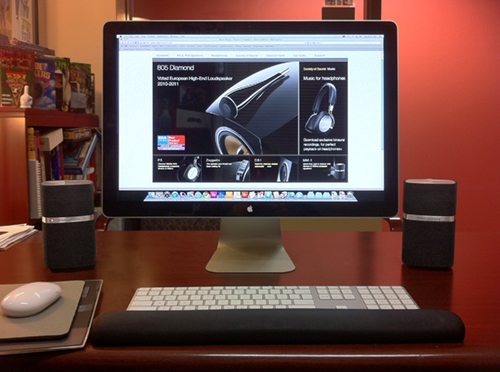 There are a lot of things to like about the new MM1 computer speakers from Bowers & Wilkins, the makers of the famous Zeppelin iPod dock/speaker. And while these don't have the audacious design philosophy of the Zeppelin or even B&W's legendary floor standing speakers, the MM1s stand-out on their own merits. They are clean, both in sound and design. And they are fastidiously accurate.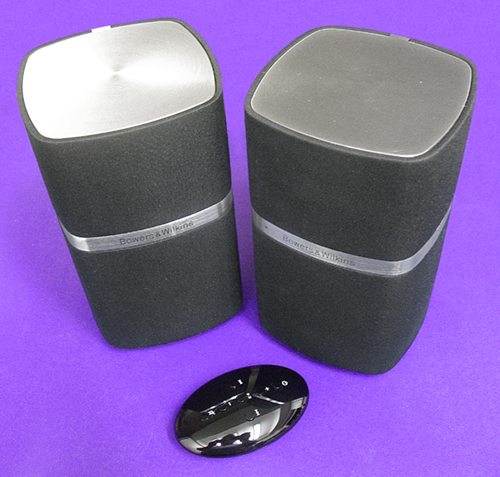 The are desk-top speakers designed for what is called "near field" listening. In other words, if you are sitting in front of your computer with these sitting on both sides of your monitor, you are in for a big treat. If you are across the room while the MM-1s are cranked up, its feels more like a snack. That's not to say that the MM-1s can't fill a room – they can – it's just that the MM-1s were not designed to fill a room. B&W makes plenty of other speakers for that purpose. In fact, turn them up too loud and the MM-1s (with special  circuitry) will prevent the bass from distorting, and that can cut into the volume on very loud passages. But it is impressive what these small wonders can do.
Did I say small? They are kinda on the petite side. At least after having the monstrous Audioengine A5s crowding my desk for a year, the MM-1s seem small. I guess it's relative. These speakers may be somewhat diminutive, but they certainly don't sound it. Now, I know what you're thinking, "Gee, I've never heard that one before – small speakers that sound big… whoopee." But, trust me. As long as you're sitting right in front of them, it's true.
Let's be very clear here. If you want to be blown out of your seat, the MM-1s aren't for you. But if you want just about the cleanest, most satisfying listening experience possible from desktop speakers, then you gotta try these. When I first heard the MM-1s, my reviewer mode immediately kicked in and I tried to think of a short, clever description. And one word kept coming back… effortless. And that's the magic. The MM-1s sound full, warm and accurate with just the right amount of bass without breaking a sweat. Most speakers in this size range over-emphasize the bass to make up for their lack of mass and cheaper speakers usually have one driver to handle the complete frequency range. Not the MM-1s. There's a dedicated bass and midrange with a separate "tube-loaded" (B&Ws name for it) tweeter for the high frequencies. This separation is what accounts for the accuracy and depth of the sound. Also, B&W use some sophisticated electronics called Digital Signal Processing that adjusts the sound output to the incoming signal. Translation: Your music should sound about as good as it can depending on the source material. It's this attention to detail that makes them special.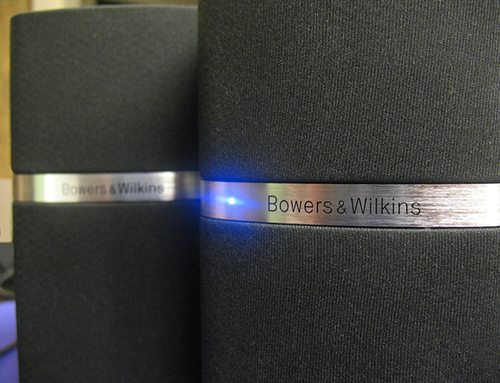 The looks of the MM-1s match the aesthetics of Apple's newer MacBooks and MacPros. Black cloth material is accented by a brushed aluminum strip with hidden on/off switches and volume controls. The volume controls are a bit inconvenient, but they can be ignored by using either your computer's volume keys or the included remote. This egg-shaped remote provides all the basic functions: Volume, on/off and tracking controls. The previous/rewind, play/pause, next/fast forward buttons will work with many supported applications, such as iTunes, etc. One small annoying tidbit is that if you are playing your music in the background, the remote won't work. iTunes needs to be in the forefront for it to work. Two more things to note are that the top of the right (powered) speaker gets quite warm to the touch and the hard rubber speaker bottoms are dust magnets.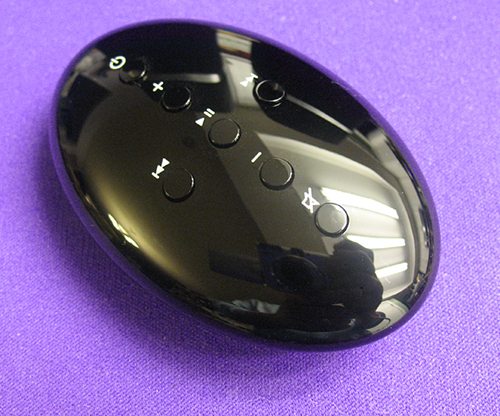 Connecting the speakers is pretty straightforward. There are three plugs (USB, power and left speaker) cleverly hidden under the right speaker. Also, unlike most other speakers, the MM-1s plug into the USB port instead of the audio mini jack. That alone, does away with a lot of compromises. By connecting to the USB port, the audio signal stays about as pure as possible. Then the MM-1s convert the digital signal into sound using their own Digital Audio Convertor. This gives the speakers almost complete control over the audio quality, meaning that it bypasses the internal DAC in your computer (or iPod, smart phone, etc). To be truthful, this is a modest improvement over the normal mini plug route, but where it really pays off is when you plug earphones or headphones into the mini jack port at the rear of the right speaker. Wow. Suddenly good headphones sound much cleaner, great headphones sound way better and those free, included earbuds will still sound… like the garbage they are. Good excuse to upgrade those buds. There is also an AUX port to connect various MP3 players, smartphones, etc.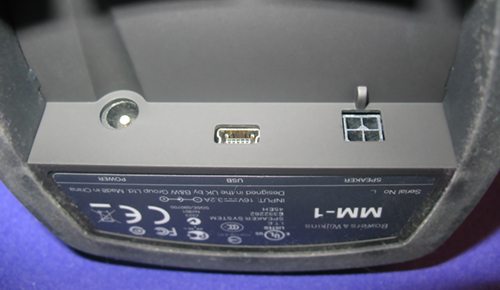 Since the MM-1s are fairly neutral sounding, meaning not too much bass or too bright, I decided to listen to different genres of music. Its still a little strange not being able to blow myself out of my chair like I could with sheer volume from larger speakers. But again, the MM-1s are are not made to do that. So I chose music I know quite well and has very good to excellent sonic characteristics.
Of course, I began with an Apple lossless rip of the SACD version of "Dark Side of the Moon" by Pink Floyd.
What I noticed right away was a lack of vibration from the intro heartbeat on the song, "Speak to Me". But it didn't bother me because there was a clarity and detail that had been missing from those larger, thumper speakers that could vibrate windows. However, plug headphones into the back of the MM-1s and – due to B&W's own DAC – its a totally different experience. The rest of DSOTM was so pristine and engaging, it was scary.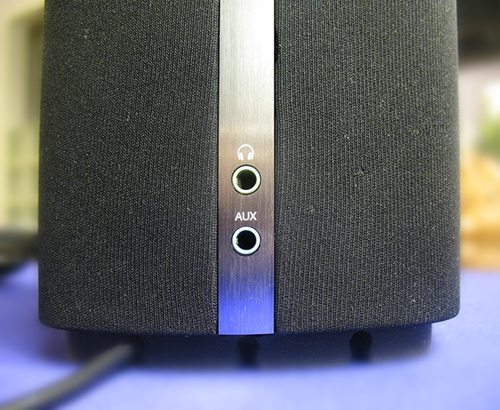 A remastered version of Paul McCartney's "Long Haired Lady" from "Ram" had a lot of bass pushed right to the front of the mix that an earlier CD never had. It reminded me of the Beatles remasters. It made me realize just how good McCartney really is. The MM-1s show off his musicality like few speakers of this size can.
A real audio (and patience) tester is Klaus Schulze's "Vat was Dat?" from "Are You Sequenced?". This monster clocks in at over 1 hour and 17 minutes of repetitive synth drum machine beats overlayed with brassy cymbals and synth horns, while an operatic vocalist belts out a tonal whining – for over an hour! Most people can't listen to more than 2-3  minutes of it, but I absolutely love this piece. And hearing it on the MM-1s puts a smile on my face. None of the subtleties are missed. The sound is exquisite and I can't get enough of it. But you've been warned… this is not for everyone.
Recently, Neil Young has been remastering his older albums and his reworked "Harvest" benefits from the effortless clarity of the MM-1s (there's that descriptive word again). A lot happens in the opening song, "Out on the Weekend", but I always thought the mix was muddy-sounding by design. Little did I know just how much detail Young had put into this work. There's a punchiness to the bass drum and a bite to the harmonica that the MM-1s display with absolute realism.
And in the classical vein, "The Blue Danube", from the "2001, A Space Odyssey" soundtrack is portrayed in all its analog glory. And here, it's a good thing. There is an dreamy coziness shared among the strings in this 1968 Berlin Philharmonic recording that makes concentrating difficult. The neutrality of the MM-1s is apparent as any hint of brittleness or boominess is nowhere to be found. It's a perfectly well-rounded piece.
The B&W MM-1 speakers are uber-expensive, especially for desktop speakers. But let's face it; we are talking Bowers and Wilkins here. The MM-1s are as clean in their design as in their sound. If you appreciate musicality and detail over sheer volume in your music and find yourself spending hours and hours at a computer, then you should hear the MM-1s. B&W have designed near perfect speakers to please an audience of one – you.
Updates 034/30/15
The Bowers & Wilkins MM-1 Computer Speakers Have been my desktop speakers for almost 5 years and they still sound great. There is no noticeable wear and tear after years of constant use and have been extremely reliable. Plus they sound as good as they did new. I've done a couple of recommended firmware upgrades, but I haven't been able to discern any audio improvement–not like they needed improving anyway.
Source: The sample for this review was provided by Bowers & Wilkins. Please visit their site for more info.

Product Information
Price:
$499.95 US
Manufacturer:
Bowers & Wilkins
Pros:

Perfectly balanced sound for near-field listening.
Understated good looks - especially when matched with MacBook or iMac.
Impeccable build quality.

Cons:

If you want volume for volume's sake, look elsewhere.
Expensive.