We use affiliate links. If you buy something through the links on this page, we may earn a commission at no cost to you. Learn more.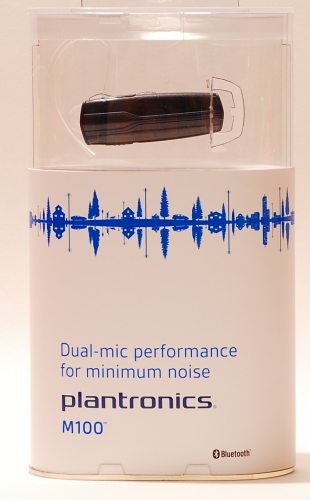 In North Carolina, there isn't a law banning use of a cell phone for most drivers unless you're under 18 or driving a school bus.  Still, I don't use my cell phone much while driving because I don't like having one of my hands tied up holding the phone.  Since a lot of my driving involves chauffeuring my daughter around, I want to be sure that I'm as safe a driver as possible.  I've tried a few different Bluetooth headsets with my phones, but I've never been able to find one that works well enough to make it worthwhile wearing the little torture device.  (I've had a long-standing problem trying to find earbuds that fit, and Bluetooth headsets fall into that painful category.)  When Julie sent me the Plantronics M100 Bluetooth headset, I was hopeful it would prove to be comfortable and work well.
Technical Information
Bluetooth v2.1 + EDR and eSCO
Dual microphones with DSP
Dedicated on-off switch
Headset battery meter for iPhone
Multipoint technology
QuickPair technology
Micro-USB charging technology
Up to 6 hours talk time
Up to 10 days standby time
Operating distance:  33 feet
Weighs 9 grams
Rechargeable non-replaceable lithium-ion polymer battery
Power requirements: 5V DC – 180mA
Bluetooth profiles Hands-free (HFP) Profile 1.5 and Headset (HSP) Profile 1.1
Operating temperature 32-104 degrees Fahrenheit (0-40 degrees C)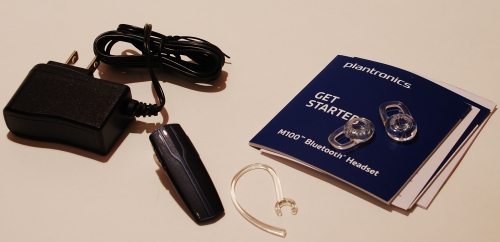 What's in the Package
M100 headset
AC charger (100-240V)
Silicone eartips (small, medium, large)
Clip-on earloop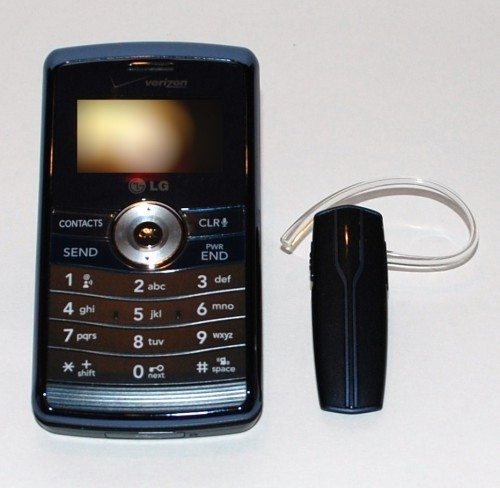 The Plantronics M100 is 2" long X 0.75" W (widest point) X 0.75" D (at speaker with small gel eartip in place).  The M100 is available in five colors: Radiant Red (exclusive to Apple), Sparkle Pink, Glow Green, Electric Blue (exclusive to Best Buy), and Charcoal Gray.  Except for the gray one, the M100s have a shiny black front, and the stated color is only on the back and just visible around the edge.  I received the Charcoal Gray.  The front is a shiny deep gray with a slight amount of sparkle that's only visible under bright light.  There's a Y-shaped design on the front that is outlined in the same gray-blue rubbery plastic that coats the back of the M100.  Surprisingly, this color scheme matches my LG enV3 phone almost perfectly – if that sort of thing is important to you.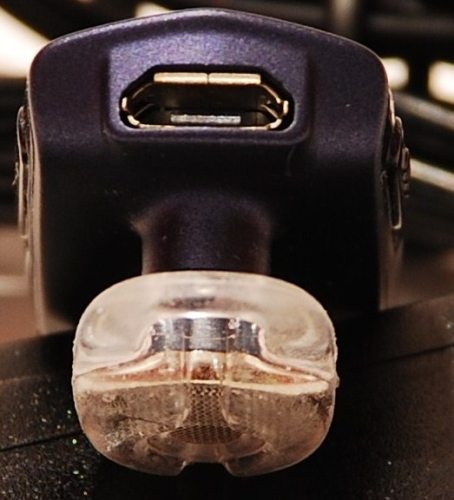 The Plantronics M100 charges with the included AC charger.  The charger plugs into the micro-USB port on the end of the earbud.  I found that I could also charge with a standard micro-USB cable plugged into my laptop.  The user's guide said a 30 minute charge time will give you about 2 hours of talk time.  You get a full charge in 90 minutes.  I charged the M100 fully before using, because the documentation said you get the best performance when fully charged.
I found that the smallest silicone eartip fit most comfortably in my ear, and I also found it fit best in my right ear.  The eartip has a little tab that's designed to fit in the inner curve of your ear to hold the M100 securely in place.  There is also a clear plastic earloop that can be clipped on to the speaker stem if you prefer a little extra security. 
I wear glasses, so I don't normally like having another earloop behind my ear.  I found the M100's earloop to be fairly comfortable.  It is very thin and doesn't press on the earpiece of my glasses.  However, the gel eartip fits securely enough in my ear that I decided I don't need the earloop.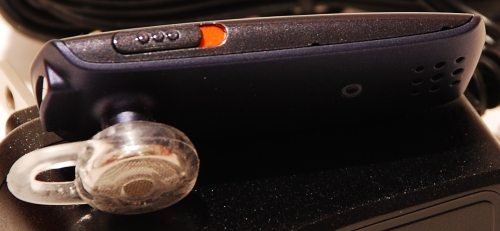 One thing I really like about the design of the M100 is the dedicated on/off slider button.  Other earbuds I've used have a single button to do everything, and I've discovered more than once that something pressed on the earbud in my bag and redialed the last person I called.  With the M100, I won't be making any unexpected calls unless I forgot to switch it off before putting it in my bag.

There are two other buttons on the M100.  The volume/mute button is on the side opposite the on/off switch.  You cycle through the minimum-low-medium-high-maximum volume levels by tapping the volume button.  You hear a beep and a message to tell you when you have selected the maximum level.  Toggle the mute on or off with a one second press of the volume button.  This button is very responsive, and I have accidentally changed the volume level while trying to fit the earloop over my ear.
The other button is the multi-purpose call button; it's located in the "Y" on the front.  This button is used to answer/end a call, redial, initiate your phone's voice-dialing, activate pairing after initial setup, or activate multipoint (pairing one headset to two phones).
After charging, I paired up the M100 to my phone.  There are several steps describing how to pair this headset with your phone, but I didn't need them.  I just turned on Bluetooth on my phone, turned on the earbud, and it paired immediately – didn't even need the passcode.  The phone and headset will stay paired as long as you are within 33 feet of the phone.  I tried the headset over a few days, and I would use the headset only when I was in the car.  When I wasn't using it, I turned off the headset and always tried to remember to power off Bluetooth in my phone when I put the headset away.  I found that the headset would reconnect immediately with my phone as soon as I switched the headset back on or as soon as I turned on Bluetooth on the phone.
The M100 "talks" to you with a soothing female voice to convey information.  You'll hear "power on" and the number of hours of talk time when you turn the earbud on, information about pairing status, mute on/off, etc.  There's also an LED on the back of the M100 that conveys information with color and blinking patterns.  Since the light is normally against my face, I didn't find it useful for anything other than charging status.  The light is solid red while charging; it turns to solid blue when charging is complete.  The light can also indicate low battery and multipoint status, but the vocal prompts are more useful to me.

The Plantronics M100 has several features designed to improve sound quality.  It uses DSP (digital signal processing) to reduce background noise.  It has dual microphones to enhance sound quality.  The M100 also says it reduces wind noise and has automatic sound level adjustment.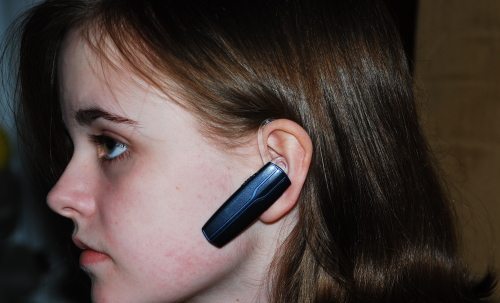 Making calls was a snap with the M100.  My phone has voice dialing abilities, so I was able to press the multi-function button for two seconds (until I heard a tone) and give my command when I heard the vocal prompt (from the phone) to "say a command."  I could also dial directly from the phone, and I'd hear a little beep and commands from the phone through the headset.  Incoming calls were announced with a warbling tone, even when my phone was set to vibrate.  Sound quality was about as clear as the sound from my phone.  I did notice a bit of distortion with the headset at maximum volume.  I found calls were easiest for me to hear when I had the volume at the high setting.  I might have been able to lower the volume level to medium if I had tried to fit the headset tighter in my ear, but I know that I would not have found that comfortable.
I first tried using the M100 while sitting in my living room.  I called my husband at work and talked for a while before telling him I was talking on a Bluetooth headset.  He said the sound quality was great, and he had no idea I was using a headset until I told him. 
Click to hear a call made while I was driving:  plantronics-m100-review
Now, I'll let you judge for yourself.  The above file was recorded while I was driving on the cross-town highway in Greensboro, where I do most of my driving.  I was listening to the radio at the volume I normally use and had the air conditioner on.  I left a message on my Vonage voice mail, and I downloaded the message file directly from Vonage's website.  The sound quality from the Plantronics M100 is the clearest I personally have gotten from a Bluetooth headset.  While listening to the message, I can hear just a faint bit of tinny-ness or clipping  (but that may just be my voice – argh!).  I can hear a car passing while I have the windows down, but I don't hear wind noise in the message – and believe me, it was very loud in the car.  I don't blast the radio anymore, but I do listen at a moderate level.  I didn't hear the radio or the air conditioner fan at all in the message, but I could hear the "thunk" when my windows closed completely.
There are a couple of features that I couldn't try out.  I don't have an iPhone, so I couldn't check out the iPhone battery meter display.  I couldn't find good documentation for this feature, but it sounds as if the iPhone will display information about the M100's battery level.  The M100 also has Multipoint pairing, which lets you pair the headset with two phones.  Multipoint pairing lets you receive and make calls on both phones while they are paired with the headset.  This would be a good feature for people who have a personal cell phone and a work cell phone or an office phone that has Bluetooth.
I'm  pleased with the Plantronics M100.  It's comfortable enough that I can wear it for an hour or so without discomfort – and with my usage patterns, I'll never need to wear it for longer periods.  It's secure in my ear without the earloop, and the earloop itself is comfortable and doesn't press on my eyeglasses' earpiece.  I'm pleased by the sound quality with the M100.  I haven't tried dozens of Bluetooth headsets, but the Plantronics M100 is the clearest of those I have tried.  At $79.99, it's one of the most inexpensive headsets I've tried, as well.
Product Information
Price:
$79.99
Manufacturer:
Plantronics
Pros:

Comfortable
Good sound quality
Relatively inexpensive
Dedicated power switch

Cons:

Single volume button requires you to toggle all the way through the maximum setting before you can lower the volume