We use affiliate links. If you buy something through the links on this page, we may earn a commission at no cost to you. Learn more.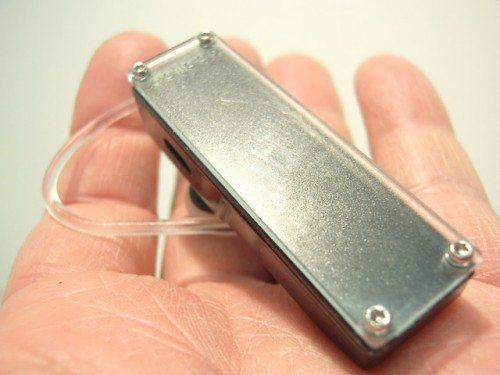 "Sophisticated Elegance" is what Callpod calls their Vetro Bluetooth headset.  According to Callpod, vetro means "glass" in Italian.  That raised my eyebrow a bit.  I'd never seen a Bluetooth headset that looked like this before, so I had to give it a try.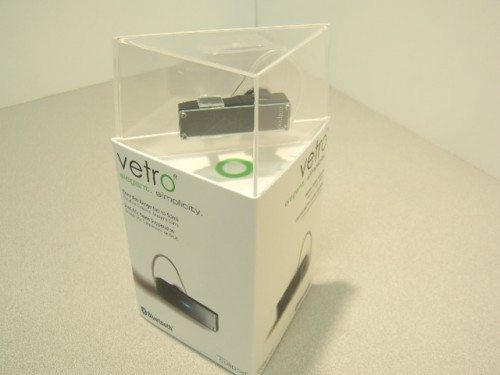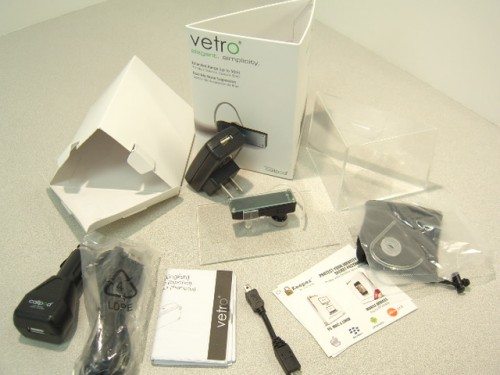 Here is the description for the Vetro headset from Callpod:
5x Range
The Vetro has a customized internal amplifier which gives it 5 times the operating range of a standard Bluetooth headset. When paired with most current mobile handsets and Smartphones, users can roam up to 50m (164 ft) away.
GummyGel™ Comfort
We created a proprietary designed ear bud which utilizes our formulated GummyGel™ material. The ear bud literally molds itself to the inside of your ear for an all-day, comfortable fit. When it's removed from your ear, it returns to its original shape.
Small Yet Powerful
Weighing less than 1/2 an ounce and measuring as thin as 1/2" the Vetro is one of the smallest and most powerful Bluetooth headsets on the market.
2-Way Walkie-Talkie
With our proprietary two-way, walkie-talkie functionality, you can also connect the Vetro to any other Callpod Bluetooth headset and communicate up to 84,000 sq ft. while you are still connected to your mobile phone.
Upgradable Firmware
Keep all your Callpod Bluetooth products delivering optimal performance by using the Callpod Bluetooth Firmware Updater (available free at callpod.com/download). Works with Dragon®, Phoenix®, Drone®, Onyx® and Vetro®. Available for Windows 7/XP/Vista.
Specs
Talk Time:  Up to 8 Hours Talk Time / 300 Hours Standby Time
Battery Charge Time:  3 Hours for Full Battery Charge
Input Power:  3.7 VDC Bulit in Lithium Ion Battery or 5VDC
LED Indicators:  Power / Pairing / Headsets & Mobile Status
Standard:  Bluetooth 2.0
Audio Quality:  SCO and eSco Links Supported
Encryption?  Yes
DSP:  Dual-Mic Noise Suppresion
Firmware Upgradable?  Yes
Profiles Supported     Hands-Free 1.5, Hands-Free Audio Gateway Headset
Frequency Band:  2.4-2.4835 GHz
RF Output Power:  Class 1 / Class 2
Working Range:  Up to 50 meters (164ft.)
Weight:  0.4oz (11.3g)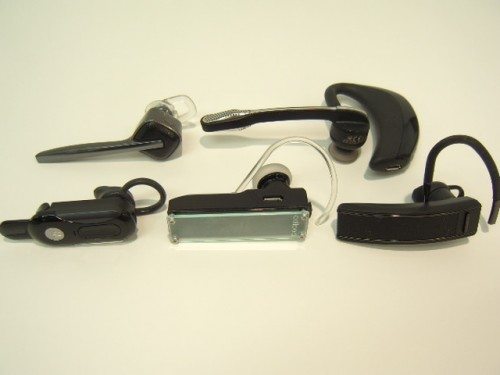 Compared to other headsets, it's about average sized.  It's nearly the same size as the Blueant Q2 headset.
The first thing you notice is the large sheet of  "glass" suspended by four screws.  I quickly realized that this was merely a strip of clear plastic.  Well, mystery solved.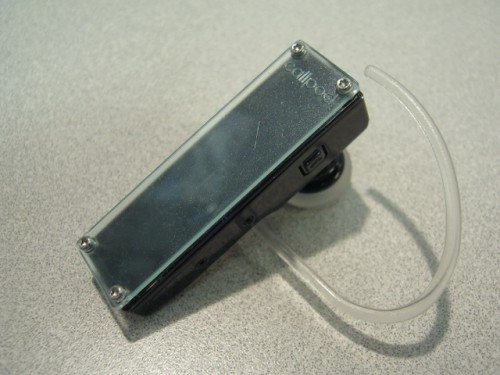 An LED behind the clear plastic shows charge and headset status.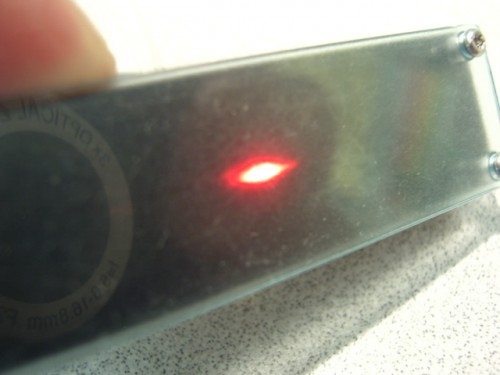 The Vetro charges via micro USB port.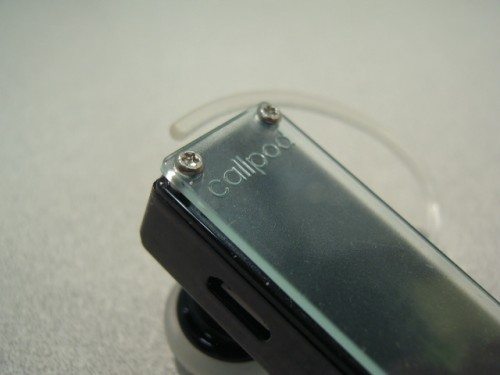 The Multifunction button is a small, hard-to-feel button on one of the long edges near the microphones.  There is no tactile feedback.  I had to squeeze the life out of the headset until it registered, and if I heard something, I wasn't sure if it was the button clicking of the headset breaking apart.  The world's worst button.  Fortunately, the power/volume toggle on the end of the headset is much better.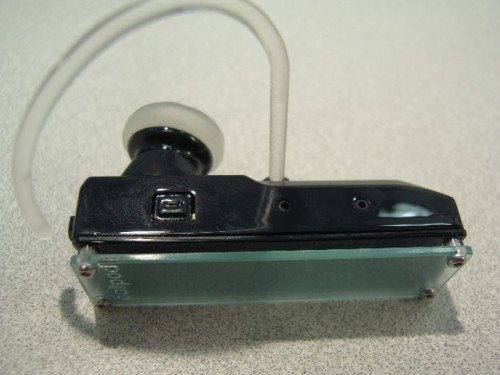 The news is a little better on the business end.  The hook is removable and optional.  The earpiece is a gummy ring that actually feels quite comfortable, giving a very secure fit.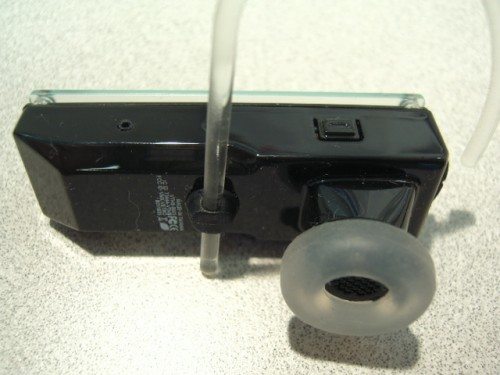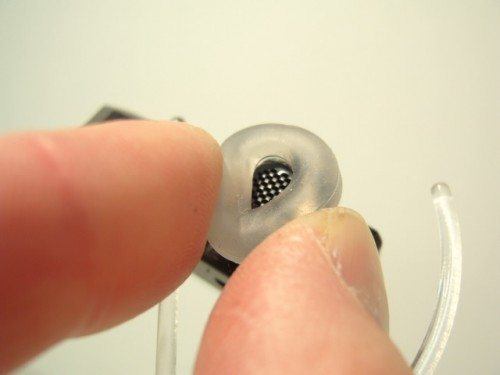 Incoming Call Quality
Completely average.  Nowhere nearly as loud and rich sounding as the Blueant Q2, for instance.  Nothing to write home about, but perfectly usable.
Outgoing Call Quality
I tested this in my car driving on the freeway.  Click link for sample.
Callpod-Vetro-bluetooth recording
I found the outgoing speech quality below average.  Judge for yourself.
Unscientific "5x range" Test
The Vetro has two other unique features:  A Vetro-to-Vetro "walkie talkie" function that I could not test, and a reported 5x range.  This I could test.
Paired to my Motorola Droid X, I walked away from stationary phone in my office between walls, cubicles, etc.  I tested a Motorola H17txt bluetooth headset (a Class 2 device, approx 10m range).  Call quality decreased significantly the further I moved away, to the point where it was mostly unusable and I'd normally ask the caller to try again later.
The test call would drop out completely around 80 feet (24m) away.  It was dirt poor at maybe half that distance.
Next I tried the same office walk test with the Vetro (a more powerful Class 1 device, approx 100m range).  The call dropped right around the same point.
I am not entirely certain if it's because I need a different phone that's friendlier to a more powerful Class 1 device like the Vetro or not.  The Droid X is listed as a "Stereo Bluetooth Class 1.5" device.
Buy this headset if…
You like the look of plastic that looks like glass.
You really need the headset-to-headset function.
You like a secure, comfy headset, thanks to the gummy earpiece.
Don't buy this headset if…
You really need to be heard in a noisy environment.
You don't have a kung-fu vice grip to operate the Multifunction button.
Product Information
Price:
$99
Manufacturer:
Callpod
Pros:
Cons:

If you think it's real glass, it's not.
Poor outgoing speech quality in noisy conditions.
5x range not realized in my casual testing.
The world's worst multifunction button is very hard to press.