We use affiliate links. If you buy something through the links on this page, we may earn a commission at no cost to you. Learn more.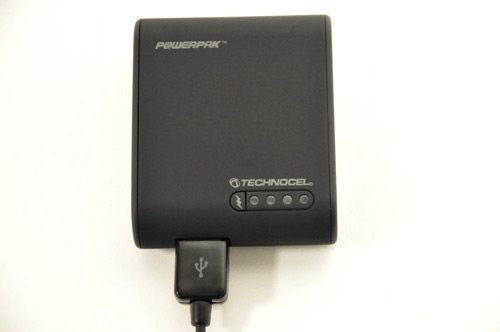 When my kids were younger, I spent vast amounts of money on juice boxes of all kinds, because when a kid is thirsty you gotta have some juice that's easy to deal with "on the go".  Trust me, spill a sippy-cup of Apple juice all over your car seats and you'll be making a bee-line to Wal-Mart for some juice boxes lickety-split!  My kids are almost grown and have long since outgrown juice boxes, but now we need a new kind of juice box… an 'adult' juice box, if you will.  Enter… the Technocel Powerpak!  Juice… on the go!
With all the mobile devices/gadgets that I own, I am constantly running out of "juice" and need to power up.  If I am in the car, it isn't that big a problem because I have mobile chargers for several devices, plus various other charges like the iLuv USB charger and one of those cigarette lighter chargers where you can plug in regular power cords.  But you still have to have the charge cable for the device to use those charges.  And I don't feel like carrying around all my chargers and cables for all my devices.  So I have wanted to get my hands on a charger of some kind that would solve this problem.  So I jumped at the chance to review the Technocal Powerpak.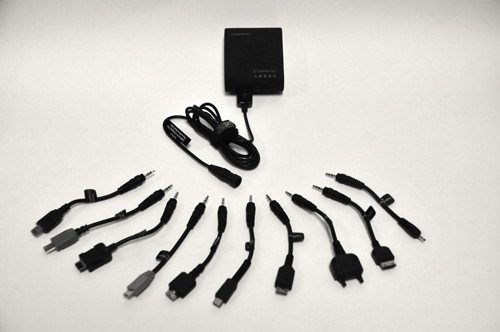 The Powerpak comes with a cloth bag to carry everything in, and a special USB cable with the standard USB connector on one end (that plugs into the Powerpak unit) and a mini-din connector on the other end.  It also comes with 10 interchangable tips that allow you to connect the cable coming from the Powerpak unit to various mobile devices.  2 of the adapters are micro-USB variants, 2 more are mini-USB variants, and the other 6 adapters are proprietary.  All told, you can use the Powerpak to charge devices from LG, HTC, Blackberry, Motorola, Samsung, Nokia, Kyocera, Sanyo, Palm, Nextel, Casio, Sony Ericsson, and Toshiba.  They claim that 95% of mobile devices are covered.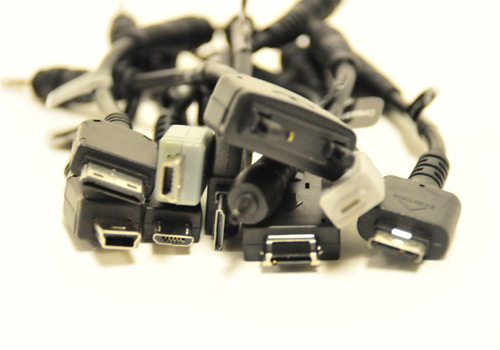 I was looking forward to using the Powerpak to charge the various iPod devices that my family owns, because someone is always running out of juice in the car.  And I was a bit dismayed when I opened the package and didn't find an adapter for the iPod.  However, I quickly discovered that any power cable with a standard USB connector on the end will plug directly up to the Powerpak unit without the need for any of the adapters.  So you won't need any of the 10 adapters if you want to charge your iPod or iPhone… simply plug the USB that came with your device into the USB port in the Powerpack unit.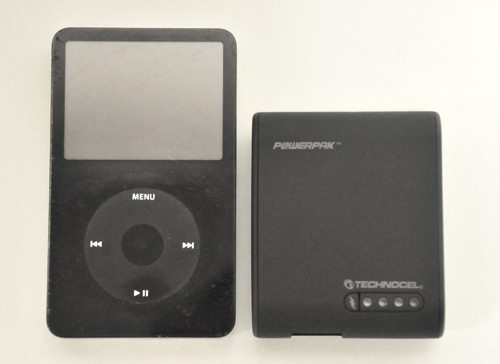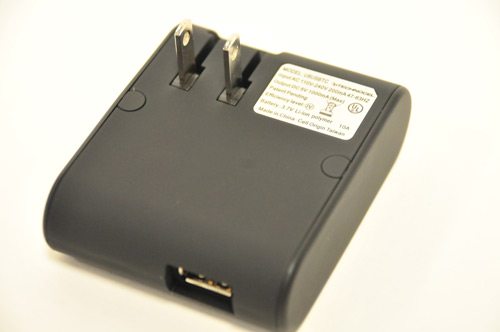 The Powerpak unit is clad in a soft-touch rubbery shell, like many of today's cellphones.  I was very pleased with this, in addition to the round edges on the unit.  Because of this, it is very easy to hold and carry and it just feels solid.  The power plug on the back of the unit folds in flat to allow for easier storage, and when you plug the Powerpak into the bottom plug of a standard wall outlet, it won't block the use of the top plug which is nice.  Another neat feature of this product that I was pleased to see is that when you plug one of the 10 adapters into the USB cable, each adapter has threads on the end of it so that you can screw the adapter into the cable for a secure, tight fit.  That way, it won't accidental come loose.  Cord length is average at just a little over 5 ft.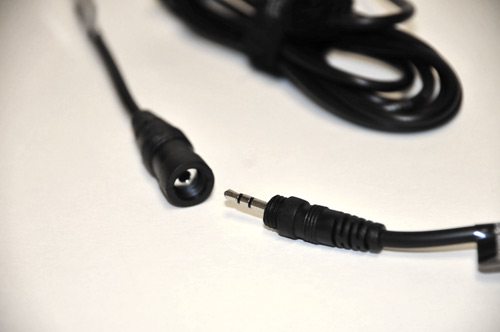 When the Powerpak is plugged up to the wall it charges its internal battery while still being available to charge your devices.  And if you want, you can begin using your device as soon as it is plugged up to the Powerpak, which is how I am using it mostly as I run out of juice while talking on my cellphone alot.  To determine how much juice is left in the Powerpak you press a button the front and 4 red lights on the front will give you an indication of how much juice is left.  I don't particularly care for this and wish that instead I had an LCD to show me a % value of how much is left.  But then again, I am sure that would push the cost up.  The interal battery is 1000mA.  Now, that isn't as much as other chargers, and I have read that Technocel is coming out with a charger that has 2 connections built-in and a bigger battery.  While I would like to have a bigger capacity battery, I think the size of the device and price point ($35-40) will be very acceptable to most people.
One important thing to note about the battery as well… it loses its charge over time if left to sit unused.  I left it sitting with a full charge for 5 days without using it and it lost half of its charge.  I have experienced this type of battery loss with other devices that I have owned, so I can't ding the Powerpak too bad for that.  But that does seem like a bit too much loss to me.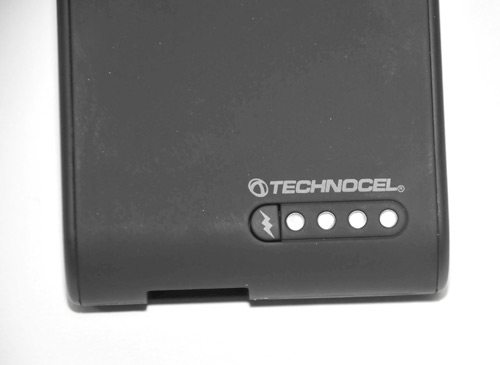 I was able to charge numerous devices with the Powerpak… an HTC cellphone, a Plantronics Bluetooth headset, an iPod Classic, a Kodak Playsport camera, and an iPod Touch.  When the 1300mA battery in my HTC Droid Incredible was completely dead, the Powerpak charged it back to 70% in 60 minutes.  Not amazingly fast, but not bad in my book.  I also tried charging my iPad with the Powerpak.  The Powerpak would not actually charge the iPad (it said "Not charging" in the upper right corner) but it would allow the iPad to operate without losing any battery life.  So while it won't charge your iPad, at least you could use your iPad until the Powerpak died.
Overall, I recommend this gadget for most people.  I like the price, I love the features, and the size is just right.  I do wish the cord was longer, I wish it had an LCD readout instead of the red lights, and the loss of charge when unused is a little disappointing.  But I can live with those things for the convenience it provides me.
Product Information
Price:
$35-40
Manufacturer:
Technocel
Pros:

Great form factor.
Great price.
Convenient portable power when you need it.

Cons:

Cord could be longer.
Would prefer LCD readout on front.
Loses charge if left unused for days.