We use affiliate links. If you buy something through the links on this page, we may earn a commission at no cost to you. Learn more.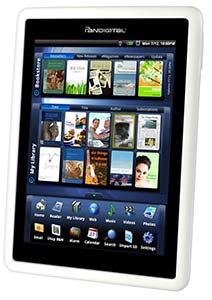 There was a lot of talk about this unit from Pandigital (maker of Digital Photo Frames and film scanners) around June when they were removed off the shelves of Kohl's for poor/slow performance. They came back with newer firmware and much quicker response in July at Bed Bath & Beyond Stores along with Walgreens and JCPenny's. But is this a worthy contender in the burgeoning e-reader market?
Not really. Yet.
I ran to grab a unit at Bed Bath & Beyond with a 20% off coupon and a PDF of a $20 rebate (to send to Pandigital) in hand to eagerly try it out. The box contains a Mini-USB cable, AC power supply (The Novel DOES NOT Charge via USB; A shame, but not impossible.) A stand (that can be used to sit the Novel for charging or viewing pictures.) and the manual.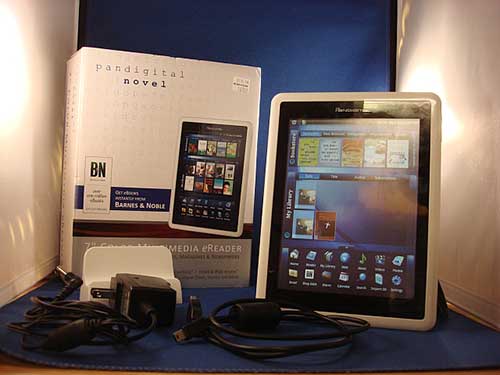 The Novel is a solid unit that uses a rechargeable battery that can be removed/replaced unofficially as well as an internal 1gig Micro-SD card that can be replaced.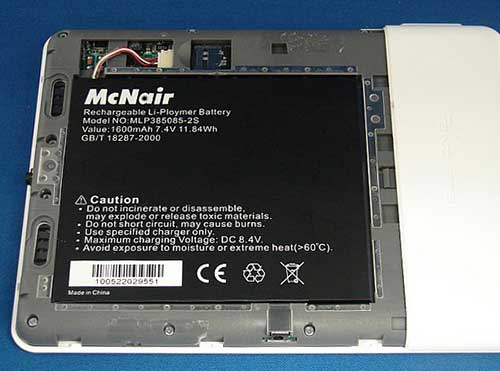 The Novel also has a external SD slot that can use up to 32 gigs. NOTE: If you turn on the Novel with the external SD inserted, the Novel will not recognize the internal card. To utilize both memory cards you have to boot without the external card.
Pandigital currently has one unit out; a white with a black matte 7 1/2″ by 5 1/2″, although an all black unit will be out soon. The white Pandigital weighs about 1.lb 2.0z, about the same as a 326 page hard cover book. The screen is glass on top, and is a fingerprint magnet, but seem to handle wear OK, although I want to cobble a screen protector. The rest is in white plastic; smooth but not cheap feeling.
There are not many controls on the Novel. It has a sliding power switch and a rocker for volume control. They do feel sturdy enough for extended use.
Never miss one of our posts again. Sent MON, WED, and FRI with the latest gadget reviews and news!
This is a resistive touchscreen (PDA as opposed to a capacitive one (iPhone, Droid phone) so it needs a nice pointy finger, or a stylus for maximum control. I had a stylus from a Palm TX that did the trick (also can use the reset pin when unscrewed on the Novel reset hole.) But when using the Novel, a finger did do the trick. When holding the unit with the left hand and using my right index finger to swipe pages, a firm poke worked, though you can see the reaction (smearing) on screen with the digitizer. It wasn't bad, but weird to see when using the Novel.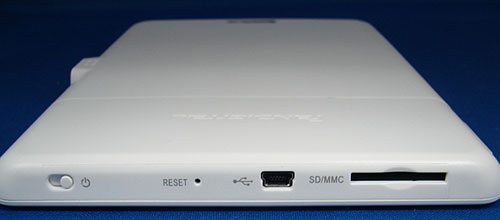 On top contains the power switch, a rest hole (a paper clip or a palm stylus unscrewed will work), a Mini-USB socket and the external SD slot for MMC or SDHC.
The left contains the Volume switch.
The right side is the outlet for the power supply. It does not seem to plug in flush to the unit, but it does not seem to fall out easily.

You'll notice that the power outlet is flanked by a flat surface. It is meant to fit on the stand ( you can plug in the power supply through it) so it can charge on the stand.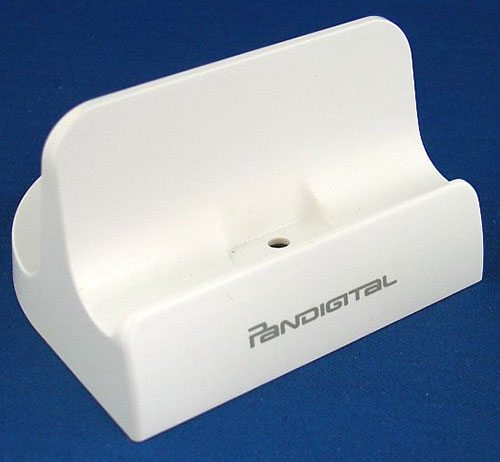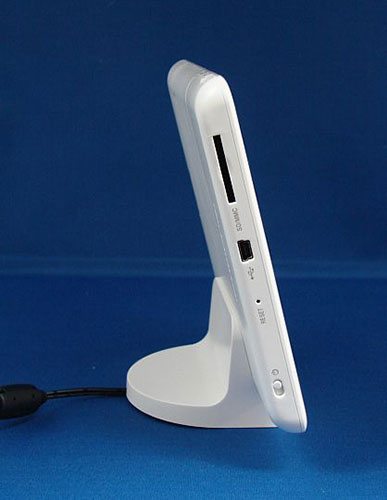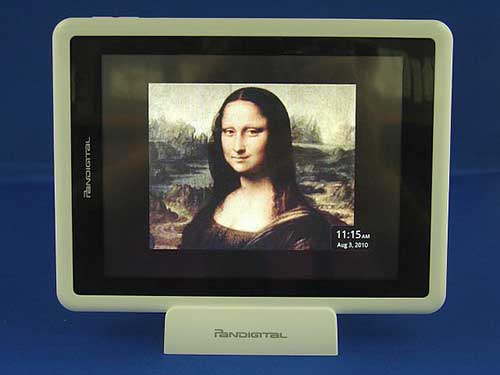 The bottom features the headphone jack for typical earplugs and stereo speakers. The sound output isn't bad, but I wouldn't rock out to the external speakers as the videos play in landscape mode, and the sound could get lost unless you crank it up. Fortunately no distortion though.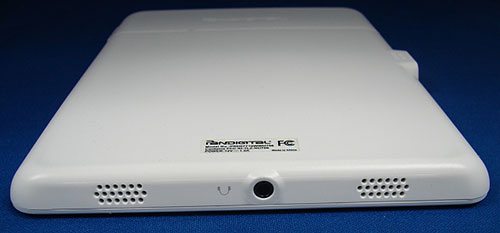 Overall, the unit has a nice weight to it, and a solid feel. I heard a little rattle when shaking although I didn't see anything loose. I have heard stories of units that has some cracks on the edges, but my unit was fine. YMMV but Bed Bath & Beyond does have a good return policy.
The unit might feel a little slick to hold as it is smooth; so hopefully there will be a case for this.
The back is stuck on with double-sided tape, but is still solid after removing it to replace the memory card. The battery looks removable, although I haven't researched this.
Running on the Android OS, The Novel is a 'closed' system; meant to use Pandigital's proprietary launcher of programs.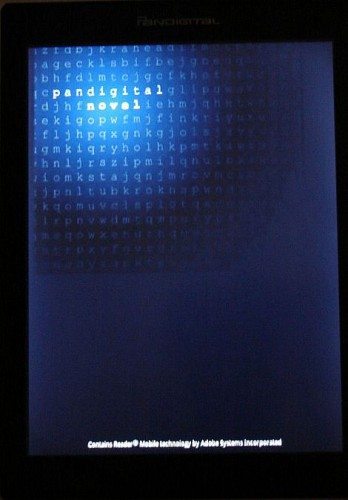 It would take approx. a minute to boot up cold.
Under Settings, you can adjust Wireless, Calibration (use a stylus for maximum precision)
Subscriptions, Alarms Photos Support and a Working Reset to Default settings.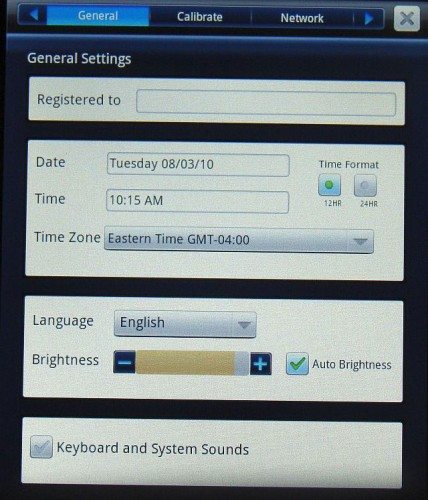 Wireless does a decent job of scanning websites using b/g/n adapter. I had some trouble with finding my hidden network, but the manual says how to use the manual setting. Your mileage will vary on your network. I had to reset my router to finally get the Novel and the router talking to each other.
The Novel's main feature is the Barnes & Noble e-reader/bookstore software; sort of a full color Nook. I did not have the pleasure of running the Novel in a Barnes & Noble Bookstore to see if there were any special items that appear like they do for the Nook; like free timed in-store book readings or coupons.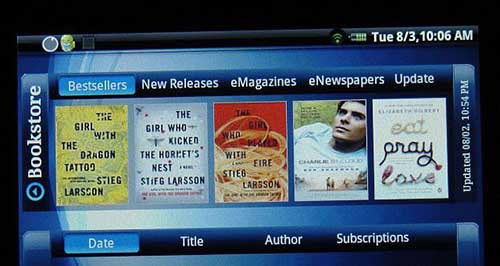 The Bookstore features buttons for Bestsellers, New Releases, eMagazines, eNewspapers and Update to the Barnes & Nobles server. Clicking on the store items brought up a thumbnail of the cover, a description and the price, usually including a chance to download a free sample of the book. Magazines and Newspapers would not offer samples as much as pricing for single issues or a subscription.
MY LIBRARY would feature multiple bookshelves; the first shelf containing what you are currently reading. The other shelves would populate with the other books in your inventory if you put them on the internal or external card. The library would only show cover-art if you had matching title art. The excellent ebook management program Calibre can generate artwork for the Novel as well as other ereader programs.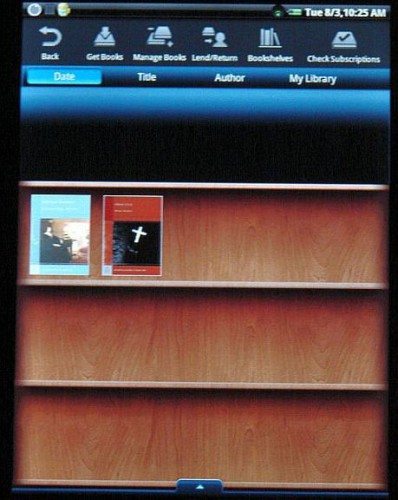 You can download books through Barnes & Nobles website if you have an account as well as lending books out to friends. Not bad.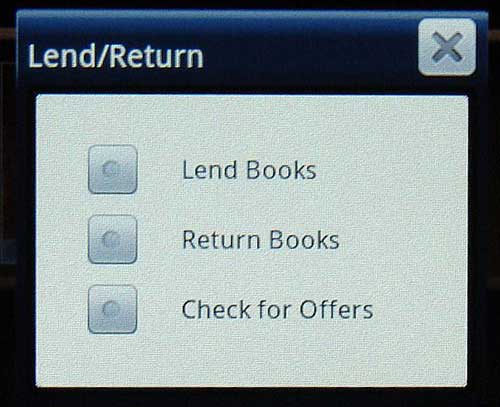 Pressing on a book title starts the reader program. It reads EPUB & PDF well enough. The reader program features the usual items; changing fonts, day/night reading, bookmarking and a dictionary. The reader can be used either in portrait or landscape mode and can be locked in either mode for reading.
I found the reader program handled EPUBs quite well, either from sources like Google Books or Calibre. But I found PDFs to be a mixed bag. The user guide to the Novel was included and read fine, but I tried some back issues from Maximum PC that was hard to read sometimes, the colors were strong and the layout was fine, but it might be too complex for the built-in reader program. I found many downloaded user manuals in PDF performed better. Maybe they were simpler. I found that books in PDF format performed well.
The Web browser program included in the Novel performed well enough. Mostly it would be treated as a mobile phone browser, so it would take you to the mobile website version. The browser handles java script but not flash yet. You can browse the web portrait or landscape with a lock on landscape only. I tried under settings to see how you can adjust for different websites, but no such luck. Going to Google, it would start at Mobile mode and fail to get my location. Trying to go to Google Maps would send me to a page to get the application at the Android Market, where it would give me an web page not found error. But for basic web surfing, it could be worse.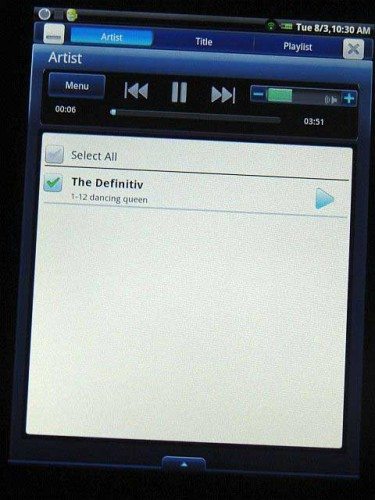 Music takes you to a very basic player that handles MP3, AAC and WAV files. You can create a play-list and delete files simply as well as to be able to minimize the player to listen to music while reading.

The Video Gallery only plays mp4 and that is slightly questionable on what kind of mp4 format. I made some files via Quicktime and Final Cut and they did not play. However, if you try DoubleTwist,( an iTunes for non Apple products,) you might be able to transcode to the right format.
Photos will read from either the internal or external cards to view, create a slideshow or even make wallpaper for the Novel. You can adjust the settings for the slide show under Settings with all the fades, wipes and dissolves you want or leave the date and time onscreen.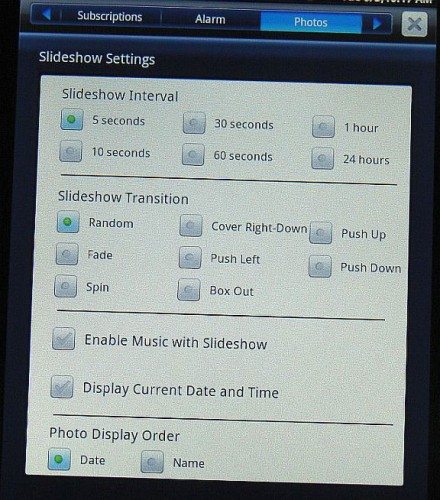 Email is a very basic yet simple mail client that can read pop3, smtp, imap or exchange accounts. I tried it with Google and it worked fine for imap.
Alarm is very basic clock program to allow multiple times.
Calendar is simple and allows repeating events, but no syncing with Google or Yahoo.
Contacts is also a simple address book, but again no real means to sync entries to Google or Yahoo.
Stocks and Weather shortcuts uses the browser to connect to Yahoo. Simple but it works.
Facebook goes to the mobile site. Crude but effective.
Shop B&N brings up the browser where you can log on with your B&N account.
Import SD will ask you what you'd like to move to the internal card (photos, books…)
Searching is actually pretty good in looking for media on the Novel provided they are labeled properly and in the right folder (Books/Photos/Music/Videos).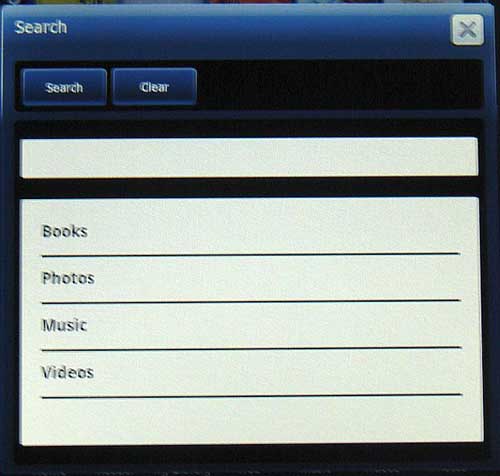 The Dictionary program does handle many words for a quick referral. I do not know how complex it is, but for me it passes the "zymurgy" test ( one of the last words found in many dictionaries that describe the science of fermentation in brewing or wine-making.)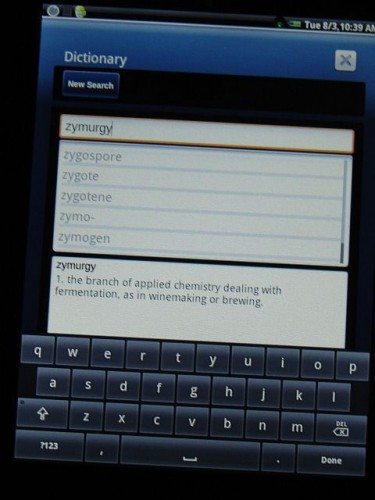 Games provides Solitaire & a Concentration-type game.
Update finally sends the browser to the update page on pandigital.net, so you could download the updated firmware to the external SD card, where you could 'flash' your unit on the field, good luck telling Grandma how to hold the volume up button while turning it on…
Right now, the Pandigital Novel is a very basic reader. The online bookstore is nice for Barnes & Nobles customers and I was able to read many of the books I purchased earlier. But it is very crude for anything else. 6 hours battery use is not bad although I would not leave the unit in standby for too long. But by leaving the wifi off and lowering the brightness until needed; I'm able to use the unit pretty well. Firmwares have updated the performance dramatically and I look forward to other changes to the system but we shall see.
The toughest problem for the Novel is not to be able to get applications from the Android Market in this present form. But I don't really see Pandigital adding market access to the unit as it only has the 2 buttons available (Volume ± and Power.) There are ways to get around these limitations and turn the Novel into a more functional Android unit, but that is for another time.
So, in the end, if you are a Barnes & Nobles fan, it works well. Do you want to buy this to send to Grandma a hundred miles away? Don't forget to update that sucker or else face the wrath of a confused customer.
Product Information
Price:
Varies: $149.99 - $179.99
Manufacturer:
Pandigital
Pros:

Hardware: Simple! Only 2 buttons and a power slider.
Software: Use your Barnes & Nobles account to access free books and samples from B&N online directly, Pretty good EPUB & PDF Reader

Cons:

Hardware: Limited buttons means less compatibility for Android applications. (though not impossible)
Software: Crude Built-in Organizer apps, Not currently able to access the Google Android Market for different readers/apps