We use affiliate links. If you buy something through the links on this page, we may earn a commission at no cost to you. Learn more.
In this society of diets, exercise programs, macrobiotics, probiotics and even a First Lady offering her opinions on the nationwide struggle with obesity, Advanced Wellness Solutions (AWS) has taken this nation's health concerns a step further.  Heart Wizard (http://www.heartwizard.com) is an online wellness tracking service that is designed to spotlight health trends in the user's body system.   Trends such as speed of aging or biological age vs chronological age, stress and fitness are examined using a prognostic indicator called Heart Rate Variability Analysis or HRV.  HRV is a design of computer algorithms that assess the user's health profile seemingly to uncover any possible anomalies that the user would use for health screenings and provide information to one's health care provider to head off possible problems.  By using HRV and the Health Wizard system, the user can assess their fitness levels, cardiac condition, stress factors and energy levels.
All of this is completed by plugging the sensor cord into the USB port of your computer and attaching the sensor to a finger or an ear lobe and selecting one of the tests to complete.  Once you load the program on to  your computer, you fill in your profile.  Then you click ok and select your evaluations.
There are three categories of tests to choose from: Health Assessment, Fitness Assessment and Stress Management.  From there, there are several tests to run.  Under Health Assessment, you can run a Biological Age Test which is designed to tell you what your body's True Age is as opposed to your body's Chronological Age.  The Health Snapshot is a test designed to evaluate your body's state of self regulation and energy and fatigue level
I ran the Health Snapshot on several different days.  I also ran the test on two different information parameters.  On the first tests, I listed my body type as "normal" in the profile.  My body type should have been listed as "obese".  I'm kinda fat.  I have no problem admitting I need to lose weight.  The profile doesn't ask for your weight, it merely asks you to be honest about your body type.  You can choose from Athletic, Normal, Overweight or Obese.  My doctor's assessment based on my height and weight put me in the Obese category.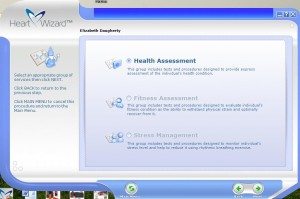 Obese with a normal blood pressure. (Not that I'm defensive or anything).  I'd like to say that I'm athletic.  God knows, from morning til night, I'm chasing after six animals (we are foster parents for unwanted dogs) yard work, housework, renovating a 110 year old historic home, managing concessions for the home games for a local semi pro football team as well as my own popcorn business.  I eat fruits and vegetables, I stay away from fried foods and red meat ( I'll admit to chicken fried rice though), I eschew  fast food,  I buy "over 40" butter, (anyone who's over 40 years old knows exactly what I'm talking about), I can take a flight of stairs and not be winded but my doctor and pants size say I need dump enough weight that would, roughly, equal either Justin Beiber or one of the Jonas Brothers.   I had (honestly, I did) thought I set my body type category to "obese" when I ran the Health Snapshot.  I had set it to 'normal'.   My Snapshots kept reporting that my body's regulatory function was out of balance.  And then I took the Bio Age test and got another shock.  It reported my age to be five years older than I actually am.  For a woman, that's insulting. A childhood friend took the Biological Age Test as well.  She's six months younger but her age was reported to be three years younger.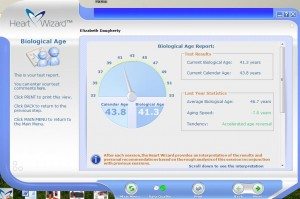 My Stress Management tests weren't any better.  But I am convinced that this has more to do with the test conditions than anything else.  For each test you run, you need five uninterrupted minutes.   That doesn't sound like a lot until you actually sit down to perform it.  I figured it would be a snap, no problem.  I don't have children.  Just two dogs, two cats, two foster dogs and a husband.  Good luck with the whole Five Uninterrupted Minutes thing.  Small wonder my stress results came back less than stellar.  I had attempted the test no less than five times.  Cell phone rings, house phone rings, dogs bark at the mail lady, husband comes downstairs to ask a question (he works from home).  I was ready to clobber someone!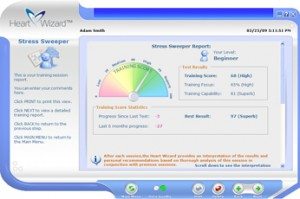 Seriously,  if you attempt these tests, clear it with both houses of Congress.  Tell your family, tell your neighbors, skywrite it or you're not going to get through it without an interruption. I never realized just how difficult it was to get five entire uninterrupted minutes and this will show on the test results!  Don't lie about your body type either.  Be honest.  Your test results will be skewed if you tell the system one thing but it evaluates something else.
When I set the profile to the proper body type, my Health Snapshot reported back that my inner balance was maintained where previously it had been out of balance.  It also reported that my overall regulatory function is below normal range.  The test reports that this result could be due to accelerated aging (I might be fat but I do not smoke or drink or tan), physical or mental fatigue (not out in left field), chronic stress, or possibly the presence of a chronic health condition that could be associated with a depressed immune system.
The fact that these tests report results that indicate that I'm not exactly turning cartwheels is hardly surprising.  I have a lot of irons in the fire, my days are full and I share the roadways with Indiana drivers.  If there was ever a Stress Management test result that I would not like to see, it would be the clown in the Dodge Charger who just HAD to cut me off in traffic only to meet me at the next red light.
I'll admit complete skepticism when I received the software and started reading through the instructions and began taking the tests.  But when it came to the stress management and putting together my usual schedule, my age, and my weight, it really does begin to make sense.   I believe I am using these tests in the most elementary,  "Scratch the Surface" level and it's honestly enough to send me to my doctor to get his opinion. Which is what I intend to do and this review will be updated with that conversation.
At $239.00, you need to be serious about your health.   This is a pricey program but there isn't much in the  Good Health environment today that isn't pricey.  Still, being a woman over the age of 40 who wants to continue to live a healthy life with her husband, this isn't a bad piece of software to have around.   I still want to know what my doctor thinks about all of this and hear his ideas on how I can use this program more effectively.
Product Information
Price:
$239.00
Manufacturer:
Advanced Wellness Solutions
Pros:

Accurate. The heart rate monitor is in keeping with what my pulse has been reported by healthcare providers. If you incorrectly report your body stats in any of your manual entries, the tests results will come back wrong. The results are not generic one-size-fits-all. It's very important to accurately input your body statistics.
I appreciate the ease with which this product can be installed and start working. I appreciate the extra help the product gives you to help you achieve the most accurate results.

Cons: