We use affiliate links. If you buy something through the links on this page, we may earn a commission at no cost to you. Learn more.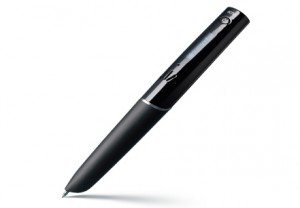 One of my favorite technology tools, the Livescribe Pen, is getting an upgrade. Livescribe announced the release of the Echo pen. This seems to address almost every criticism I have had for this most useful tool. It comes in a 4 and 8 GB version.
I have liked the Livescribe pen from day one. That doesn't mean I didn't have issues with it. Here were my issues:
Proprietary headphone jack. Since the headphones included additional mics, the connector was not compatible with any other microphones.
Proprietary docking station. You had to use the included cradle to sync and charge the pen. Out of town, with the cradle left at home? Better hope that charge lasts.
Perfectly round. This means it has a tendency to roll when put down. Not something you want an expensive pen to do.
Ugly. Sorry to be shallow, but it is not an attractive pen.
Not retractable, no pen cap. You needed to use the neoprene case included, or an upgraded leather case.
It's almost like they heard me talking, They addressed all my issues with this release. You can now use your own headphone with the pen. They still have "3-D" headphones (additional mics to pick up sound) as an option,  but you can plug a standard headphone into the pen. Also, next to the jack, you get a standard micro-USB jack: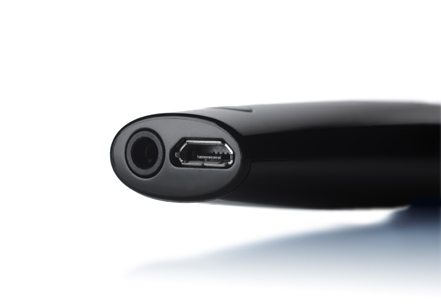 I like the new design, I think it looks very slick and modern. The elliptical shape should also keep it from rolling away. Here are some nice vanity shots: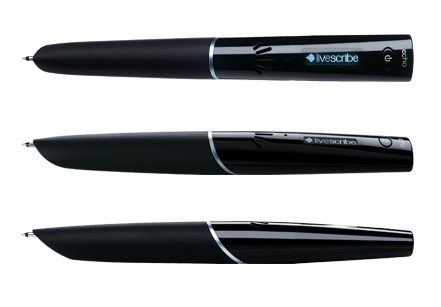 It comes with 2 smartpen caps. I couldn't find any pictures of these, but I had noticed they came out with caps for my pen as well.
Not only did they upgrade the hardware, but they upgraded the software as well. Even better, the updates are available to those of us with Pulse pens. They include:
Password Protection for your recorded audio.
Expanded smartpen and notebook naming.
Enhanced pencast sharing.
Pencast player for something called an "iPad" if you have heard of that.
Easier launch of applications.
I'll be updating my pen with the new software, and trying to figure out if my Pulse can succumb to some sort of "accident" in the near future. It is a shame these things are so durable.
UPDATE: I forgot to include the link to the Livescribe Blog post with details.