We use affiliate links. If you buy something through the links on this page, we may earn a commission at no cost to you. Learn more.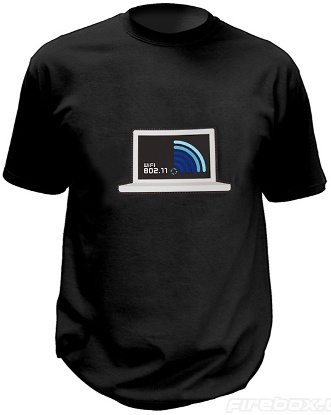 For you mega geeks out there (you know who you are!) you can now walk around town, safe in the knowledge that you'll never miss a decent Wi-Fi hotspot ever again, all thanks to the Wi-Fi Detecting T-Shirt.
These cool, 100% cotton T-shirts have a Wi-Fi detector built into them, which is rather awesome I think.  Powered by 2 x AAA cells, the detector, which is hidden in a seam, is hooked up to a signal meter (in the shape of a laptop) on the front of the T-shirt.
When you wander into a Wi-Fi hotspot, the arrows light up and start spinning, with the signal strength meter indicating how good the signal is.
The Wi-Fi Detecting T-Shirt will set you back $29.99 and you can get it in either blue or green.  It's also available  in various sizes from small, to extra large.
Check out Firebox for more info.