We use affiliate links. If you buy something through the links on this page, we may earn a commission at no cost to you. Learn more.
Not everyone is into the whole messenger-bag-on-wheels laptop bag look.  For those who like to kick it old-school-meets-chic styling, Mezzi offers a wide selection  laptop briefcases.   The Mezzi site is not limited to just the unique selection of laptops bags and briefcases.  They also host a selection of CD storage cases, makeup cases, portfolios and even gun cases.   But for laptop cases, it's  pretty much one stop shop.   Aluminum, black, gold, even a wood grain styling gives your average and sundry (read: boring) briefcase a break from the black leather messenger bag crowd.
The Mezzi site also boasts a rather cool search feature.  A drop down search box allows to you enter the brand of your laptop, hit search, and the site brings up a selection of cases that will fit your particular machine.
I chose the aluminum LUXslim14″ model case in pale pink. I'm  partial to pale pink and no other retailer really has anything else like it which is why Mezzi stands out from the crowd.  It features a three digit  combination lock and "pin style connector" webbed shoulder strap for carrying ease.
The case is sturdy and chic but you'll need to travel light.  When I chose my case, I based the size on my largest laptop, my Dell Inspiron 1510.  I should have chosen one that was a little roomier.  When I placed my Dell inside and fastened the nifty velcro safety strap, you could fit little else in the case.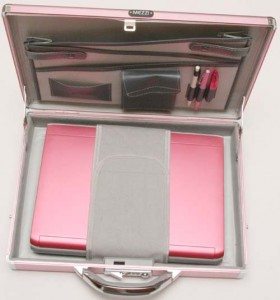 The case features attractive expandable pockets, ID or business card holder, pockets for cell phone and/or calculator and three pen slots.  If you were to place a full size laptop in the case however, you can forget any notebooks or notepads, the pens, cell phone and anything else.  The case also does not offer any room for a charging cable.  The case shown is the 14″ version and quite frankly it was bulky enough to carry around without ordering a roomier version. I'm clumsy which means I knocked it around a lot when I was carrying it on the strap.  I'm used to the softer,cushioned laptop messenger bags, so it was a change to carry about a briefcase.  But sweetly, enough, the finish appears to resist scratches and bumps.  I have a much older full sized laptop.  Full size also means full size battery and even with the shoulder strap, it was very heavy carrying the Dell.
I had better luck when I used the three velcro dividers that the case comes with and packed my Acer Aspire One netbook, my Nook, my Zune and other assorted equipment.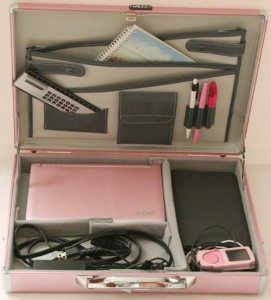 Unfortunately, for me, I'm someone who doesn't exactly travel light.  But, as I've always said in my other reviews, it is all in what you hope to get out of the product.  Mezzi offers a change from the black-leather-laptop-bag look.  They offer sleek, chic, modern styling married to the classic briefcase structure.  Moderately priced at $59.95, the case competes nicely with other bags.   Carrying around the Dell in this case (and most other instances) is impractical due to the weight of the older model Dell's battery.  The lighter Acer allows me to be portable as well as carry other items as well.  On  the Coolness Factor, I'd rate it a solid 8.
Product Information
| | |
| --- | --- |
| Price: | $59.95 |
| Manufacturer: | Mezzi |
| Pros: | Sturdy case, velcro fastenings, chic color, classic styling, three digit combination lock, competitive pricing. Finish appears to resist scratching and denting. |
| Cons: | Be careful about ordering your size. Full sized laptops may leave you little room to carry much else. Give yourself a few extra inches. 14" case however does fit a Netbook and other accessories. |