We use affiliate links. If you buy something through the links on this page, we may earn a commission at no cost to you. Learn more.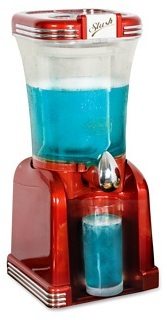 During these balmy summer days there's numerous way to keep cool and refreshed, but what better way to do it than with your very own slushie machine!
That's right, thanks to the guys over at SlushieMakers you can now own your very own, retro looking, table top fruity ice drink machine, the Slushie Maker.
Use it on warm days when you need that perfect drink to keep you cool, or use it during parties and mix up your guests favourite alcoholic drinks into a perfect ice cocktail!    The Slushie Maker is very easy to use and will freeze any of your favourite flavours of juice.
The Slushie Maker comes with a two litre container, a drinks holder, drip tray and its own recipe book.
You can order one now for £49.99 ($80) via SlushieMakers