We use affiliate links. If you buy something through the links on this page, we may earn a commission at no cost to you. Learn more.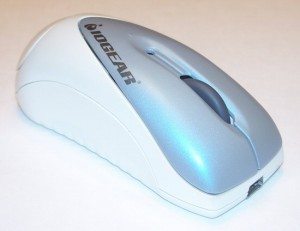 I'm always on the hunt for spacing-saving, lighter-weight gadgets for my gear bag.    I'd been trying out a few different travel mice when a colleague at work showed me a "little dinky Bluetooth mouse" he had just bought, which turned out to be the IOGEAR Bluetooth Optical Mini Mouse.  It was even smaller than the travel mouse I'd been using, so I thought I'd give the IOGEAR Mini Mouse a whirl.  Here's what I found after using it for a while.
Inside the Box
Wireless Bluetooth Mini Mouse
Carrying case
USB battery charger cable
User manual
2x AAA rechargeable batteries
Warranty registration card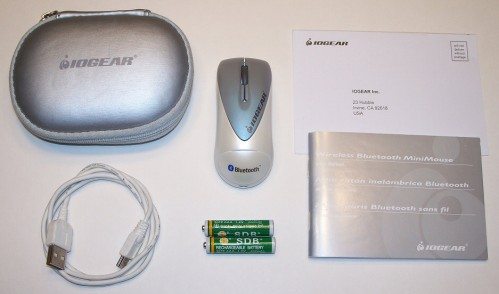 Features
This mouse has a fairly standard setup.  Topside, it includes left- and right-click buttons and a scroll wheel in the center that has a nice rubberized feel with discreet scrolling points.  Underneath is the optical eye, a rubbery button to activate the pairing mode, an on-off slider switch, a battery hatch release and four plastic contact, non-scratch pads.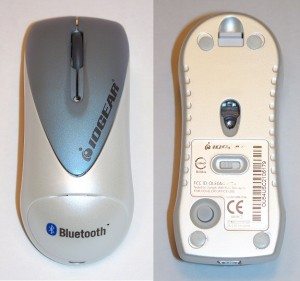 The "front" of the mouse is where the mini-USB port is located, while the reverse end is the battery compartment hatch.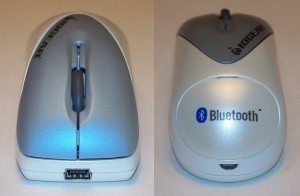 While many mice have a contoured shape, this mouse has even more of an egg shape than most.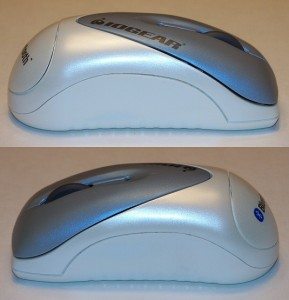 Form Factor and Size
Being a "mini" mouse, it is quite small, which makes it great for conserving space in your bag, but perhaps not so great for holding if you have large hands.  Regarding the images below, for perspective my hands are average- to a bit small-sized adult male homo sapien hands.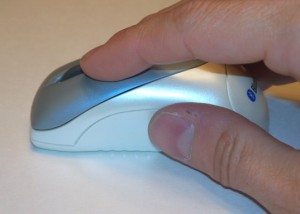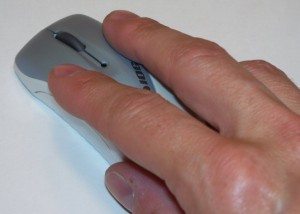 Installation
Installation was easy.  I was able to Bluetooth pair it with my work LenovoT60p with ease.  However, one thing I noticed was that it seemed to drop the Bluetooth connection periodically, but in a rather strange way.  The first time it did this, I tried to re-pair it, but when I checked on the laptop, it showed that it was actually still paired.  I switched the mouse off and on, but nothing.  I switched it off and let it charge for the night, and that did the trick.  It seemed to do this about once a month or so.  Weird, and frustrating.
I should add that I really like that as long as I use this mouse with a Bluetooth-enabled computer, I don't need a Bluetooth adapter.  So that's one less item to mess around with and drag around with me.
Batteries
This mouse is powered by two rechargeable AAA batteries which are included in the package.  Pulling the release slider on the bottom of the mouse releases the battery compartment hatch, which allows access to the batteries.  Plugging in the included cable's mini-USB end to the mouse the USB end to a computer will charge the batteries, which is a useful feature that I've not seen on many "travel" mice that I've seen.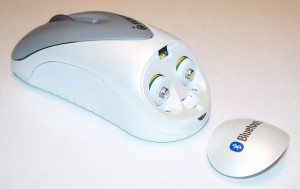 Case
Let me just say it.  I like this case.  It's EVA rubber molded into a clamshell shape with a wrap-around zipper.  Perfectly fits the mouse and the USB cable.  Soft shell, yet quite rigid.  It takes a beating but protects the contents, which is what you want when you toss it into the bottom of your gear bag, lug it to work and back, through airports and wherever your gadgetravels take you.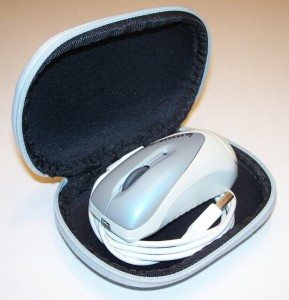 Conclusion
I like this mouse.  It is quite compact and lightweight, even in the case (and I like the case too).  It even fits nicely in the hand.  The functionality is no-frills, but it has the basics.  I also like that it is rechargeable and uses Bluetooth, so I don't have to lug a separate adapter.  The only downside I found was the sporadic, unexplainable loss of the Bluetooth connection,  but this phenomena may have only been present in my device.
Updates 03/13/15
I really like the small size of this mouse for travel, but like every Bluetooth mouse I have used, the connection was spotty and this got very irritating. I eventually abandoned this mouse to search for better one.
Source: The sample for this review was provided by IOGEAR. Please visit their site for more info.
Product Information
Price:
$49.99
Manufacturer:
IOGEAR
Requirements:

Bluetooth-enabled computer/laptop, Windows 98SE/ME/2000/XP or MAC OS X v10.3.5 or later

Pros:

small & lightweight
rechargeable
great case

Cons:

sporadically loses Bluetooth connection