We use affiliate links. If you buy something through the links on this page, we may earn a commission at no cost to you. Learn more.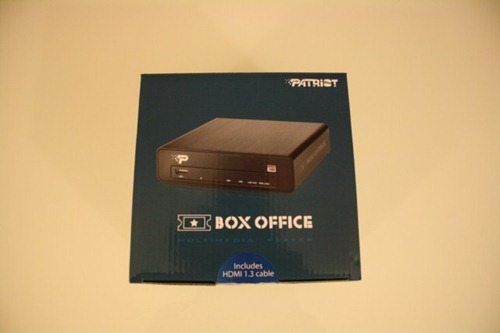 It's 2010, digital media is at its prime.  We see LCD TVs everywhere.  And I'm sure everyone reading this has at least one LCD TV at home.  And I'm sure we all have lots of digital media laying around on our computers.  But how do we bring all of this media to the LCD TVs?  That's where the Box Office Media Player from Patriot Memory comes in.
The Box Office Media Player is a black box about the size of a Mac Mini.  It comes with a HDMI cable, composite AV cable, AC adaptor, USB cable, remote, and manuals.  Patriot was kind enough to send me a wireless USB adaptor also.
Here's a list of supported media formats and it's a pretty long list!
Support Video Formats:
MPEG-1: MPG/MPEG/DAT up to 1080p
MPEG-2: MPG/MPEG/VOB/IFO/TS/TP/M2TS up to 1080p
MPEG-4: MP4/AVI/MOV up to 1080p
DivX 3/4/5/6 & Xvid: AVI/MKV up to 1080p
H.264 & AVC: TS/AVI/MKV/MOV/M2TS up to 1080p
Real Video 8/9/10: RM/RMVP up to 720p
Other: FLV;WMV9(1080p) & ISO(1080p)
Supported Audio Formats:
Dolby Digital AC3, DTS (via S/PDIF)
MPEG-I Layer 1/2/3, MPEG-II Layer 1/2
RealAudio, AAC, WMA, LPCM
HDMI Raw, S/PDIF RAW (output to 5.1/7.1 Ch)
WAV, OGG, FLAC
Supported Image Formats:
JPEG, BMP, PNG
Let's just say Patriot really covered pretty much all the common formats out there!  The one that got me interested was the Real Video format.  My mom likes to watch a lot of Chinese drama shows which are always encoded in Real Video format.  I've been looking around for a media player that can play the Real format on TV for quite some time and it does a great job at it!
On the front of the Box Office is a USB port for you to connect either the wireless USB adaptor, USB hard drives, or USB flash drives.  On the back are connectors for composite output, optical output, HDMI connector, mini-USB data transfer port, USB host port, LAN port, power port, and the power switch.
The Patriot Box Office gives us an option to put in a 2.5" SATA hard drive if you want to load media files directly on to the Box Office.  But of course the best functionality of the Box Office is for it to access files across the network either on your shared folders on your computer or a NAS (Network Attached Storage).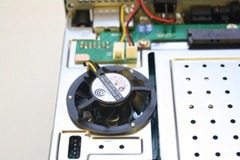 Another added bonus is that Patriot decided to put in a small fan to cool off the Box Office.  The fan runs pretty silent.
Personally I don't like having a 2.5" SATA hard drive running constantly (since spinning drives tend to break faster) so I decided to use two 8GB compact flash drives in a SATA case.  Plus all my media files are located on a 4TB NAS drive on the network.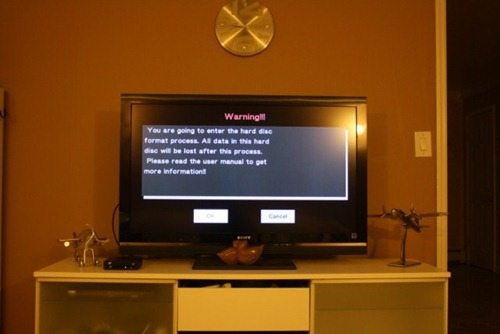 Upon starting up the Box Office, I was prompted to format the hard drive which only took a few seconds since it was "solid state" and only 16GB total.  Then the Box Office finished the rest of the setup which took less than a minute.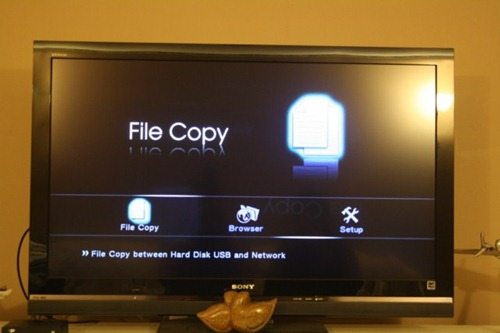 The main screen has 3 options: File Copy, Browser, and Setup.  File Copy allows you to copy files between the network drives, internal drive, and any connected usb drives.  The Browser is where you will look for the media file you want to play.  Setup is where you can set audio, video, network, system, and miscellaneous settings.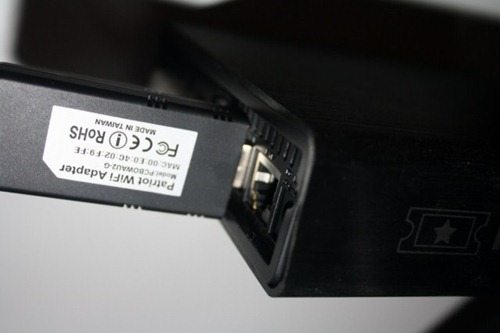 At first I wanted to try the wireless USB adaptor to test if streaming a 1080p video would lag or not.  First I plugged in the wireless USB adaptor in the back of the Box Office, which should be the most logical position to put the adaptor.  The only problem is that the wireless USB adaptor casing is just a little too big which bumps against the Box Office's metal housing causing the USB port to not make a full contact with the USB plug.  This was pretty disappointing.  At the end I had to plug the wireless USB adaptor in the front of the Box Office which made it look awkward having an adaptor sticking out in the front.  What I would prefer would be to have either the adaptor plug inside the case (since we have to open it anyway to put that hard drive in) or have the wireless functionality just be built-in to the Box Office.
Streaming 1080p from my NAS drive runs perfectly with no lag at all from both the wireless and direct network cable.  The Box Office supports UPnP which makes accessing files on a network shared drive easy.  It even has the functionality to download P2P torrent files directly on to the internal hard drive.  Even up-converting a smaller DivX file to a 46" LCD TV did a pretty good job.  Sound quality was amazing.  Video quality was gorgeous.  Playing my mom's Real Video dramas was perfect too and she gave a 10 out of 10 in quality and ease of use.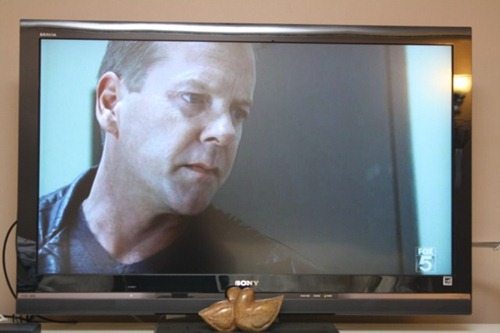 Here's a picture of the Box Office playing a DivX file of 24.  Does Jack Bauer ever smile?
The Patriot Box Office is an amazing product.  It plays all known formats that I know of and more.  And at a price of $89.99 on Amazon.com, I suggest everyone to go pick one up.  I highly recommend this product if you're a huge media fan!
Product Information
Price:
$89.99 on Amazon.com
Manufacturer:
Patriot Memory
Pros:

Lots of supported formats
Ease of use
Low price

Cons:

Wireless USB adaptor not fitting on the back USB port