We use affiliate links. If you buy something through the links on this page, we may earn a commission at no cost to you. Learn more.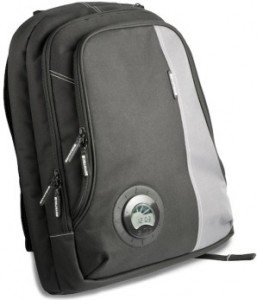 With more people accessing the internet on the move these days, there are many (normally free) wi-fi hotspots popping up all the time.  So, without too much trouble you can now check your e-mail in a cafe, logon to your corporate VPN from a hotel lobby, or even check out the latest news on The Gadgeteer when you're waiting to board your flight!  So, with all of these wi-fi networks available, what's the best way to find a decent signal?
Well, I guess the only way would be to get your notebook out of your case, power it up, log on and check the connection, right??  Wrong!
Thanks to the guys at Soyntec and their latest additions to their range of wi-fi detector notebook cases, you can now safely carry your gear around with you wherever you go and with the help of a built-in wi-fi detector you can find out where the best wi-fi signals are. More info after the jump.
The detector is situated on the front of the case and will show you the time on the large LCD display.  However give it a push and the detector kicks in and hunts around for the nearest 802.11(g/n) wi-fi signal.   It will lock onto a signal then let you know how strong it is, so you can decide whether or not its worth getting your notebook so you can start browsing.
There are three new cases to choose from:
Wiffinder 210 Executive is an over the shoulder style bag/case
Wiffinder 310 Executive is a rucksack style case
Wiffinder 410 Executive is a briefcase-style laptop bag
All three are designed to easily accommodate a notebook of up to 15.6 inches (not to mention plenty of space for papers, pens, your MP3 player and other selected bits of gear you normally bring on your travels) with each case providing a protective inner layer to prevent damage to your gear when you're on the move.  They're also made from a high quality, high density nylon so they're also very strong.
The cases are all priced at €34 ($45) each and come with a three-year warranty.  They can be ordered directly from the Soyntec site