We use affiliate links. If you buy something through the links on this page, we may earn a commission at no cost to you. Learn more.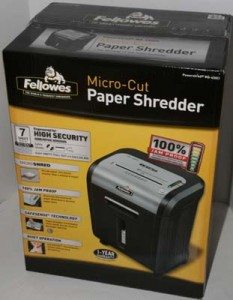 There are thousands of reasons why people today should have a home shredder.  Identity theft tops the list for most people.  It's on the rise and criminals come up with all kinds of new ways to steal the financial identity of someone else and bleed them dry.  For years, criminals have pilfered through the trash of unsuspecting victims for their financial information and have hit the mother lode.  In fact, this is how a majority of identity theft crimes are committed: by information found in the trash that people think might be harmless.  And they're not even picking through the trash bins outside of your house. Criminals are picking through landfills to get this information.  Sometimes, they don't even need to go that far.  My next door neighbors recently moved.  The homeowner was our pastor at our local church and he'd found a calling in a new church so he was moving his family and household to a different state.  They put their trash bins out for one last dump and headed out.  We'd had some windy, wet weather and our trash guys aren't the neatest when it comes to trash dumps.  If stuff flies out of the bin during collection, oh well.   The next day, I'm cleaning up trash blown into my yard and I'm finding all kinds of sensitive financial information that belonged to my former pastor.  I'm not only finding it in my yard, there were pages of bills, receipts, salary information and what have you stuck to the fencing of the middle school that my driveway (and theirs) faces.   I went about collecting everything I could find and destroying it immediately but let's face it, a lot of people aren't that fortunate.  And it was careless of my former pastor not to shred this information before tossing it into a trash bin.  Heaven knows what got out that I wasn't able to find.
Shredding just makes sense.  But criminals, being criminals, find that pieces cut by long cut shredders were fairly easy to piece back together.  Even some cross-cut and diamond cut shredded refuse can be pieced back together by a patient thief.  Cross-cut , strip cut and diamond cut shredders do have their place especially in a day and age when society should be recycling everything they can.   But for financial information, the tinier the better.
Fellowes MS-450Ci Micro Cut Paper Shredder is, bar none, the best home shredder for financial information.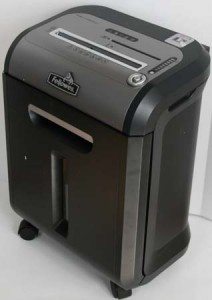 The Micro Cut boasts a "micro cut" shred option and shreds a piece of paper into over 3,000 pieces.  It all but cuts down a piece of paper into ash.   The refuse left by the micro cut can be used to line pet boxes, be used as package filler or stirred into flour and water and used for papier mache but you cannot piece it back together.  Be sure you don't ever need the information stored on that piece of paper because once it goes through the Micro Cut, it's gone and gone for good.  Good luck piecing it back together.  This machine even comes with a special bin so that you can cut up old CDs. The machine will strip cut the CDs because one you cut a CD…forget what you have stored on it.  The small bin collects the CD strips for disposal away from the paper refuse if you plan on recycling the paper particles.
People today are inundated with hundreds of bothersome credit card offers, school loan consolidation offers, pre approved auto loan and home equity loan offers; all kinds of things that you throw away as useless but can be used by some low life who will fill the form out, send it in and hose your credit score.  Are you into cutting up your credit cards?  I am.  And the Micro Cut cuts credit cards into nothingness.
Besides the benefit of the micro cut, this shredder also boasts some other terrific technology.  For starters, it's quiet.   Most shredders I've dealt with in the past sounded like a gasoline truck on cobblestones.  Loud, raucous and noisy.  Even those shredders that touted themselves as quiet really weren't all that quiet.  This shredder makes less noise than my microwave oven.   Another feature is the SafeSense Technology.  This machine has a sensor that senses when your fingers are too close to the slot to feed in paper.  It shuts off until you get your mitts away.  Most shredders I've used have pulled the paper in so fast, it all but sucked my fingers in with it.  The Micro Cut has a very gentle pull and will tell you when your fingers are too close and will also tell you if you are putting in too much paper.  On the right side of the machine is a lighted gauge that shows you in green, yellow and red lights if you are at capacity with what you are feeding into the machine.   There is also a lighted indicator which tells you if your bin door is not shut properly so if your machine will not run, check your lights because something is off.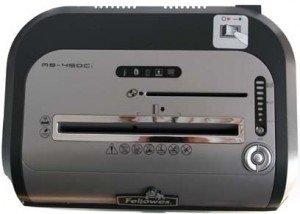 The Micro Cut IS a bit on the pricey side.  You can purchase this model on Amazon for about $337.00 or online from Office Depot for $299.99, Office Max for about $449.00 online.  These are the online prices.   To get the best price, take the model number (MS-450Ci) and start calling retailers like Fry's, WalMart, Sam's Club, Costco, Staples, brick and mortar Office Max, Office Depot and Staples and get prices.
Whatever you pay for the Micro Cut, it's worth every last cent.  I would like to review the price as a con but when you weigh the price of the shredder against what it does for you and the sensitive information it destroys for you, there is no comparison.  There are less expensive shredders out there and you will get what you pay for.  I've bought less expensive shredders and one jammed up permanently after 15 minutes of use.  The MS-450Ci Micro Cut features a jam proof system.   You can try to jam it but it will stop and you hit the reverse button and it coughs back up what you tried to put in.  It won't try to chug through huge feeds or lock up on you.  It will stop, you'll hit the reverse button and it will push back what you tried to push through. Every advanced product feature that Fellowes advertises for this machine passes the test with flying colors:  it's quiet, it reduces sensitive information to practically ash, it's safe and you can't jam it up. If I could give this machine ten stars out of five, I would.  If I have to register a complaint, it would be that the shredder will not shred transparencies, adhesive labels, newspaper, laminates, file folders, x-rays, paper clips, non standard staples, or plastics.  If you simply want a recyclable shredder to shred innocuous paper for recycling, then a less expensive shredder is for you.  But for personal, sensitive, financial information that you don't want getting into the wrong hands (because let's face it, it's no one's business) your best bet is to invest the money and get the Fellowes MS-450Ci Micro Cut shredder.
See it in action
Product Information
| | |
| --- | --- |
| Price: | Depends on where you shop. $299.00 to $449.00 |
| Manufacturer: | Fellowes |
| Pros: | Quiet, powerful, shreds paper into pieces that are impossible to reassemble. Shreds credit cards and CDs. Safe Sense Technology, Jam Proof technology, solidly built. Efficient. |
| Cons: | Expensive. Worth every penny but expensive |