We use affiliate links. If you buy something through the links on this page, we may earn a commission at no cost to you. Learn more.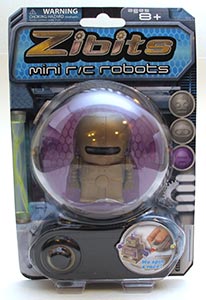 Today I have something for robot and remote control toy enthusiasts. It's the Zibits Mini R/C Robot from Senario. Zibits are cute 2 inch tall collectible robots that can rotate 360 degrees and are equipped with lights and sounds.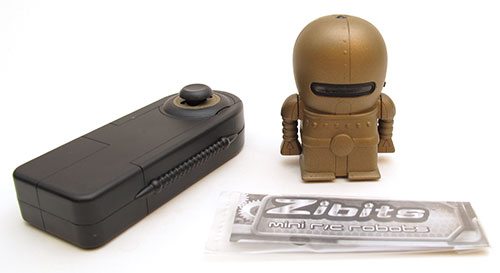 Package Contents
Zibit Robot
Remote control
Instruction sheet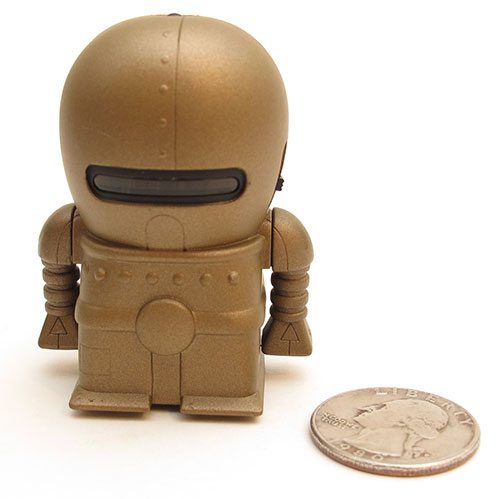 Each robot is made of plastic and is a little over 2 inches tall. There are 12 different models to choose from. I was sent the Vintage Tech: Gold Zibit.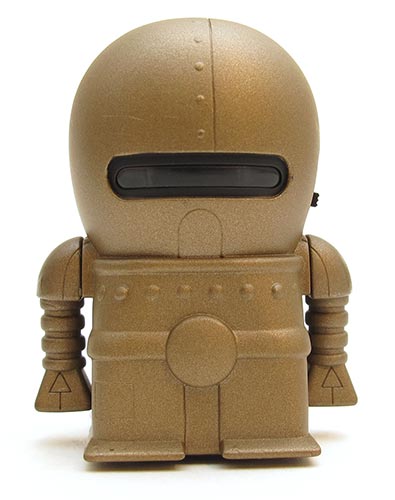 Each model is shaped differently, but they all have a main body with two arms that can be manually turned / posed. The visor has a green LED that flashes when first turned on and whenever the controller on the remote is activated.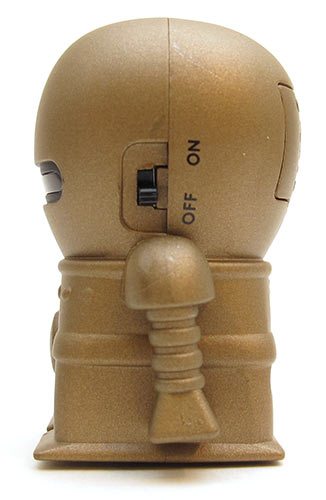 A small power switch is located on the side of the head. Luckily, if you forget to turn off the Zibit after you're finished playing with it, it will automatically power off after a period of non-use.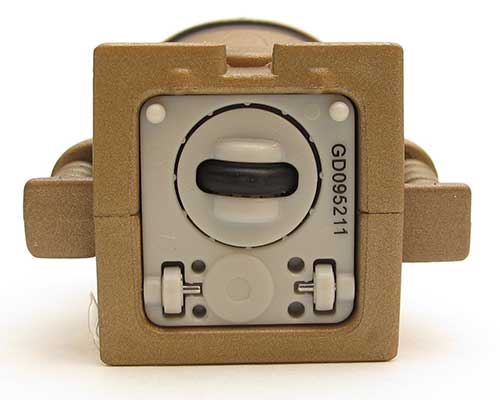 There are three wheels in the base. Two stationary and one that rotates 360 degrees to control the direction of the robot.
A small battery compartment in the robot's head holds 3 LR 44 coin cell batteries (which are included).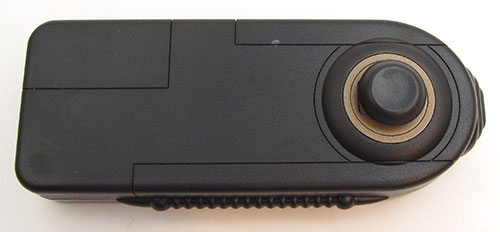 You'll need 2 AAA batteries to install in the remote control. Unfortunately, they aren't included with the robot. I wish both the remote and the robot itself could be recharged via USB or some other mention so that there would be no need to replace the batteries.
The remote control has a spring loaded joystick type of knob at one end. The controller also houses a speaker that provides R2D2 style sound effects when the knob is pressed and the robot is moving.

The joystick can only move in 2 directions, up and down. Up moves the robot forward and down spins the robot 360 degrees until you let go of the knob. The spin is pretty fast, so it takes some practice before you can accurately control the direction of the robot.
See it in action
I've been playing with the Zibit off and on for a few weeks and have yet to run down the batteries. I talked to the PR person that sent me the sample and she mentioned that they are still playing with ones they've had since January.
These remote controlled toys are fun for young and old. I'm adding this one to my robot collection.
Zibits are currently available at Bot abing Bot aboom and will be available at Toys "R" Us later in the month.
Product Information
Price:
$9.99
Manufacturer:
Senario
Retailer:
Bot abing Bot aboom
Pros:

Cute
Makes R2D2 type noises
Auto power off

Cons:

Remote uses 2 AAA batteries that aren't included
Robot uses 3 Button cell batteries