We use affiliate links. If you buy something through the links on this page, we may earn a commission at no cost to you. Learn more.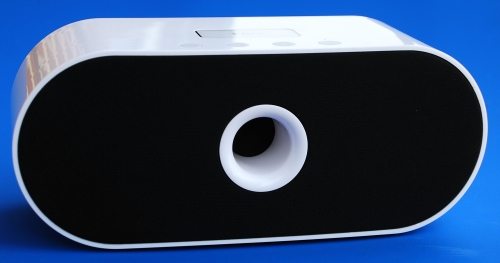 A couple of years ago, I moved from a desktop computer to a laptop.  I love everything about my laptop – except for its speakers.  Those things must be smaller than my thumbnail, and they sound muted and muddy.  They also aren't capable of producing any volume, even when I peg the volume level at 100%.  I have a small table for my laptop, so I don't have room for big add-on speakers.  When Julie offered the team the FiiO S9 digital speaker, I begged for a chance to try it out.  When I opened up the package from Micca Store, I knew the FiiO S9 was the perfect size for my needs.  I was a little worried that such a tiny speaker system wouldn't be able to deliver good sound, but it turns out I shouldn't have worried.
What's in the box:
S9 digital speaker
3.5 mm audio cable
USB to mini-USB cable
Manual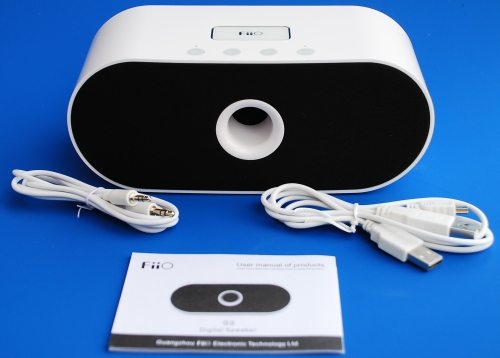 Specifications:
Output power: 1.8 + 1.8 W (THD <= 10%)
Distortion: <0.5% (1kHz, 0.5W)
S/N ratio: > 80 dB (A-Weight)
Frequency response: 90 Hz – 20,000 Hz
Power supply:  4 AA batteries, USB power, or DC 5V AC adapter
Dimensions:  8.2 in long X 3.4 in wide X 3.3 in deep
Weight:  1.76 lb
TI class D amplifier IC for good sound quality and high power efficiency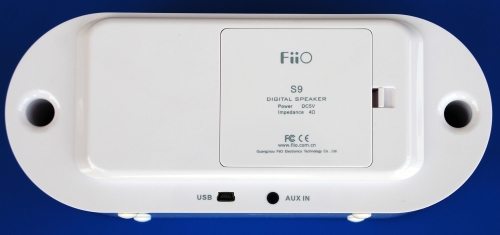 There is no AC adapter included with the S9 speaker, so my choices for power were batteries or the USB cable.  I decided I'd try the speaker with batteries first, so I loaded it up with four AAs.  I plugged the 3.5 mm cable into the Aux In on the back of the S9 speaker, then plugged it into the headphone jack on my laptop.  All controls are located on top of the speaker, and there is no remote.  You can see there is a power button with a blue LED to alert you when the speaker is powered on, volume up/down buttons, and a mute button with a blue LED.  There is no dock connector on this unit.  There is a translucent FiiO badge, backlighted with blue LEDs, where you might expect a dock.  The volume buttons allow you to lower the volume, but the upper volume is limited by the volume level of your connected device.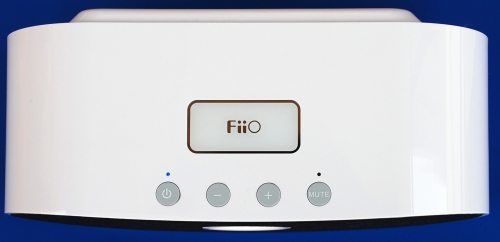 I played a variety of songs through these speakers.  Naturally, the FiiO S9 doesn't have a big thumping bass end that can blow out a match (like the speakers I used to have).  The speakers do have decent bass sound – not tinny at all.  They produce a lot of volume – I got a lot of sound out of this little unit even with my laptop's volume level set at 17%.  The sound was still clean at a volume level of 37%, but it was just too loud for comfortable listening.  I tried the S9 speakers with a variety of music – classical, some AC/DC, some Peter Gabriel.  The AC/DC didn't rattle the windows, but it sounded fine.  I think they work best with "vocal" music – Gabriel sounded great (but of course he would!).  I also tried it with "I Only Have Eyes for You" by Art Garfunkel.  Because the speakers are so close together, you don't get a lot of stereo separation and the panning effect in the Garfunkel song was lost, but that would be true of any system where the speakers are in one cabinet like this.  Considering the limitations due to the size, I think the little S9 speaker system sounds good.
I did try powering the S9 with the included USB to mini-USB cable.  (Documentation didn't specify it, but I took out the batteries first, to be safe.)  You'll notice in the picture that there are a total of three USB connectors on the cable.  That's because you need to connect the S9 speakers to two USB ports to provide enough power to run the speakers.  You could also use a powered USB AC adapter, if you have one.  I don't have one, so I think I'll just stick with some rechargeable batteries and leave my USB ports free.
I tried the S9 with my iPod touch, and the speakers worked just as well with the iPod as they did with my computer.  The FiiO S9 is too large to fit into my laptop bag, but the unit is small and light enough that you could even carry it along with you to the pool or beach or camping.  The S9 is a nice, compact little speaker system that could let you enjoy your music where ever you are.
Product Information
Price:
$34.95
Manufacturer:
FiiO
Retailer:
Micca Store
Pros:

Good sound from a compact system
Portable
Works with a variety of devices

Cons: