We use affiliate links. If you buy something through the links on this page, we may earn a commission at no cost to you. Learn more.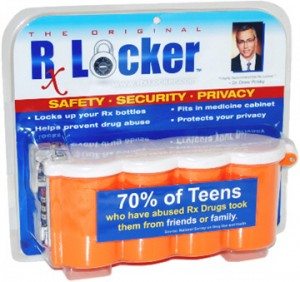 We're living in the future.  While cancer has yet to be eradicated, many medical conditions which would have meant either a lifetime of pain or even death to people not so long ago are treated by medications developed over the last hundred years.   Me? After an incident when I was 16, I was left with neck pain best described as "horrific."   While I'm not disfigured or in mortal danger, I use medicine to manage the pain.   For many people, the blessings of these medicines are tempered with the fear that they will fall into the wrong hands with potentially deadly results.   The Rx locker attempts to solve these problems in a way we haven't seen before.
The Rx Locker is a device that can be instantly understood just by looking at it.  A four-chambered plastic container with a hinged lid  is securely closed by a three-dial lock on the side.   Place four standard prescription bottles in it and lock it up and it will provide a level of security for your potentially dangerous medications.
According to the National Survey on Drug Use and Health, 70% of teens who have abused prescription medications took them from friends or family. Dr. Drew Pinsky – yes THAT Dr. Drew – says that "1 in 4 High School Seniors admit to abusing Rx Drugs. TODAY, 2500 12-17 year olds will use Rx medication for the first time." Add to this the fact that more than half of American adults are currently taking prescription drugs and the potential for accidents or abuse is only getting higher. (Source: NIH 2008)
As the father of two children under age eight, I have been concerned that at some point, one of my children would become curious about the bright red bottles in my medicine cabinet and take one or more pills.  Child-proof safety caps certainly help, but the Rx Locker adds another level of safety that makes me more comfortable.
The Rx Locker is made of plastic.  While it feels very solid, it's clear that it would not stop a determined person from getting it open.  That said, the fact that it's made of plastic might actually be a bonus in this case.   As I understand it, those who would seek to open the Rx Locker to get at some illicit drug inside would prefer that their theft not be noticed.  The plastic used in the Rx Locker is easily marked and any attempt to pry it open would be instantly visible.  Perhaps this alone would be enough to dissuade someone from even attempting to force it open.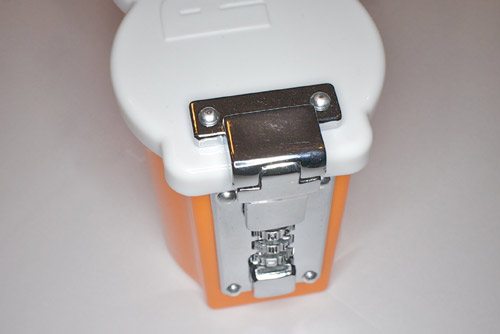 The three dial lock can be easily set according to instructions found on a sticker inside the lid.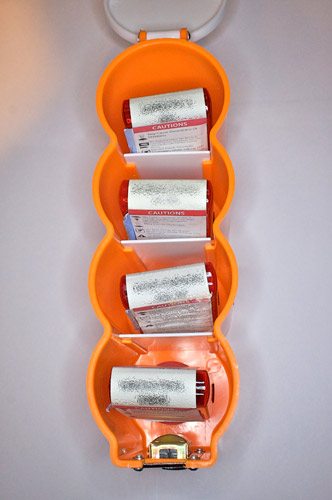 The four compartments are separated by removable white plastic partitions.  Particularly large bottles CAN be put in once the partitions are removed.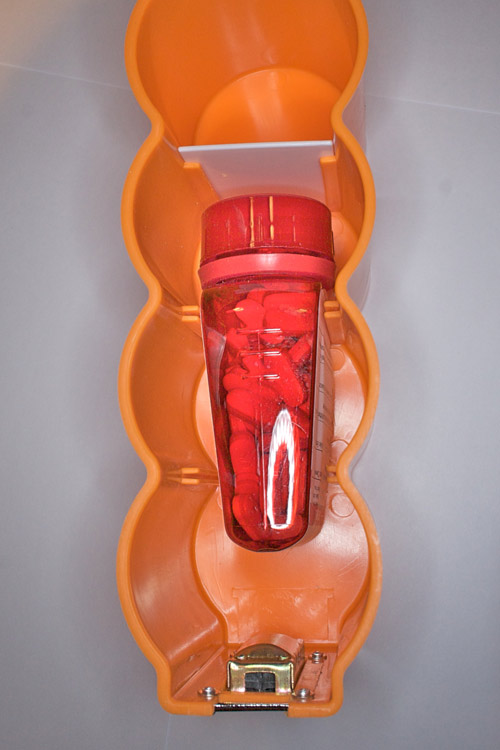 It's fairly clear when handling the Rx Locker that there's really no other way that this could have been done right.   It's simple in its execution and use.   This is not to say that there aren't some compromises in the design, however.   The Rx locker is designed specifically for round pill bottles of a small to average size.  If you, like me, have large prescriptions that must be filled every month, your medicine might come in a bottle that's too large to fit properly in the Rx Locker.  I use the Target pharmacy and at this point, none of the bottles I've been given by Target will fit perfectly in the Rx Locker.  I recognize that this issue would not impact most Rx Locker users but it did effect my tests.  When using the smaller of the Target prescription bottles, the lid would barely close and as you can see, the larger bottles did not fit at all.  Here we see that the lid is bulging when placing four standard Target pharmacy bottles in the Rx Locker.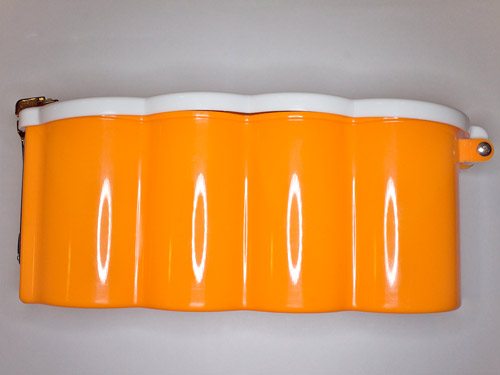 While I've pointed out a number of issues found in my time testing the Rx Locker, I am left with a very positive feeling for both the product and the company.  The issues I had are very specific to my pharmacy and would not affect the vast majority of users.  The manufacturer tells me that there might be a new version specifically for larger bottles coming at a later date and this would resolve every issue I have with this product.
Update 9/2/2010
As promised, the manufacturer has sent me the updated RX Locker design.  It does resolve the height issues I had with the previous version.
As I'm on the road at the moment, I'm reduced to giving you shoddy iPhone shots of the new product.  As you can see, the new design is simply taller, giving more room for those three-a-day style pill cases.
As an aside, I set up Google News auto searches for anything I review.   A press release showed up in my mail box the other day from this that directly involves the RX Locker.  A new law has passed in Massachusetts making it a requirement that any pharmacy that dispenses schedule II, III, IV, or V prescription drugs to patients also have for sale lockable containers for purchase.   It looks as if the RX Locker might be a good option for some folks out there.
Product Information
Price:
$14.95
Manufacturer:
Locker Brand, Inc.
Pros:

Safely secures prescription medication
Even if broken into, provides value
Low price

Cons: