We use affiliate links. If you buy something through the links on this page, we may earn a commission at no cost to you. Learn more.
With everything that is out there on the market for laptop protection, you almost can't beat SLAPPA laptop sleeves.   I'm a serious laptop bag/laptop sleeve person.  It's not that I can't get enough protection for my devices, I just dig sleeves and bags.  The protection from scratches, bumps, chips, dirt and spilled things doesn't hurt either.  SLAPPA solves several of my problems:  the comfy-cushy sleeves protect my laptop from my clumsiness ; I bump and smack my machines terribly.  Not out of abuse but because I travel from room to room with my trusty machines in tow and I'm an inveterate klutz.  SLAPPA cases also provide a "travel light" aspect.  Unless you carry everything around with you in a laptop bag and believe me… I've tried, the SLAPPA cases are sleek and provide a nice pocket on the side for power cords, documents, folders, and whatever else you need to get up and go with your lap top.   Handy elastic corners keep your machine and sleeve in place and when you're done, you zip up and go.
SLAPPA fills several needs for several computer users.  I have two machines in two sizes and I have SLAPPA cases that fit both of those machines.   SLAPPA cases fit 15.4" and 10" laptops.  If you're a guy, a girl or a chic fashionista out to make a statement, SLAPPA is right there with you.   I have a black "Lady Damask" 10" sleeve for my Acer.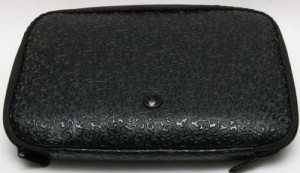 It's a chic black case with a raised Gothic pattern and the SLAPPA logo button.  For the guys, the Rubber Sole 15.4"  case has the SLAPPA crest on the front and an ornate crest on the inside which I, as a woman, find cool as well.  It also features a water repellent dimpled rubber outer shell.  As a former Pacific Northwesterner and a coffee klutz, I like anything water repellent.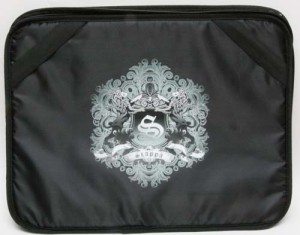 This case is listed under the Men's section on the SLAPPA website but honestly, it's made for men but cool enough for women.
For the chic fashionista, you have the Diamond Pillow Red zippered case.  This laptop sleeve is sharp!  The red and black accented diamond motif is a raised pattern, cushy red interior, sturdy zipper and just shouts "chic".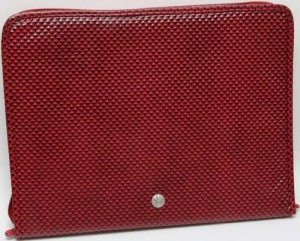 What I like about these laptop sleeves is that they are well constructed with sturdy zippers, the prices ($22.49 ) are not outrageous and SLAPPA stands behind their product.    If I had to complain about anything, I'd like to see more girly colors (i.e. pale pink) and shoulder straps for the laptop cases.  SLAPPA does sell shoulder straps for their laptop bags however but sometimes, hauling around a full sized laptop gets heavy.  I wouldn't mind a nice sturdy strap so I can sling it on my shoulder and keep my hands free.
Product Information
Price:
$22.49
Manufacturer:
SLAPPA
Pros:

Good construction
Sturdy zippers
Reasonable price

Cons:

Shoulder straps or carrying handles would be nice
More colors
More pockets