The Gadgeteer is supported by readers like you! If you buy something through links on our site, we may earn an affiliate commission at no cost to you. Thank you! Learn more.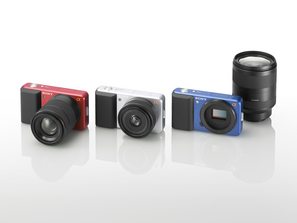 Sony is announcing a number of new products at the PMA 2010 conference. What caught my eye were the new Alpha concepts. These are compact cameras with interchangeable lenses directed squarely at the Micro Four Thirds segment pioneered by Panasonic and Olympus. According to the announcement, they are planning to release them this year, but are still fine-tuning the cameras.
These cameras pack a larger sensor than the Micro Four Thirds. The sensor is the same size that they use in their Alpha DSLRs. They also plan on three lenses when they are released.
Obviously it is impossible to judge based on the concept, but with the large sensors these cameras should excel in low-light environments. They also use a newer sensor for the Alpha series that supports video. As an Alpha 100 owner I have been hoping that Sony would finally come out with a video-capable DSLR.
Here is a video from the event. It can be difficult to make out what he is saying, but heck, his English is WAY better than my Japanese.