We use affiliate links. If you buy something through the links on this page, we may earn a commission at no cost to you. Learn more.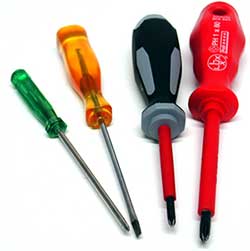 Do you ever read new product posts here on The Gadgeteer and think that you could easily make something yourself that would be a fraction of the cost? Sandee Cohen did just that. Let's check the results.
Sandee:
Back on Feb. 1, you wrote up a post on Hershey Kiss look alike CD holders. It was a great idea to keep CDs off the surface of a desk. But when I saw the price of $33 (with conversion rate and shipping), I thought it was way too much. I've been thinking about what common or inexpensive objects could be used instead of the kisses. I came up with hard rubber corks.
I got exactly the right size corks from the www.widgetco.com. Their #0 Rubber Stoppers are just 49 cents each. Each stopper has a Top Diameter: 11/16″ | .669″ | 17mm and a Bottom Diameter: 1/2″ | .511″ | 13mm The Length: 1″ | 1.023″ | 26mm. Turn the stopper so that it sits on the top diameter and it sits nicely. The CD hole fits over the stopper and the CD rests about halfway down the stopper. This creates exactly the right holder for a CD or DVD.
The only thing different from the kisses is that the CD can get stuck so that when you lift it, the stopper lifts up with the CD. I glued an old UK pound coin to the bottom of the stopper. That gave it just the right weight to stay on the desk as I lift the CD up.
The whole thing, using the pound coin, comes out to about $2.20 per stopper (includes shipping). Of course someone could find a much cheaper weight for the bottom of the stopper to bring the price down.
Here are some shots of what I put together.