We use affiliate links. If you buy something through the links on this page, we may earn a commission at no cost to you. Learn more.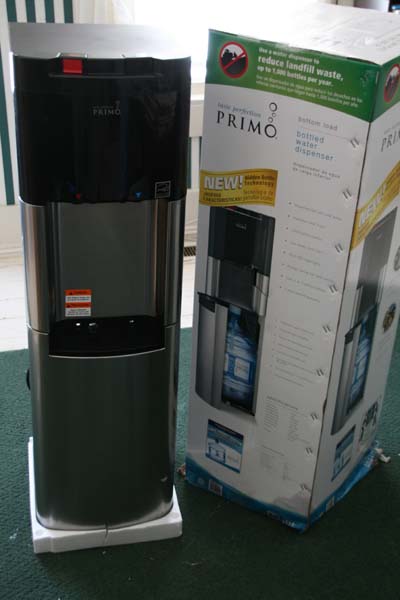 There might not be much to be said for your average and sundry water cooler and dispenser…unless you're me.  I was never sold on water coolers.  When they first came out, sure they were cool and the water delivery man could usually be counted on to be really cute with great looking legs.  And in those days, (dating myself here) those five gallon bottles were glass.  Heavy glass.  Forget the water in them, the bottles themselves weighed a ton.   Then the water companies started making the bottles out of plastic in a vain attempt to be lighter and easier to lift..  Those bottles are somewhat lighter but I could still be counted on to slosh water everywhere trying to hoist the bottle up and and upside down to fit into the top.    I did the Bottled Water thing, but I'm a recycler and the waste bothered me long before it was cool to care about the waste of so much plastic even if you did recycle it.  I was destined to be a slave to the drip, drip, drip of the water filtration pitcher in my refrigerator.
Primo has solved my issues and won me over with their water cooler and dispenser system.   While Primo does feature models that are "top loaders", they also feature this one:  the bottom loader.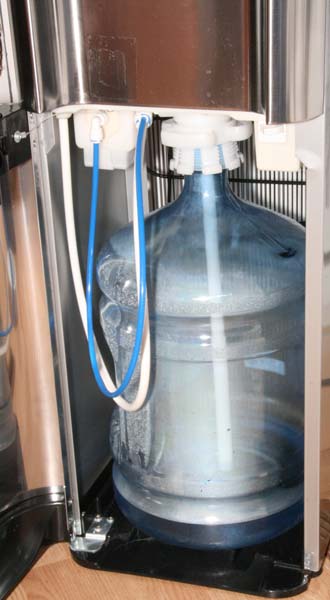 My  model ( 900129) is a sleek, sturdy, practically noiseless fixture that dispenses the water from the bottom inside of the unit.  No more lifting bottles… of any kind.  You open up the handy dandy door, clamp down the hose apparatus, (make sure the top is tight), shove it inside, close the door and no gurgling of the water as it dispenses.   It's a sweet deal.
Added to those benefits, I like the easy set up.  Primo comes in a tall box which (if you're me) is great for storing something else.  It's practically good to go after taking it out.
It's not too bulky, it's not top heavy, fits into spaces that your average tall kitchen garbage can would and is all but noiseless.   The hot water feature dispenses hot water at about 175 degrees.  Just hot enough to do anything you really need hot water to do unless you seriously need boiling.  I'm a tea drinker who hates waiting for her kettle to boil or for the microwave to nuke it.  The temperature from the Primo is perfect for tea, hot chocolate, soup, noodles…pretty much anything you can dissolve in hot water.
And  the safety feature is good if you have kids.  First of all, the button to dispense the hot water is on top of the unit, not in the middle where small hands could get it.  Second, unlike the cold water button, you are required to push in and then down on the hot water button in order to dispense hot water.  It seems to be designed for someone tall enough to use that kind of pressure. It's a nice protective feature for small hands that should not be around near boiling water.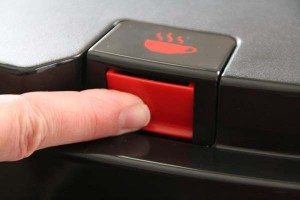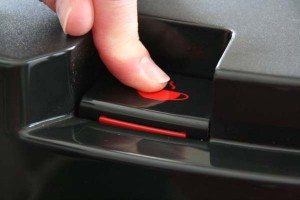 There are two energy saving features on the back of the unit that allow you to control the temperature of your water.  If you're like me, you like your drinking water room temperature  You can control that with a flip of the switch.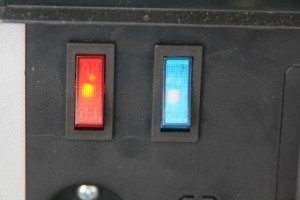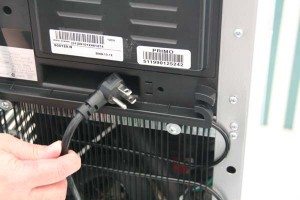 The unit comes with a specific plug piece because the probe or hose apparatus fits into the plug and into the bottle.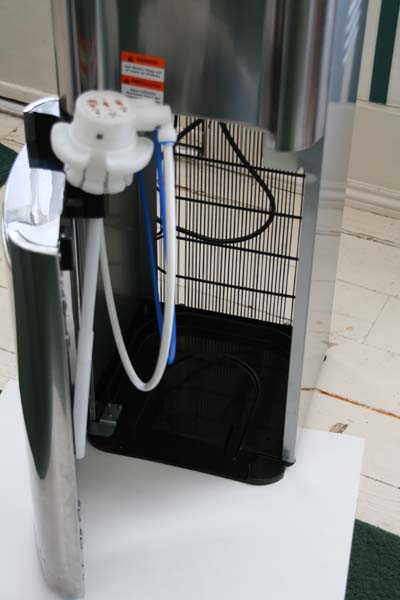 Primo sells their bottles at various stores and those stores that sell the Primo bottle usually have a recycle bin set up that dispenses a coupon for several dollars off of your next bottle.  This way you get a clean, sanitary bottle and you can purchase as much water as you want .
The  only complaint I really have about this unit is that it did not come with a physical  instruction booklet.  If you have a problem and I did, you are perforce to bring the Primo website up on the internet and click on the troubleshooting link.   Our unit's lights began blinking rapidly and we could not figure out why.  Once we accessed the troubleshooting link on the Primo website, we were able to find out why it was doing that and solved the problem.   Once on the website, you can download the user manual for your specific model and it tells you everything you need to know.  Problem is…how many folks will actually take the time to access the website to get the user manual that they figure should be in the box?  I don't want to sound whiny but I had to come up with one con to all the pros.  Quite frankly, I LOVE this unit.  My husband and I have been wanting to get a water dispenser for awhile now but never really took the leap until this one came out.  We are actually planning on getting a second one for the kitchen while the first one will go upstairs into his home office.   He is a serious water drinker and likes the sugar free drink mixes.  Since his home office is upstairs, he doesn't have to come downstairs as much for water.   Now, say what you want about tap water being "just as good" but I'm here to say that our tap water is not "just as good".   Primo solves several of our nagging issues:  my husband gets fresh clean water whenever he wants, we don't have to use a bulky filtration system on the water faucet or a water filter in the refrigerator and we're done buying tons of small bottles of water.  Primo's bottom loader models work for those of us aren't weight lifters, I don't have to slosh water all over the place anymore trying to lift a heavy bottle of water and their recycling of the bottles is far easier on the environment than the smaller bottles of water we've been using. The dispenser buttons are easy to use, the styling is sleek and   On a grading scale, Primo gets an A+.
Product Information
Price:
$191.00 - $199.00 Depending on where you purchase
Manufacturer:
Primo
Pros:

Modern, sleek styling
Bottom loading of water
Easy assembly
Easy to move
Sturdy construction; not top heavy
Safety features on hot water button
LED flashing lights to signal low water in bottle
Plug attaches to unit to prevent dragging or having to tie up during a move
Easy to install bottle
Very hot water
Very quiet
Environmentally friendly

Cons:

Users must access website to get user manual rather than physical manual with the unit