We use affiliate links. If you buy something through the links on this page, we may earn a commission at no cost to you. Learn more.

I admit I am not sure I had ever heard of Tucker and Bloom before, but the high-end bag company sent me one of their North to South Messenger Bags to review and I am quite impressed… once I got over the shock of the cowhide.
The basic bag dimensions are 12.5" Long X 13.5" High X 4.5″ Deep. It features a roomy front gusseted pocket with a couple smaller organizer pockets inside, a huge main compartment with a smaller zippered pocket on the back side, a large unsecured pocket on the back, and short pockets on each side.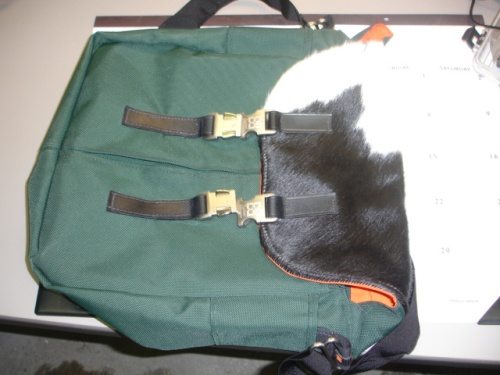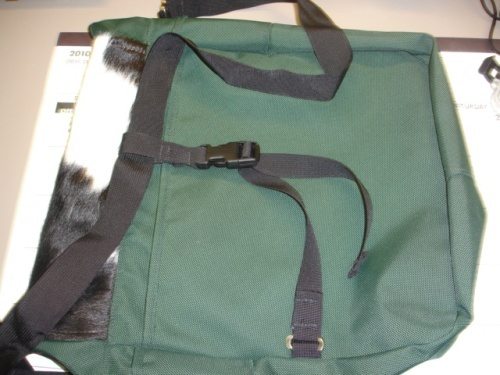 The main bag material is a ballistic nylon with a basket weave pattern that is much more pleasant to the touch than Cordura and much stronger feeling than many other nylon materials. Mine is a hunter or forest green with an orange lining that feels like a soft cotton canvas.
The nylon straps nothing too special (other than the unexpected third strap on the back) but the hardware is interesting- heavy, well-made, and visually interesting- the main buckles are similar to nylon buckles that you squeeze both sides of, but are made of heavy metal. The stitching appears well-done with only a couple loose ends showing.
One unique and rather surprising option is a cowhide flap, complete with black and white hair, using food industry by-products. (I am not anti-fur or leather as long as it is from animals we are using for other purposes, but your opinions may vary. )  While each chunk of hide will be different, mine was well tanned with good hair density and no signs of shedding.
Overall, the quality seems to be consistent with a bag that retails at $200. (Yeah- the guy who prides himself on his $20 mil-surplus laptop/gear bag is testing a bag worth more than his old bag and all of the clothes he is wearing! Boo-yah!)
In use I found this to be a BIG bag. The front gusseted pocket swallowed my HP mini 1000 netbook with plenty of room to spare. I was a bit surprised that no pockets are designed for water bottles or sunglasses, and there is not really any sort of the 'pencil organizer' pocket or flap- a mixed blessing since few of these ever seem properly sized for my stuff. The orange canvas organizer pocket nonetheless bothers me a bit. It is 11″w and 4″d with no closure or internal dividers, so it just sort of flops open. It has two smaller pockets sewn on front- 2″w x 3″d which really are not deep enough for things like pens or such.  The site claims that it is good for airline tickets, etc. but I rather miss a place for my small stuff.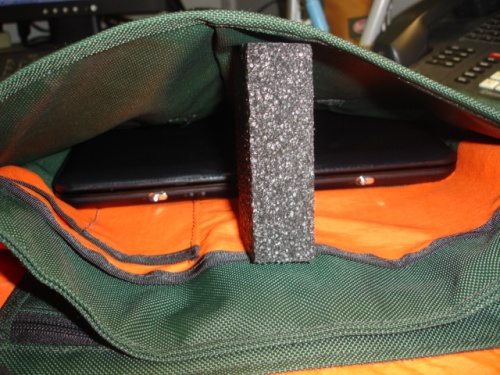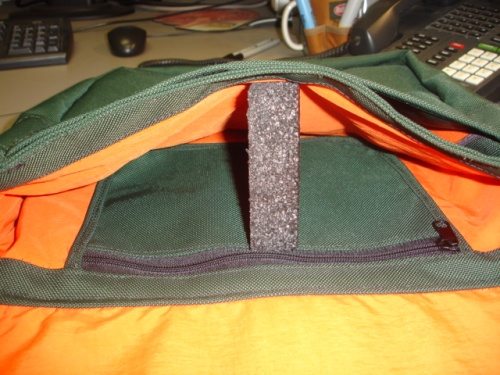 The main pocket is cavernous. The site says it is great for laptops and vinyl albums making this the perfect bag for a DJ. You could carry a lot in the 13″w x 4″h x 14″d area. The whole pocket is lined in bright orange making it easy to see things hiding in there. None of the pockets are padded, but you could fit many laptops with their sleeves in there. There is a zippered 6″x6″ pocket attached to the top rear of the main bag with a nice HD zipper.
The side pockets are described as useful for PDAs, cell phones, iPods, etc. but the roughly 4″w x 3.75″d pockets (one on each side) are not secured or padded. I think it would worry me to carry my electronics in them while trying to maneuver traffic or crowds.
The overall 'fit' of the bag was OK on my wife, although it looks oversized on her. I'm a big guy and the strap is not long enough for me to do the 'head and shoulder' thing with it but it is not too bad hanging straight down.
This is a great, well-made, heavy bag with plenty of room in it for everything you might want to carry. I do have a few issues with it, though. The bottom is not reinforced, which may not be a real-world issue but I suspect it will show wear rather soon. The bag does not stand up on its own, which may not matter to you at all but I rather like it when they do. The buckles are strong and heavy but I often cannot open them one-handed and the leather straps they are on are not adjustable. I am not quite happy with the lack of organizer elements- I kept having to dig around for things like pens and could not find a good home for a water bottle.  I never figured out what the third strap is for and the site does not help with that.  Now- let me temper all of this a bit. Many of these comments are more because this is a MESSENGER bag rather than a gear or field bag. Messengers are defined by the large cargo capacity with minimal internal structure, and are designed primarily for couriers. This is a very good messenger bag.
I used their website quite a bit researching this bag, while on my netbook on an open network. I do not know if it is because of the network or what but I found the site annoying to deal with. It is gorgeous, but I had difficulty finding out of the internal canvas liner was available in other colors, etc. You also have to guess what category your bag will be in ('transitions', 'work', or 'leisure') and click a few times to find the pricing. Nothing horrible you understand, just more awkward than it seemed like it should have been.
BONUS MINI-REVIEW
Along with the "North to South Messenger", I was also sent a "Transit Pass, Small" bag. The 9″x5″ Transit Pass, Small is a simple neoprene pouch with two zippered pockets. The 8.5″x3″ side pocket is nice for things like pencils, etc. while the main pocket has a bright color lining (mine is purple) and a flap that suggests it can be used as a wallet. It features the same quality straps and hardware as the messenger bag with the straps positioned like you often see on sling bags. In use, the zippers are vertical or even angling down. The neoprene material is water-resistant and tough, as well as offering some cushioning.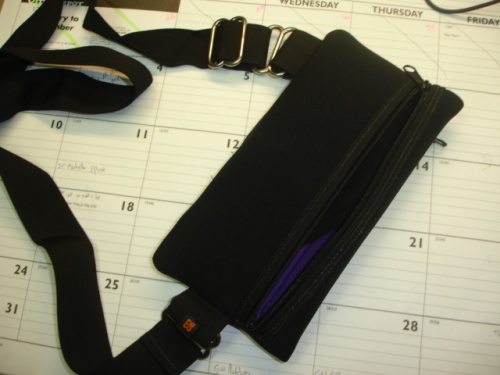 The medium version (shown on the website) features a few more pockets for cell phones, etc.and runs $80.
Product Information
Price:
$200
Manufacturer:
Tucker and Bloom
Pros:

Well-made and durable
Roomy
Attractive

Cons:

Lacks internal organization