We use affiliate links. If you buy something through the links on this page, we may earn a commission at no cost to you. Learn more.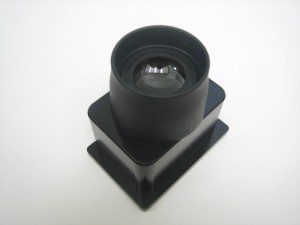 It's a sunny day and you get out your digital camera to snap a shot.  The only trouble is you can barely see the screen because of the glare from the bright sun. Except that when you go to look through the view finder, you find that your hi-tech camera may not have a view finder.  So, you aim, you shoot, and you hope for the best.  It happens to many of us.   The Xtend-a-View Pro, by Photosolve, makes efforts to resolve this problem.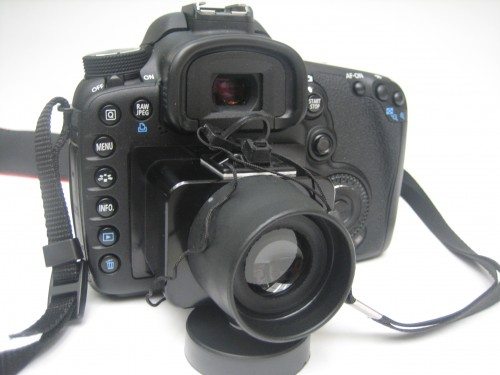 The Xtend-a-View Pro's  block shaped body with cylindrical magnifying glass can be placed against the camera's LCD viewing screen to get a better view with 2x magnification.  It is like looking at your LCD screen through a light box that provides a more magnified view of your LCD screen.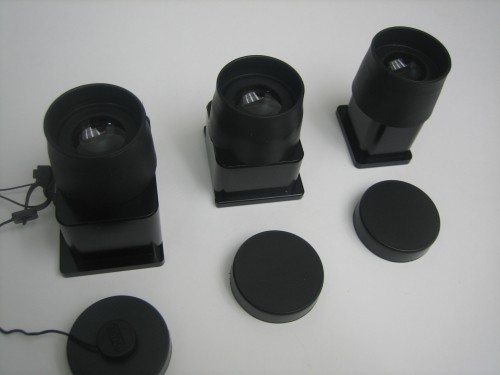 The Xtend-a-view Pro comes in three sizes: Mini, Standard Variable and Wide Variable. I tested out all three. The mini measures 1.5 inches on the diagonal. The standard may be used with LCD screens that measure between 1.8 and 2.0 inches diagonally and the Wide unit accommodates 2.25 to 2.5 inches.
Several digital cameras now have LCD screens 3 inches and maybe larger.  Although not out yet, Photosolve is working on a 3″ viewer. It should be available in the next couple months.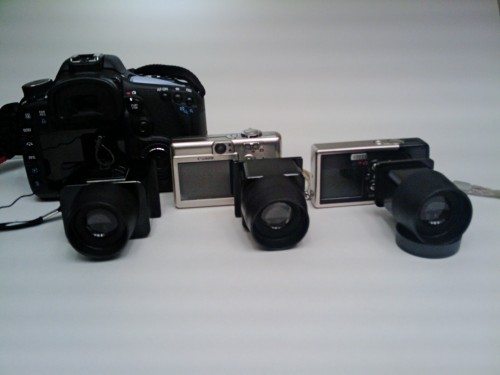 What's in the box:
One Xtend-a-View Pro Variable
Eyecup and Eyecup cover
Strip of non-skid rubber
Strip of Velcro
Eye Cup leash
Small hex wrench
Adhesive backed neck lanyard
User Guide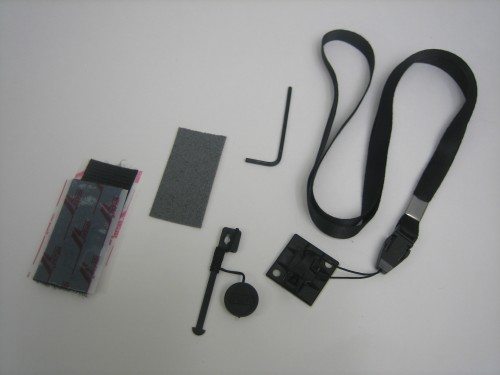 At first it looks like a spare machine part. It is made from aluminum with a protective finish. The eyepiece barrel may be unscrewed completely from the magnifying glass to be used as a light shield as well.
Using the screw off mechanism the magnifying glass provides an adjustable focus of approximately +/- 2 diopters.  My eyes, however, could not see any difference in either direction.    A small hex wrench is provided to tighten the magnifying glass into place so that it will not move in either direction.  If you plan on completely unscrewing the magnifying glass from the barrel there is a small rubber compression tube that may fall out. Be careful not to lose the tube, as it functions to provide tension when tightening the magnifying glass into place.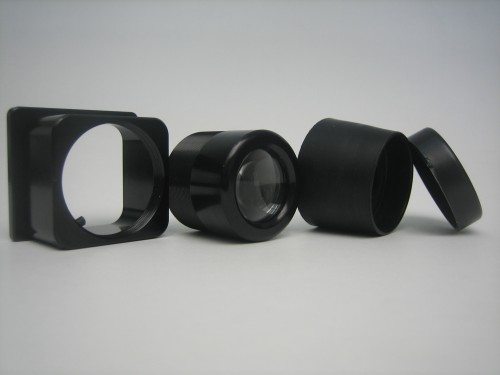 For the professional and amateur photographers using a Digital SLR camera the Xtend-a-View Pro can be a useful tool.   It helps to get an accurate focus and blocks out light glare, usually not an issue indoors, but if shooting in direct sunlight this means a world of difference for setting exposure. Below is a side by side comparison. The first is looking at the LCD screen and the second is a view of the LCD screen through the Xtend-a-View Pro.  The difference is clear.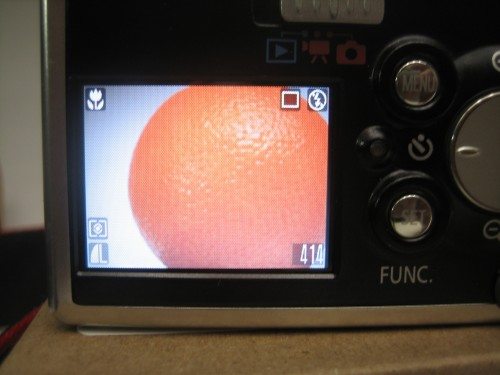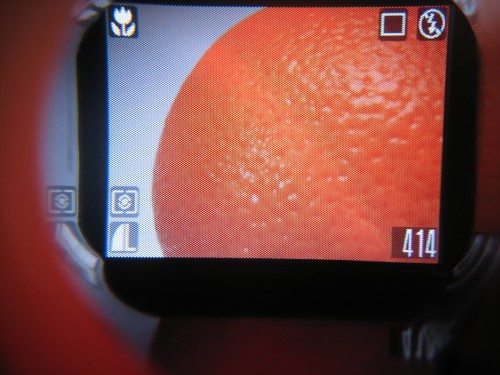 Using the magnification feature already on many DSLR cameras requires steady handling but with this external magnifier it makes setting up a good outdoor shot much easier with magnification.
The magnification from the Xtend-a-view can make lower resolution LCD screens look a bit pixelated.
There are several set up methods: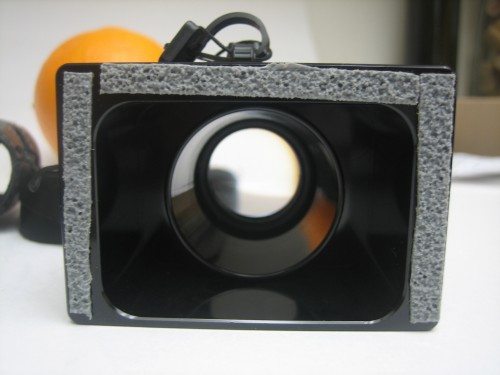 1. The Quick View Method: Cut a strip of non-skid rubber and stick to Xtend-a-view. This prevents the potential for scratches on the back of the camera. See image to the left.
2. The Velcro Method: The Velcro method requires a little more commitment. One side of the Velcro goes directly on your camera and the other corresponding side goes on the Xtend-a-View Pro. This allows it to stay attached to your camera when needed.
3. The Xtend-a-Mount method: Sold as separate units, the mount, the wing brackets, or the Xtend-a-Mount Omni may be purchased to provide secure attachment of the Xtend-a-view.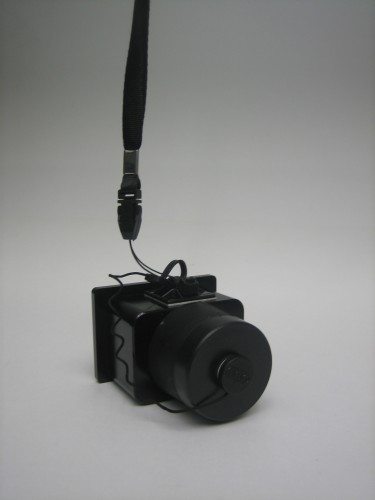 The Xtend-a-View Pro can be a useful tool for avid photographers.  With its large body it may be a bit more than what a casual point and shoot user may want to carry around.  It may help you take better pictures but could be cumbersome to store. With cameras practically the size of credit cards the Xtend-a-View Pro adds much bulk to the convenience of small point and shoot digital cameras.  Although a neck lanyard is included, the Xtend-a-View does not come with its own carrying case.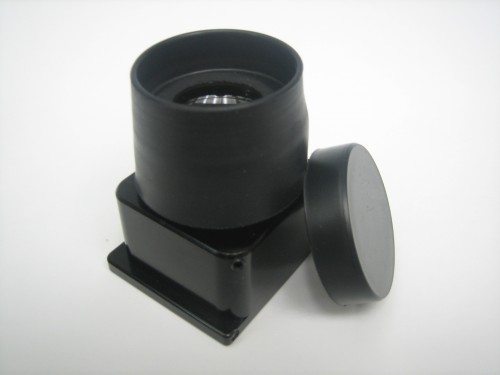 If clearly seeing the LCD screen on your digital camera is enough of a problem that it bothers you, then the Xtend-a-View is a decent solution.  For the casual picture taker it may be more cumbersome to carry and/or manage, but for professionals and amateur photographers shooting outside, this can be a valuable tool to add to your arsenal.
Product Information
| | |
| --- | --- |
| Price: | $33.95-$36.95 |
| Manufacturer: | Photosolve |
| Pros: | Useful tool for photographers |
| Cons: | Only goes up to 2.5", but they are working on the 3" viewer |