We use affiliate links. If you buy something through the links on this page, we may earn a commission at no cost to you. Learn more.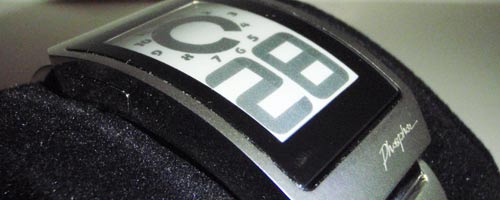 Last year I reviewed Phosphor's E-Ink Ana-Digi Watch.  It was a nice and simplistic functioning watch with an integrated E-Ink based display face similar to many eBook readers, qualifying it as a semi-techie gadget and worthy of a review. At the time, I thought Phosphor was just scratching the surface of what this kind of technology could bring to a watch. This year Phosphor has produced another wristwatch using the same E-Ink technology as their first. Unlike the more classical style of the Ana-Digi watch, the Digital Hour Clock watch has a much more modern design to it. I wanted to see if Phosphor took my wish list of potential capabilities to heart and added any additional features to their latest release.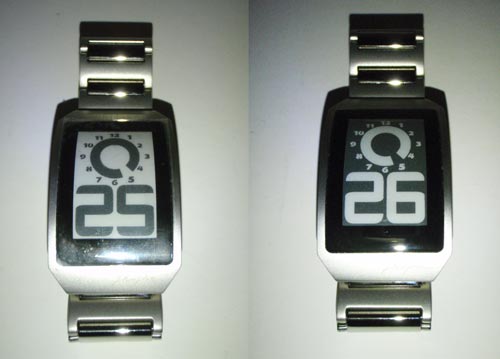 That said, sadly, the Digital Hour Clock watch has nearly identical features as its predecessor….no more, no less. The face can display either black on white or the reverse, white on black depending on your mood or attire. Time can be displayed in two ways, the first is shown above with the hours illustrated by a gap in a circle and the minutes shown numerically below.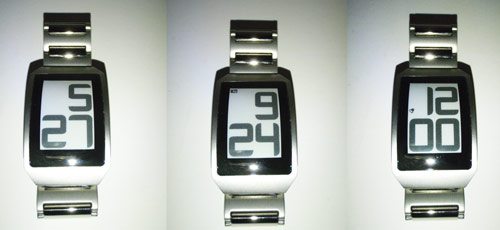 The second way time is displayed is purely numerically with the hours above the minutes. The date is similarly displayed with the month above the date. There is also a single alarm feature with a relatively loud noise associated with it. Definitely loud enough to wake you up in the morning.
Specifications:
Case width: 38.0mm
Edge thickness: 8.0mm
Overall case thickness: 12.5mm
Water resistance: 5 ATM  (50m)
Display: 12 hour only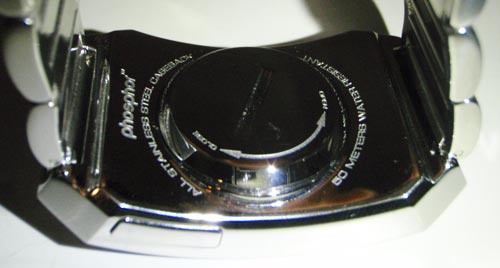 The material and build quality of the watch are very good. The watch case is made of stainless steel and water resistant to 50 meters. The watch battery is user replaceable.

Phosphor classifies this watch as thin. While not the thickest watch I have ever seen, it certainly is not what I would consider slim or slender. To be honest, this watch is nearly as thick as Phosphor's original E-Ink watch.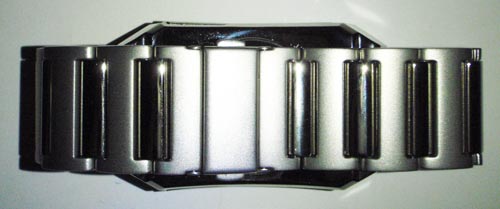 The band and closure are both well made and only add to the good quality of the watch. Not only is the Digital Hour Clock available with a stainless steel band, but black leather and black polyurethane as well.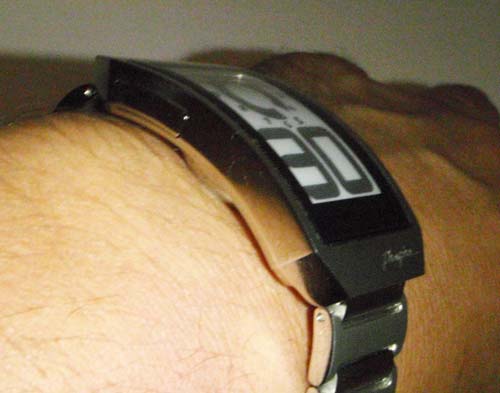 The case is ergonomically curved and is very comfortable to wear. For those with skinny wrists like myself, the band can be made smaller with a standard watchband pin removal tool. Again, as you can see in the picture above, this watch is far from thin.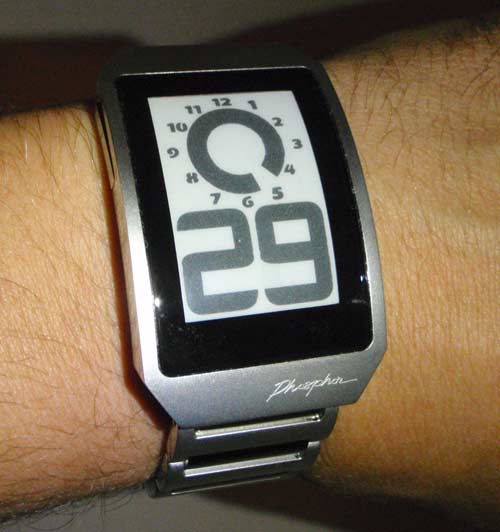 Overall, I like the Digital Hour Clock watch from Phosphor. Its E-Ink display and fashionable look are very appealing, although it is a bit large for my wrist. That said, I believe Phosphor has missed the tech-mark by not allowing users the ability to change the face design and font type and size. With manufactures squeezing cellphones into watches these days, it seems like Phosphor could engineer a computer interface and the ability to tweak the display to ones exact liking. At nearly $200, the Digital Hour Clock watch is somewhat expensive. But if you're a stylish tech-person who wants a relatively unique timepiece, you should give some consideration to Phosphor's line up of E-Ink wristwatches.
Product Information
Price:
$195
Manufacturer:
Phosphor
Pros:

Quality materials
Good construction
Comfortable
E Ink technology
Modern look and style
Water resistant to 50 meters

Cons:

Limited functionality
Expensive (for the capabilities you get)