We use affiliate links. If you buy something through the links on this page, we may earn a commission at no cost to you. Learn more.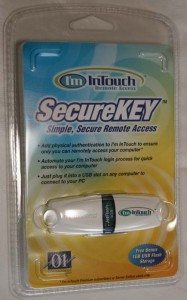 I'll cut to the chase: Communique 01's I'm In Touch Remote Access Secure Key works.  It works great.  It's a USB flash drive that allows you to remotely access your desktop from another computer anywhere else. And ONLY you can access your desktop remotely and securely.  All you do is carry the USB flash with you, plug it into the USB slot on any computer and connect to your PC.
If  your computer has a network card that supports "Wake on LAN", then you can use a setting on  Secure Key to wake up your computer before connecting if it's turned off.   If your computer doesn't have this card, it will still work, you just need to keep the desktop computer on constantly and change your settings so that it doesn't go into "Sleep"  or "Hibernate" mode.  I have computers that have this network card so the remote access wasn't a concern.
While everything works beautifully, you are required to pay a subscription fee. You can try out the service by going to the I'm In Touch website ( https://locator.01com.com)   You need to go there anyway to activate the Secure Key and register the desktop you will be accessing.  Subscriptions for the Secure Key start out at $99.95 for the basic remote access service with free key.  Premium subscriptions are $129.95 for the first subscription and then $99.95 for the second and any thereafter with free keys.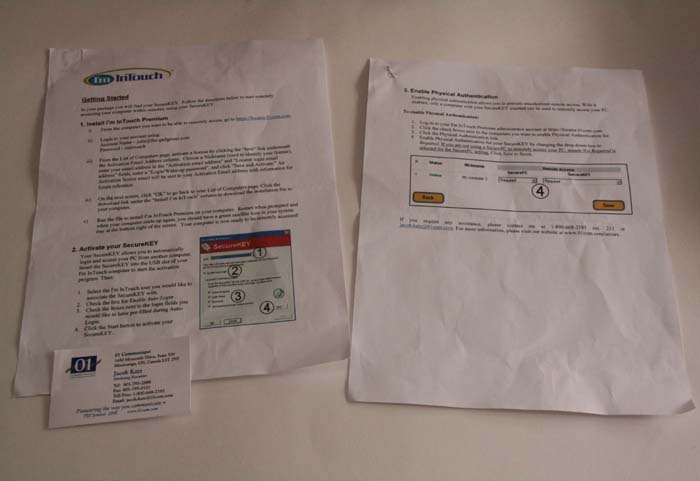 As a "non nerd",  I found the set-up confusing.  I'm not completely inept at the workings of a computer and I am beginning to share my husband's (over the top) enthusiasm for  electronic and computer gadgetry.  However, "Geekinese" is not my second language.    I called in my husband who had a better chance at setting it up however we both had questions about how it might affect our firewall and wireless network.  This is where I'm In Touch fumbles the ball a bit.  There is a contact number for I'm In Touch but it's not a toll free number.  In the world of electronic gadget customer service, that's a big No No.  Everyone has a toll free number for their technical support.  I'm In Touch does not.  There is, however, a toll free number listed, but it's for the sales office and it's a recording informing the listener of the technical support number which is a toll call.
As for  the service itself, once the Secure Key is activated, you can use it on any computer that has a USB port to access your desktop.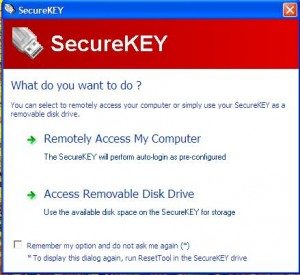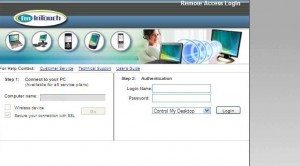 I tested Secure Key in three different places;  one from my own house on my Acer Aspire Netbook side by side with the Dell laptop that was the activated desktop, once again on my netbook while at a book signing in Skokie, IL and again at another book signing in Cincinnati, Ohio.  Obviously, I had no issues when the computers were side by side.  The access worked fabulously.  The access also worked just as well in two different cities on my Acer, once on the Barnes  & Noble wifi and again on the AT&T 3G wireless connection.  There was no difference in the access; it worked beautifully every time my desktop was accessed.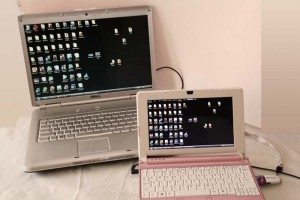 My initial quest in testing the Secure Key was ascertaining the demographic that the gadget was created for.   I'm In Touch  Secure Key can be used for businesses but many of the really large companies have their own internal secure/encrypted VPN software.   In the business environment, documents, projects, code, libraries, etc are usually stored on drives where there is multi-access and not necessarily one's desktop which, even in the business environment is not accessible to everyone. I chatted for a brief moment with the Marketing Executive who explained to me that the I'm In Touch Secure Key targets small to medium size businesses and individuals either for personal or professional use.  For my personal use however, I generally put a lot on my desktop because it's easier for me to find what I want that way.  I've often written, in my product reviews, that the success of a gadget depends on what the user expects to use it for and get out of it.  For the larger businesses , this device doesn't hold much allure. There are several other workable ways to access the information they need.  If they need to access their main computer, most have the secure VPN access described above.   For personal PC users, again it all depends on what you expect to get out of it.  The I'm In Touch Remote Access Secure Key works.  The set up is fairly straight forward.    The key works wherever you go, whatever computer you use.  Even the yearly fee isn't too stiff.  There is also 1 GB of storage on the flash drive and transferring files and working on the desktop presents no problem.  The key is secure too.  If you lose it, anyone who finds it stands a better chance of getting chosen for American Idol than accessing your computer.  If you're not attached to your laptop (and unfortunately, I am), the Secure Key is a fabulous way to travel light.
Product Information
| | |
| --- | --- |
| Price: | $99.95 for Basic Remote Access service/free Secure Key $129.95 for Premium service/free Secure Key and with the purchase of that subscription, each Secure Key subscription purchased thereafter is $99.95 |
| Manufacturer: | Communique 01 I'm In Touch Remote Access Secure Key |
| Pros: | Product does exactly what it says it's going to do. Access to desktop and everything on it works beautifully. |
| Cons: | Set up for me was a bit tricky. Access is a little slow if you are using Mozilla Firefox. No toll free customer/technical support number. |